B2Gold (BTO.T) is one of the latest companies to come out with 2014 production results and 2015 production guidance. B2Gold will be growing production in 2015 by 35% which is the highest growth I have seen out of any company in 2015. The majority of the growth will come from the newly commissioned Otjikoto mine in Nambia.
With the successful commissioning of the Otjikoto mine in December B2Gold now operates 4 mines worldwide. The Otjikoto mine is expected to produce between 140-150 thousand ounces in 2015 at a cash cost of of ~$525 per ounce. Otijikoto will be the second largest producing mine behind La Libertand but the lowest cost mine in the portfolio.
The management team led by CEO Clive Johnson has done a tremendous job of making acquisitions and bringing projects into production in the last couple years. Production has grown from 158,000 ounces in 2012 to 391,162 ounces in 2014. The next project to be built will be Fekola in Mali and with this mine on-line production will be ~ 910,000 ounces in 2017.
If everything goes according to plan in the next couple B2Gold will have quickly grown into the next major gold producer.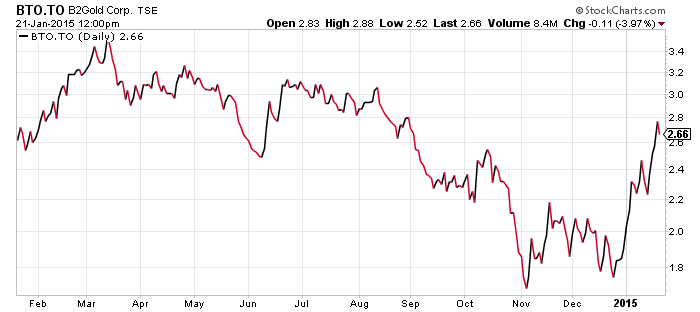 B2Gold stock is up significantly in 2015 with the rising gold price and a new mine coming on-line.
The share price is well set up for strong move this year with increased production and will obviously benefit if the gold price appreciates.
Investors should follow the all in sustaining cash costs which are forecast to be in the $950 to $1025 range. If B2Gold can deliver on those cash costs strong free cash flow will be generated to build Fekola and/or look for yet another acquisition.
Symbol: BTO.T
Share price: $2.64
Shares outstanding:  917 M
Market cap: $2.4 B
Read: B2Gold Corp. Achieves Record 2014 Fourth Quarter and Full-Year Gold Production
Discuss BTO in the CEO.ca chat
For those of you attending AME BC Roundip Clive will be a keynote speaker at the CEO Breakfast on January 26th.
I have no position in any of the stocks mentioned. This is not investment advice. All facts are to be verified by reader.As always please do your own due diligence