Via Energy and Gold.com:
While the casual market observer might look at Friday's 1.18% rally in gold, closing modestly back above the $1200/oz level, as nothing to write home about. Friday's session offers some subtle bullish signs that should not go ignored: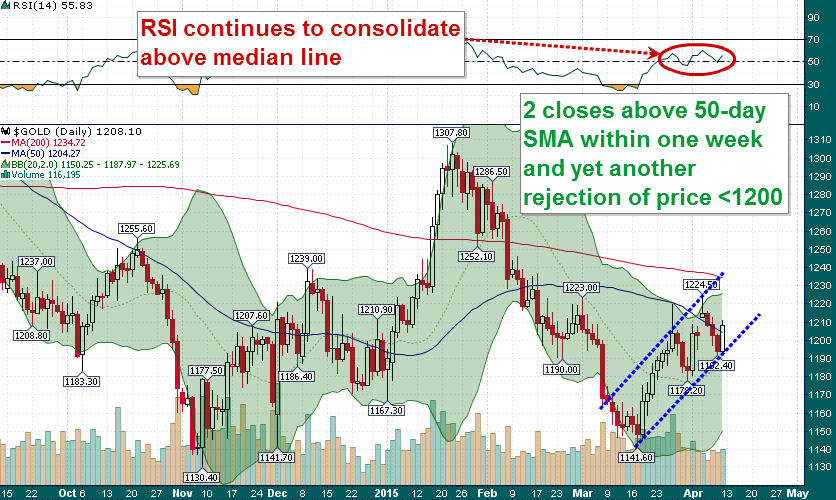 Many technicians will be quick to point out that a move back above a downward sloping 50-day moving average (SMA) is not significant in itself because the overall trend remains lower. While this is generally true, when price begins to repeatedly test the 50-day and close above it on a regular basis these are important clues that the trend may be changing.
Sharp chart pattern observers will also notice the head & shoulders bottom which has formed: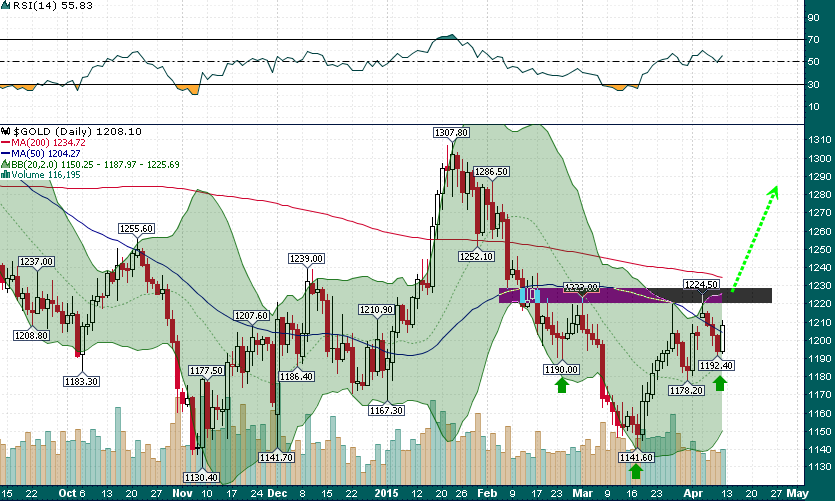 The nut to crack continues to be the $1225 level, however, a breakout above this level will project a measured move target between $1285 and $1300. The series of higher lows and higher highs since the March low remains intact and bulls will want to see this trend continue next week with an eventual breakout above $1225.
Finally, the combination of a 1%+ rally and a cross above the 50-day SMA is a surprisingly bullish short term phenomenon even during a bear market such as the one we have witnessed in gold during the past 3 1/2 years. The key question investors will want to answer next week will be to see if price can continue to hold above the 50-day and move higher or will it quickly fade and fall back below?
Next week marks a minor seasonal low that should offer gold prices a tailwind for the next month: