A look at two junior gold producers this morning with some additional comments on each.
Semafo – (SMF:TSX) – Semafo is out with Q1 results reporting a net loss of $8.1 million (3 cents per share). Gold production came in at 65,200 which included a planned 5 week shut down of the SAG mill.
Semafo reported an all in sustaining cost of $646 per ounce at the Mana Mine helped by mining high grade ore from the Siou and Fofina deposits. The average grade for the quarter was 4.09 g/t compared to 1.93 g/t for the same period last year.
Full year guidance has been maintained at 245,000-275,000 ounces at an all in sustaining cash cost of between $715 and $750 per ounce.
Adjusted net income from continuing operations attributable to equity shareholders of $8.2-million (three cents per share) for the first quarter of 2015 excludes an unrealized foreign exchange loss of $6.3-million, a deferred tax effect on currency translation on the tax base of $7.5-million and a financing fee write-off of $2.5-million.
Semafo was busy in the quarter replacing the SAG mill shell at Mana, acquiring Orbis Gold, and working on a feasibility study for the Natougou project. A DFS is planned to be released for the Natougo project in the second quarter of 2016. Semafo acquired the Natougou project with the purchase of Orbis.
Exploration is currently focused on a $12 million dollar program in close proximity to the Mana project. Semafo is also planning $6 million worth of work on the Banfora properties in 2015.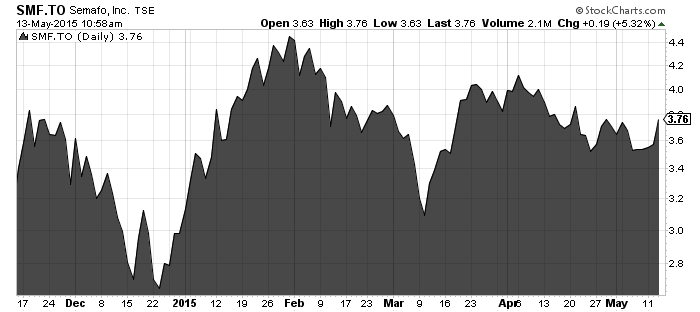 A strong start to the year for Semafo shares up from the $2.80 level.
A reminder though elections are in Burkina Faso in October and to keep an eye on this if your looking at Semafo shares.
Haywood Securities has a a target of $5.75 on SMF shares.
Read: SEMAFO Produces 65,200 Ounces in First Quarter 2015 Cash Flow from Operations of $32.6 Million
Related: Semafo makes an aggressive takeover bid for a high grade gold project
Kirkland Lake Gold – (KGI:TSX) –  Kirkland Lake continues deliver results and has been quite the turn around story. Kirkland announced this morning that fiscal 2015 production hit the mid range of guidance producing 155,709 ounces.  Fiscal 2016 guidance has been set at between 150,000-175,000 ounces at an estimated head grade of 14.7 grams per tonne.
George Ogilvie, president and chief executive officer, commented: "We are very pleased to have met the middle range of our revised production guidance, and beat our guidance on grade by 13.5 per cent. Meeting our stated guidance is a milestone this company is very proud of and one that has been achieved with a great team effort."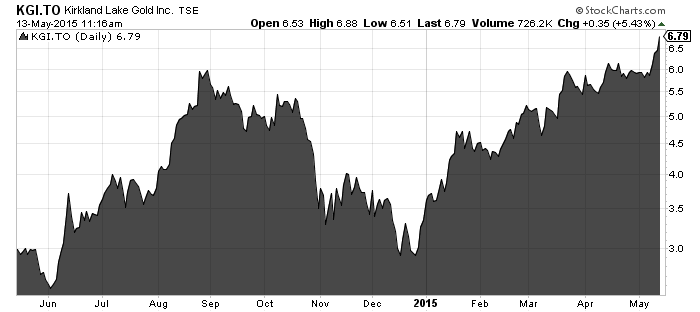 Kirkland has to have one of the best charts of any gold stock in 2015 doubling. The market is reacting favourably to strong production results with Kirkland generating free cash flow.
At the end of April cash and cash equivalents totalled $80.3 million.
Kirkland operates one of the highest grade gold mines in the world.The market cap today is $543 million and as long as KLK continues to deliver strong operating results and generating free cash flow we could see a much higher share price.
Congrats to the team at Kirkland for turning around the operation.
Read:Kirkland Lake Gold Achieves Fiscal 2015 Guidance Producing 155,709 Ounces of Gold and Provides Fiscal 2016 Guidance
Related: Why the Rush into Canadian Gold Mines May Continue: Steve Todoruk
Please join us in CEO live.
This is not investment advice. All facts are to be checked and verified by reader. As always please do your own due diligence.