Thoughts from a few of my favourite mining news releases out this morning.
Asanko Gold – (AKG:TSX) – Asanko is out with pre feasibility results for a Phase 2 expansion at the Esaase project in Ghana. Phase 1 (Obotan) is currently under construction and is fully permitted and financed with production expected in Q1 2016.
The economics of the combined project look good with an after tax IRR of 27% and a NPV of $770 million (%5) using a $1300 gold price.
The Phase 2 expansion will lead to Asanko becoming a mid tier producer with production averaging 411,000 ounces a year starting in 2018. Mine life is expected to be 10.5 years.
Costs savings will be realized as Esasse will utilize the processing facility at Obotan. The processing facility will need to be expanded and upgraded though. Phase 2 is expected to cost $270 million which is close to the $295 million of Phase 1.
Commenting on the PFS, Asanko's President & CEO Peter Breese said: "The outcomes from the Phase 2 expansion study have exceeded our expectations and will deliver significant value to our shareholders.
At the time of the merger with PMI Gold in December 2013 we estimated that up to US$100 million in NPV synergies (based on US$1,400 per ounce gold price) could be achieved by developing the assets in a phased approach and leveraging off shared infrastructure and overheads. We have been able to increase those expected NPV synergies to over US$147 million even though we have used a lower gold price of US$1,300 per ounce."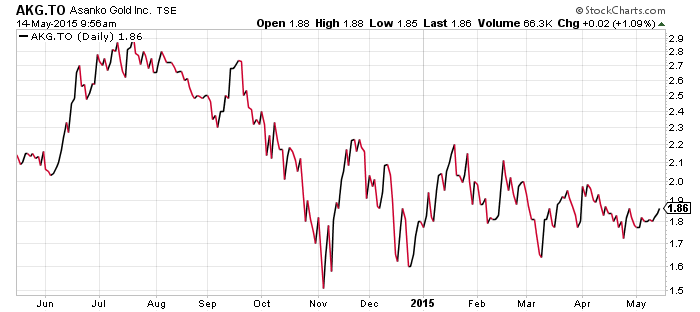 A 1 year chart of Asanko Gold shows the stock fairly range bound in the last several months. Construction started in August 2014 and was 43% complete at the end of March.
A decision on whether to go ahead with Phase 2 is expected in Q2 2016.
Quite often the case with mining stocks is that during development the company trades in a "trading range" as no catalysts are upcoming to move the stock.
Historically once the mine begins production and starts to cash flow you will see a re rating in the share price.
I will be watching Asanko more closely when production is expected to start in Q1 2016.
Read:Phase 2 Expansion Plan for Asanko Gold Mine Significantly Enhances Project Economics
Related: Back At It Again: An Interview with Peter Breese
Banro – (BAA:TSX) – Banro is a company I had my eye on at my previous gig when I managed a database of over 400 mining stocks. Banro operates the Twangiza oxide mine in the Democratic Republic of the Congo. The name fell of my radar as they ran into production problems which led to debt issues.
Banro managed to close $90 million worth of financings by doing gold streaming and a gold forward sale transaction.
First quarter results were released today and it appears the company is well on its way on turning operations around. Record productionat Twangiza led to net income of $6.78 million (3 cents per share). Production was 35,943 ounces at a reported all in sustaining cost of $581 per ounce.
"With the completion of first quarter 2015, the Twangiza mine has achieved three quarters of consistent and improving gold production. Twangiza's improving production profile indicates that Twangiza is maturing into a stable low-cost mine. We are also very pleased with the progress at Namoya, where the commissioning of the agglomeration drum has led to improvements in the quality of stacked material, which in turn is supporting the ramp-up towards commercial operations," commented Banro chief executive officer and president John Clarke.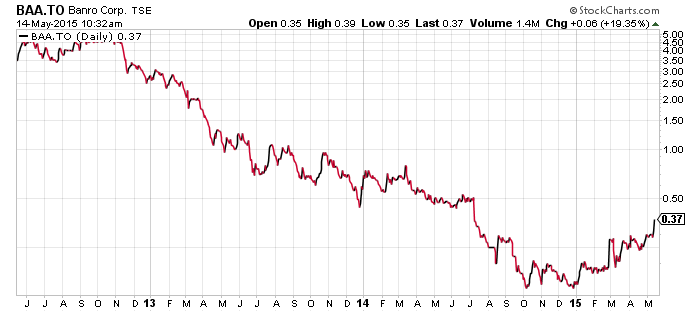 A horrible looking 3 year chart for BAA long term shareholders. It appears a turnaround has started though with a strong move in 2015.
The market likes what it sees today sending shares 20% higher in early trading.
Catching turnaround stories can lead to some great profits in the mining sector. Some other turnaround stories that come to mind include Lake Shore Gold, Kirkland Lake Gold, and Claude Resources.
Read:  Banro Announces Record Q1 2015 Production and Revenue Results
Please join us in CEO live.
This is not investment advice. All facts are to be checked and verified by reader. As always please do your own due diligence.