News on Friday includes Q1 financials from Osisko Royalties and B2Gold.
Osisko Royalties (OR:TSX) – First quarter net earnings of $10.2 million (15 cents per share) for Osisko royalty shareholders. The $10.6 million in revenue was all from the 5% NSR royalty held on the Canadian Malartic Mine.
Revenue from Goldcorp's newly producing Eleonore mine have yet to pay back the $5 million in advance royalty payments. Osisko expects to start receiving payments from Eleonore late in the third quarter.
After closing a $200 million dollar bought deal in February Osisko has $348.4 million of cash and cash equivalents on the balance sheet at quarters end. I would expect management to be aggressive looking for deals in 2015.
So far Osisko has added stakes in several junior mining companies and a few royalties on exploration projects. I would personally like to see them add another cash flowing royalty.
Osisko mentioned that they have also been acquiring shares of Labrador Iron Ore Royalty (LIF:TSX) and now own 9.75% of the company. Interesting to see the diversification away from precious metals into iron which is another beaten down commodity.
A quarterly dividend of 3 cents will also be paid to shareholders.
Sean Roosen, Chairman and Chief Executive Officer, commenting on the first quarter results:
"In eleven months as a new company, we have strengthened the balance sheet by adding over $242 million in cash raised through equity issues, acquired the world class Eleonore royalty through a friendly transaction with Virginia Mines Inc., and are announcing today our acquisition of a stake in Labrador Iron Ore Royalty Corporation. While our focus remains on precious metals, we will continue to seek out opportunities for the Company where we believe Osisko will benefit from domestic, long life assets with strong cash flow. Our cornerstone 5% NSR royalty at Canadian Malartic continues to provide the Company with strong revenues as it enjoyed record production in the first quarter. We congratulate the mine's new owners Yamana Gold and Agnico Eagle Mines as they complete the optimisation of the mine and increase Canadian Malartic's production profile."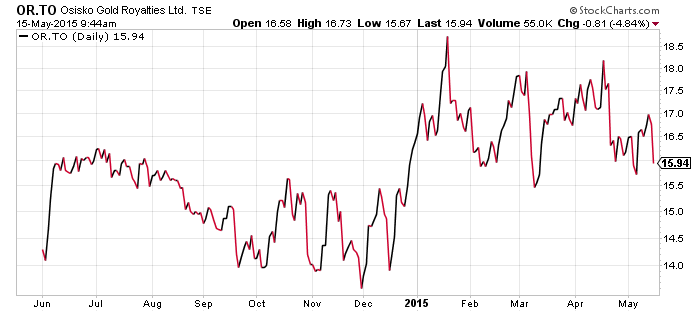 Osisko is anchored by two cornerstone royalties on arguably two of the best mines in Canada. Led by a strong management team of Sean Roosen and André Gaumond I would expect big things from Osisko in the years to come.
Read: Osisko reports first quarter 2015 results
Related: This Area is the 'Future of the Mining Industry… I'm not Interested in Anywhere Else' – André Gaumond, Virginia Mines
B2Gold – (BTO:TSX) – B2Gold reported first quarter results that included record production of 115,859 ounces and net income of $6.3 million. A positive quarter as the low cost Otijikoto mine ramps up. All in sustaining cost for the quarter came in at $1091 per ounce.
Production guidance of between 500,000 – 540,000 ounce at an AISC of between $950-1025 for 2015 has been maintained.
A feasibility study on the Fekola Project is expected in June 2015.  Pending a positive outcome Fekola will be the next asset B2Gold will bring into production accelerating growth. B2Gold is already in discussions with lenders are ongoing and expects to double its credit facility to $400 million in the second quarter. The current credit line has $125 million drawn down on the $200 million.
Cash and cash equivalents at the end of the quarter was $128.2 million.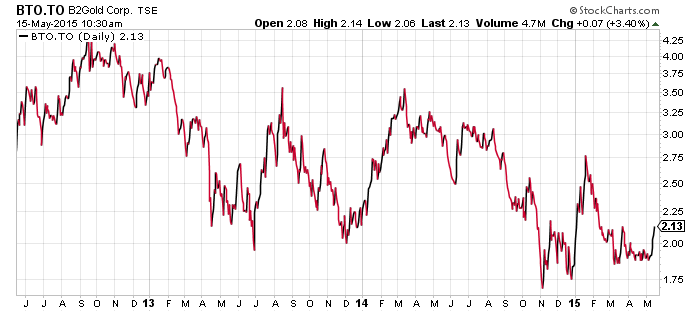 A 3 year chart above of B2Gold shows the stock hovering above a 3 year low. Management has been among the most aggressive in the space making acquisitions and growing production.
Will the aggressiveness reward shareholders in the years to come?
A conference call discussing the quarter will be at 10 am today (PST). I will be on the call and update this post if I see fit.
Webcast link – http://www.investorcalendar.com/IC/CEPage.asp?ID=173938
Read: B2Gold Reports First Quarter 2015 Results
Related: AME BC Roundup 2015 begins with wisdom from B2Gold CEO Clive Johnson
Please join us in CEO live.
This is not investment advice. All facts are to be checked and verified by reader. As always please do your own due diligence.