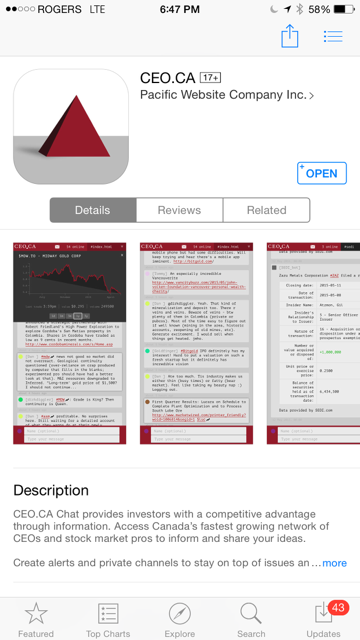 CEO.CA is excited to announce that CEO.CA Chat is now available in the Apple App Store and on Google Play, the Android app marketplace.
Here's the Apple download link.
Here's the Android download link.
The App is designed to give investors a competitive advantage through real-time information. Its users are a vibrant community of professional and amateur investors, scientists and company executives from over 115 countries, with particular interest and expertise in Canada's public venture markets and natural resources.
"This is the first serious investor app for the Canadian markets in many years," commented Tommy Humphreys, founder of CEO.CA. "We created this platform to connect a smart group of investors underserved by technology and social media, and to help them find better information (faster and easier) about Canadian stocks."
CEO.CA's platform provides a breadth of financial information, ranging from SEDI Insider Filing reports to a firehouse of valueable chats from our users, all in one place and instantly searchable. Stay on top of important topics with customized alerts, and seamlessly transfer from devices without having to update your preferences.
Vancouver-based web developer and Lighthouse Labs instructor Murat Ayfer leads the CEO.CA technical team working with recent Lighthouse grads Christopher Reid and Maggie Moss. Humphreys and Ayfer met in November 2014 and began discussing a collaboration. Christopher Reid joined the team in late December and a working prototype was launched at CHAT.CEO.CA on January 2nd and has improved steadily since.
To get a lot smarter about Canadian stocks, get the CEO.CA iPhone app or Android app today. There is nothing else like it.