Since 1867, after Alfred Nobel invented dynamite, the basic cycle of hard rock mining has remained constant: drill, blast, much, repeat. What has obviously changed at today's comparatively massive mines, are the technology, processing and mining methods, all triggered by advances in engineering. I recently read a phenominal book about the most innovative of early mining companies, titled "A Kennecott Story: Three Mines, Four Men, and One Hundred Years, 1897 – 1997", authored by Alaskan geologist, Charles "Chuck" Hawley. This book should be mandatory reading for mining CEO's worldwide.
As an exploration geologist and promoter, one of my pet peeves is the rampant abuse of the term "world class deposit". This grandiose statement applies to both the pin-striped Howe Street hucksters, and the plaid and bolo-tied executive geologists! I believe it was a CEO of Falconbridge who once proclaimed that the true definition of world-class is: "a mineral deposit that is so big and rich, that no matter how hard you try, you can't screw it up!". The early visionaries at the Kennecott Mining Company developed three of the truly world class copper deposits: the Kennecott mine in Alaska, by far the world's richest copper deposit, the massive Bingham Canyon mining complex in Utah, and the El Teniente deposit in Chile, considered to be the world's largest porphyry deposit. All three deposits were exploited using development and mining methods that were the first of their kind. The story of the Kennecott Company outlines these numerous firsts, taking advantage of the remarkable copper grades by both current and historic standards.
Chuck's book outlines the background of the development and operation of all three mines, led by innovative mining men, and the stories are remarkable, pushing best available technologies to their limit. The Company's namesake Kennecott Mine was an incredibly rich deposit, however it was located in a very challenging area, amongst the glaciers and rivers in the Wrangell Mountains in Southern Alaska. Occurring along the contact between limestone and basalt, this replacement-style deposit had thick lodes of massive chalcocite/covellite mineralization, grading as high as 65% copper. To access and mine the ore body, remarkable feats in early civil engineering were required, including a railway to the coast, and a network of aerial tramlines. The mine also used innovative mining techniques such as shrinkage stoping, sorting direct shipping and concentrator-bound ore. Ultimately four million tonnes at an average grade of 13% copper was mined, until the main ore bodies were depleted in the late 1930's. There is undoubtedly a lot more copper left in the area, however it will sit there undeveloped since Kennecott now sits in the Wrangell-St. Elias National Park.
Visitors today to the Bingham Canyon mine are in awe at its giant scale. The pit is four kilometers wide and a kilometer deep; prior to its development in 1906, it was a mountain which took twenty years to remove. Before Bingham's development as the first of its kind open pit, most copper was mined from high-grade structures exploited via underground stoping. Kennecott's developers followed the lead of new surface iron-ore mines in Minnesota, and employed steam shovels and extensive railway networks to bulk mine copper at an unprecedented scale. Later converting to electric shovels and rail, this mine set the standard for other open-pit copper mines from Arizona to Chile, whereby copper ore was shoveled into railway cars, and trammed to the massive concentrator. In addition to the bulk haulage of ore and waste, Bingham's engineers' ingenuity in various aspects of mining engineering was groundbreaking, including water management and mine scheduling. Chuck has excellent photographs of these excellent historic operations. The railways were eventually replaced by the large haul trucks, with ever increasing payload capacity, that are now employed at all open pit mines worldwide.
El Teniente is considered to be the world's largest copper porphyry deposit. It is currently the largest underground block-cave copper mine, and the largest mine in Chilean state-run Codelco's portfolio. The mine hosts a remarkable 3,000 kilometers of underground workings. This was another world first for Kennecott, as it was the first mine to incorporate large-scale, block caving technology of porphyry-style copper ore. This required an elaborate network of cave and panel stopes that fed by an elaborate system of ore passes and haulage ways. This mine was a great success by 1917, and was a key contributor to establishing Chile as the dominant global copper mining nation. Along with many other mines owned by foreigners, El Teniente was nationalized by Augusto Pinochet and rolled into Codelco, the world's largest copper mining company.
I've spent almost half of my career exploring in Alaska and am delighted that Alaskan geologist, Chuck Hawley, completed this fine book. Chuck started working in the 49th state for the USGS in the early 60's, later starting a successful geological consulting enterprise, and has been involved in dozens of discoveries and projects throughout the state. As he is in his senior years, it is great that he has documented this remarkable piece of mining history in a well-researched and written narrative.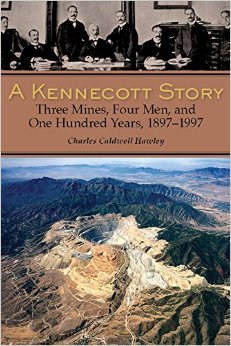 The book outlines the careers of four remarkable mining men: the visionary builders of each of the three mines, and the corporate architect who combined the three operations into the world's largest copper mining company in its day. What's important to note is that all four were mining engineers. Unlike most of the modern mining giants that are often lead by ex-bankers, accountants and MBA grads, these four were career miners. Their leadership was not purely technical, but also revolutionized important corporate culture traits such as integrated management and safety.
Despite all of the changes that the mining industry has gone through since the late 1800's, it is amazing to me just how much has remained the same! The Kennecott founders dealt with the same ups and downs of metal prices. They also had to finance development, navigating and wooing the sharks that populate the capital markets; like many modern miners, they had their 'sugar daddy' financiers: the Guggenheims. Kennecott dealt with downturns in metal prices and metal demand through recessions and depressions, as well as the boom times: supplying the US with the copper that electrified the nation, and to supply the war efforts through two World Wars. The Company had to survive political risk and nationalization of assets, and the great company and their flagship Bingham Canyon mine were eventually acquired by giant Rio Tinto in 1989.
This book would be enjoyed by technical mining people, lovers of history, or investors in mining stocks. It is an inspiring tail of men with dreams and vision, and the ingenuity and fortitude to build the best mine possible, despite engineering challenges that were considered impossible. In the near future, new technologies and resourcefulness will lead to the development of deep, rich copper mines in the American southwest and Chile, or low-grade in-situ leach style-deposits. Also, isolated but rich deposits such as Galore Creek or Donlin Creek will be developed using modern technology. Of course it helps to have that sugar daddy firmly in your back pocket!
"A Kennecott Story" by Chuck Hawley is available for purchase on Amazon.com.