A look at some of the news out today in the mining world with a few additional comments on each.
Mariana Resources (MARL:AIM) – Mariana is out with an update on the Hot Maden prospect in Eastern Turkey. Mariana so far in my opinion is the exploration story of 2015 after hitting two monster drill holes earlier this year. The Phase 2 drill program is under way with 4 holes complete.
Information on the 4 holes HTD 08 – HTD 12 were released this morning.
HTD-08 – (step out hole to test northern extension) intersected 90.9m @ 0.8% Zn from 9.5m and 7.2m @ 2.1 g/t Au, 1.6% Cu from 129.5m and is interpreted to be at the northern up‐plunge limit of the Hot Maden mineralized zone.
HTD-09 – (a step back hole below HTD 04)  intersected 22m @ 3.1 g/t Au, 0.3% Cu and 1.0% Zn from 40m, interpreted to be marginal to and beneath the plunge of the main Au‐Cu zone.
HTD-10 – (infill hole between HD 04 and HD 05) (Assays pending) intersected 66.1m from 81.8m of brecciated andesites/stockworks + jasperoid and strong chalcopyrite‐pyrite mineralization and 80.2 m from 147.9m of sulfide‐bearing andesites, with up to 10m of massive chalcopyrite + pyrite.
HTD-11 – (testing strike extension) (Assays pending) intersected 125 m from 255.3m of brecciated andesite/stockworks with strong chalcopyrite‐pyrite mineralization + jasperoid, extending the Au‐Cu zone a further 60 m south of HTD‐05
Chief Executive Officer, Glen Parsons, today commented, "With two rigs on site we are quickly gaining a better understanding of what is clearly a well mineralized high grade Au‐Cu zone and interesting Zn halo at Hot Maden.  Holes 8 and 9 have given us a better perspective of the northern end of a substantial south plunging mineralized body whilst the new holes, 10 and 11, are showing continuity between the two discovery holes and extension to the south respectively.    The extensions of the mineralized zone, indicated so far, are very encouraging and the Joint Venture will continue to pursue this with further drilling.  Holes 12 and 13 are currently being drilled with the aim of improving our understanding of the width and  dip of the mineralised zone.  Subsequent holes will target further extensions.
Mariana is only on hole 13 at the Hot Maden project and it is still early.  Drill results released today do not come close to the remarkable holes HD-04 and HD-05 but do provide the team a better understanding of the mineralized system.
HTD‐04: 103m @ 9.0 g/t Au & 2.2 % Cu from 25m downhole, including a higher grade interval of 18.3 g/t Au & 3.3% Cu over 33.4m from 79.8m downhole
HTD‐05: 82m @ 20.4 g/t Au & 1.9% Cu from 147m downhole, including a bonanza 13m @ 88 g/t Au & 2.5% Cu from 150m downhole
JV partner Lydia is funding the 10,000 m program and has now earned into 20% of the project. Lydia has the option to earn up to 70% of the project.
Drill holes HTD-12 and HTD-13 are in progress.
Investors can expect plenty of news flow from Mariana as the drill program progresses.
MARL stock is down 1.96% in early trading this morning.
Read: Hot Maden, Turkey ‐ Continuity of the Au‐Cu Mineralized Zone and Extension to the South
Related: Video: What's next for mining's most promising new discovery
Platinum Group Metals – (PTM:TSX) – Platinum Group Metals is out with news of additional funding and that they will be consolidating the Waterberg PGM district.  Japan Oil and Gas and Metals Corporation (JOGMEC) will be funding the next $20 million (US) of development funding which will change the ownership percentages of the three partners.
As a result of the funding ~15 drill rigs and crew will resume activity on the project. The new ownership will be Platinum Group Metals (58.62%), JOGMEC (28.35%), and Mnombo (26%).
"Today's agreement enhances our long-standing strategy of advancing shallow, high-grade, low cost projects to create significant and sustainable value for our shareholders," said Platinum Group Metals CEOR. Michael Jones. "The consolidation of the Waterberg Project eliminates project boundaries; reduces development, administration and infrastructure costs; creates strong efficiencies; and enables the most economic development of the deposit. The unified ownership structure also allows for superior mine planning and scheduling focused on the early exploitation of higher grade tonnes of Super F mineralization, which may be planned with lower-cost mechanized processes in the ongoing Pre-feasibility Study."
An updated resource estimate at the Waterberg project is expected this quarter.  The resource update will incorporate up to 71,000 m of additional drilling mostly inferred since the June 2014  resource update.
The June 2014 Waterberg resource estimate is 29.07 million inferred ounces over approximately the first 10 kilometers of strike length. It is likely that the additional drilling will see some of those inferred ounces converted into the measured and indicated categories.
A further updated resource estimate for the New Waterberg JV overall is expected in approximately September 2015 prior to the completion of a pre-feasibility study on the entire unitized Waterberg deposit.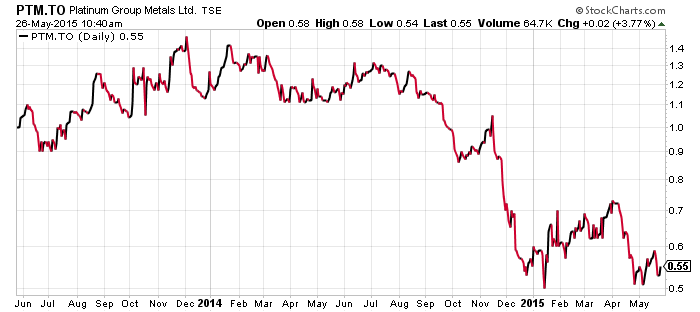 A 2 year chart of PTM has the stock trading near the lows. The stock has bounced off 50 cents a few times and is trading at 56 cents early this morning.
The platinum price has struggled and was as high as $1500 last July while currently trading at $1127 per ounce.
Platinum Group also has the WBJV Project 1 which is under construction.  First production is expected before the end of this year and is expected to be in the lower part of the cash cost curve.
If investors are looking for exposure to platinum exposure they have limited options and PGM is worth a look in my opinion.
Read: Platinum Group Metals and Japanese Partner Consolidate Waterberg PGM District
Related: 24 drill rigs turning in South Africa at this platinum project
Please join us in CEO live.
This is not investment advice. All facts are to be checked and verified by reader. As always please do your own due diligence.