A look at some interesting headlines out this morning with some additional thoughts.
Columbus Gold – (CGT:TSXV) – Columbus Gold is expected to start drilling at the Eastside project in Nevada within the week. This will be one of the biggest drilling programs this year by any junior mining company. All bonds and permits have been received.
Columbus has been busy getting ready for the drill program with 18.4 km of road building under way. Drilling is expected to consist of ~45,000m in 175 holes.
Columbus thinks they are on to the next major discovery in Nevada and has already signed 9 confidentiality agreements with other companies looking at the project.
Andy Wallace the geologist at Columbus has discovered 8 projects that are/or going into production and hopes Eastside will be number 9.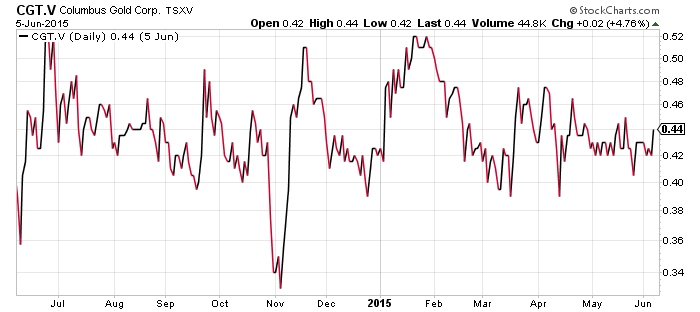 A fairly range bound chart for Columbus Gold shareholders in the last year. I will be following Columbus as drill results from Eastside come in regularly in the next several months.
Columbus also has very solid JV with NordGold on the Paul Isnard project in French Guiana. The Paul Isnard project is ~5 million ounces (indicated +inferred) and is open for expansion. A PEA has been targeted for the second quarter so any time within the next couple weeks. NordGold can earn a 50.01% interest in the project by spending a minimum of $30 million US and completing a bankable feasibility study by March 2017. NordGold is also funding all work on the project.
Cash as of May 22nd was estimated at $5 million.
With 2 irons in the fire and lots of catalysts at both projects Columbus Gold makes for an interesting stock to look at in my opinion.
Read: Columbus Gold Receives Drilling Permit for Eastside Gold Project in Nevada
Watch: ‪Peter Ball, SVP, Columbus Gold (CGT.TSXV) Subscriber Summit Presentation‬
Eastern Platinum – (ELR:TSX ) – Eastern Platinum is out with news that the transaction to sell the company has been delayed. The deal which was which was expected to close in the second quarter will now occur in two separate transactions.
The first transaction will be the sale of the Crocodile River mine and associated inter corporate loans for $85 million which closure expected on or before August 7th.
The second transaction will be the sale of all remaining PGM assets (the Spitzkop, Kennedy's Vale and Mareesburg projects, and inter corporate loans) for $140 million and is expected to close on or before October 31st, 2015.
The total consideration remains the same as the original deal at $225 million.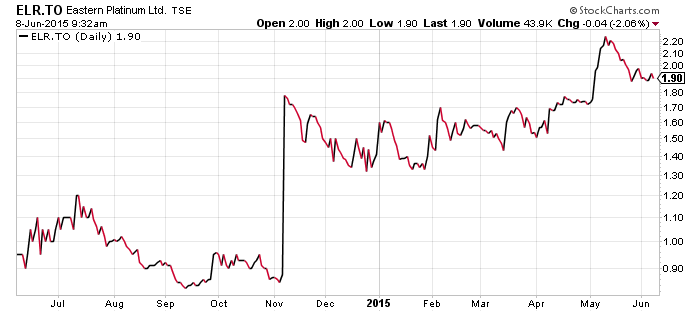 Eastern Platinum 1 year chart shows a big move when the deal was first announced in November 2014.  At the time ELR was trading at the same cash as it's market cap. I alerted my CEO.ca colleagues via a real time app we were using and we ended up all profiting on the trade.
I was familiar with the company as I had been following them as a cash rich bottom play. Another company I have been following as cash rich was Independence Gold which has also had a nice move lately and is heavily discussed in CEO Live.
As of last financials (March 31,2015) Eastern Platinum had $66.9 million in cash on the balance sheet. If both deals close the net proceeds to ELR are expected to be $175 million (USD) or ~$217 million CAD.
Cash position would then be say $275 million Canadian and the current market cap is $172 million. Lots of upside potential but also significant risk as the market is also pricing in that the deal might not close.
Read:  Eastplats And Hebei Zhongbo Agree To Close The Sale Of CRM Prior To The Closing Of The Eastern Limb Assets
Related: Unexpected windfall for Eastern Platinum investors
This is not investment advice. All facts are to be checked and verified by reader. As always please do your own due diligence.