A look at my top mining new releases out this morning with some additional comments on each.
TMAC Resources – (TMR:TSX) – The only Canadian mining IPO of 2015 has started trading under the symbol TMR. TMAC Resources is focused on building Canada's next gold mining district in Hope Bay, Nunavut. The project was purchased from Newmont Mining in January 2013 and has remained as a private company up until today.
TMAC is led by CEO,Terry MacGibbon who has a strong track record in the mining space previously the former CEO and Chairman of FNX and co-founder and chairman of Torex Gold.
The team has been working on the Hope Bay project for the last couple years before today's IPO.
In April a robust pre feasibility study was completed showing a post tax IRR of 40% and a payback period of 1.7 years using $1250 gold.  A 20 year mine life is expected to produce 3.2 million ounces of gold at an average grade of 7.6 grams per tonne.
Pre production capital is estimated at only $206 million.
On June 29th TMR raised $135 million C$ at $6 per share to help fund construction of the project . TMAC will be fully funded for development. Shares are trading at $5.65 in early trading this morning.
Catharine Farrow, TMAC's Chief Executive Officer stated, "The completion of the C$135,000,000 Offering, along with the approximately C$68,000,000 dedicated for capital expenditures that TMAC had in its treasury in January 2015 and the US$120,000,000 term loan facility (approximately C$150,000,000 at current currency rates), will provide TMAC with over C$350,000,000. This amount, excluding the possible Over-Allotment Option, will not only fully fund the construction of the Hope Bay Project, budgeted to cost approximately C$272,000,000, but will provide a significant capital overrun cushion, if needed. We are currently finalizing the definitive documents and agreements related to the Sprott Resource Lending Partnership and Morgan Stanley Capital Group Inc. loan facility and expect to close that facility shortly."
A financing was done in January at $1.75 per share (23,443,572 shares) as well as in May 2014 (43.9 million shares) so you could see some profit taking.
The plan is for first production before the end of 2016.
I will be watching TMAC closely as the company has excellent management and a project with fantastic economics. When investors take interest in gold equities again I would say TMAC will be near the top of the list.
Read: TMAC Resources Completes Initial Public Offering of C$135 Million
Related: TMAC Resources Inc boosts IPO to $135 million on strong demand
Claude Resources – (CRJ:TSX) – Claude continues to be a turnaround story delivering strong returns for shareholders. This morning Claude released second quarter production numbers for the Seabee and Santoy mines in Saskatchewan.
Highlights:
• 2015 gold production guidance increased to 68,000 to 72,000 ounces
• Q2 gold production of 20,619 ounces, a 10% increase over Q2 2014
• 1H 2015 gold production of 41,686 ounces, a 39% increase over 1H 2014
• Q2 2015 mill head grade of 8.88 grams per tonne, a 15% increase over Q2 2014
• Increased cash and bullion (1) to $20.9 million which exceeds long-term debt
Brian Skanderbeg, president and chief executive officer, commented: "By following up a record first quarter with a strong second quarter, we are in a position to achieve two consecutive years of record performance. The strong production performance and grades are a result of increased contribution from the higher-grade Santoy Gap deposit and from the implementation of the Alimak mining method at the Seabee mine."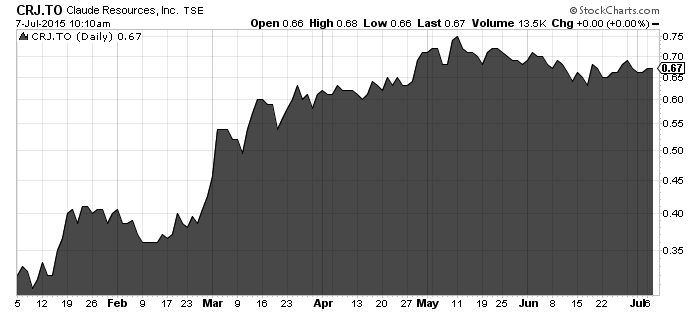 Claude stock has doubled in 2015 making it probably the top junior producer on the TSX. Strong production results continue and management has increased guidance.
Turn around stories in mining can provide strong returns for shareholders as evidenced by Claude, Lake Shore Gold, and Kirkland Lake Gold.
Who is the next turnaround story?
Read: Claude Produces 20,619 Ozs of Gold in Q2 & Increases 2015 Production Guidance
Related: 5 gold producers making money at $1170 gold
This is not investment advice. All facts are to be checked and verified by reader. As always please do your own due diligence.