A look at what caught my eye this morning from mining companies and some comments on each news release. Note Doubleview Capital(DBV:TSXV) is halted pending news which I would expect to be drill assays on the bottom of Hole 23.
Assays are pending for a third, wider chalcopyrite-pyrite zone that was visually observed to extend for at least 120 metres beginning at a depth of 402 metres, the current end of sampling.
I will update the post if the news is significant.
Related: The hunt is on for the next copper-gold deposit in B.C.
Columbus Gold – (CGT:TSXV) – Columbus has released a PEA on the Montagne d'Or gold deposit, Paul Isnard Project, French Guiana. The Montagne d'Or deposit is a joint venture with partner NordGold. NordGold is earning into a 50.01% interest by completing a bankable feasibility study and by expending not less than US$30 million in 3 years in staged work expenditures.
The Project shows robust economics at US$1,200/oz gold price with NPV 8% of US$324 million and 23.0% IRR. These numbers compare favourably with other PEA's released by mining companies this year.
Montagne d'Or PEA Highlights
Initial Capital Cost of US$366M, including US$44M contingency
All-in Sustaining Costs ("AISC") of US$711/Oz
Life of Mine ("LOM") Production of 3.05 million ounces
Average Annual Gold Production 273,000 Oz in years 1-10
Milling Capacity of 12,500 tonnes per day, with an average gold grade 2.0 g/t in years 1-10
Robert Giustra, Chairman & CEO of Columbus Gold, commented: "The advancement of the Montagne d'Or Gold Deposit to the PEA stage achieves a significant milestone that clearly indicates the potential to develop a low CAPEX gold deposit with scale and good grade, at below industry average cash costs. The Montagne d'Or PEA is planned to deliver a solid average grade of 2 g/t over a 10 year production period, and with additional drilling and continued refinement of operating costs, including various energy proposals in the upcoming feasibility study, a potential reduction in overall costs may be possible."
Columbus is trading at a 2015 low. I think the stock has sold off since June as the market was expecting the PEA in the 2nd quarter. Even though it is only a week late the market will make management pay for missing stated guidance.
Next steps for the Montagne d'Or deposit are phase 3 drilling and a resource upgrade to convert resources to the measured category (Q1 2016).
Columbus also has catalysts at the 100% owned Eastside project in Nevada.  Drilling commenced in June and a 45,000m program is expected this year.
Read: Columbus Gold Announces Positive PEA Results on Montagne d'Or Gold Deposit; Production of 273,000 Oz/yr and AISC of US$711/Oz
Related: CGT – Columbus Gold signs $30 million joint venture with Nord Gold
Lake Shore Gold – (LSG:TSX) – Lake Shore Gold has released strong 2nd quarter production results.  First half production was 95,600 ounces at 4.9 grams per tonne gold.
Financial results have yet to be released but investors can get a good idea as cash and bullion at July 7, 2015 was ~$82.0 million.
Due to operating results in the first half management has increased guidance to the high end (180,000 ounces) and expects lower cash costs than originally planned.
Tony Makuch, President and CEO of Lake Shore Gold, commented: "We had a strong first half of 2015, which has resulted in a positive revision to our production guidance for the year. In addition, while we will not release our H1/15 and Q2/15 cost estimates for a few more days, we now expect to beat our unit cost guidance in 2015. We are now targeting cash operating costs of better than US$650 per ounce sold compared to our guidance of US$650 to US$700 per ounce. Our all-in sustaining costs(3) are expected to average below US$950 per ounce versus our guidance for the year of US$950 to US$1,000 per ounce. With solid production and low unit costs, we have been able to grow our cash and bullion by approximately $20 million in the first six months of 2015 with the increase coming entirely from internally generated cash flow. We have also continued to reduce debt. In late May, we made the final payment on our gold-linked note, which will save the Company over a million dollars a month in debt repayment and servicing costs going forward.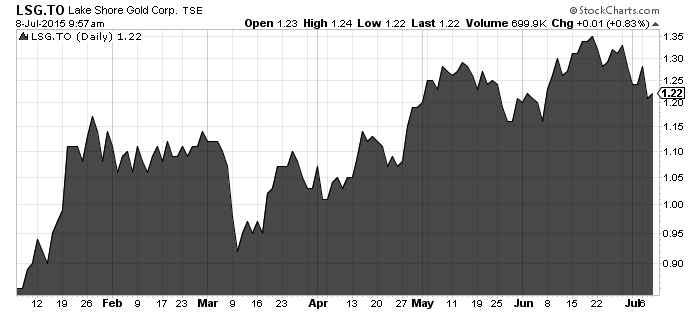 Lake Shore is one of the better performers in the gold space in 2015. Everything seems to be going right at LSG the company is profitable generating free cash flow.
Also helping the share price is strong exploration drill results from the 144 gap zone.
What will Lake Shore do with the growing cash balance? Could they be looking at an acquisition?
If so St. Andrews Gold (SAS:TSX) potentially could be on the radar.
Read: July 8, 2015 Lake Shore Gold Produces 95,600 Ounces in First Half of 2015
Related:5 gold producers making money at $1170 gold
This is not investment advice. All facts are to be checked and verified by reader. As always please do your own due diligence.