A look at a few of the new releases that got my attention this morning and some additional comments on each. This morning I look at two gold development companies on track for first production in Q1 2016.
True Gold Mining – (TGM:TSXV) – True Gold Mining has provided an update on the construction of the Karma mine in Burkina Faso. Everything remains on schedule with first gold pour expected to be at the end of the first quarter in 2016.
As a result of ongoing construction expenditures True Gold has withdrawn $14 million more on the the $100 million credit line from Franco Nevada and Sandstorm Gold. As a result True Gold currently has ~$37.5 million in cash and has withdrawn $71.6 million on the credit line.
Christian Milau, President and CEO of True Gold stated, "There is an atmosphere of excitement on site with a workforce of over 500 focusing on earthworks and the processing plant final assembly. We have progressed rapidly with site development and construction, highlighted by commissioning of the mine fleet, completion of the raw water pond excavation and initial construction of the raw water pipeline."
The Karma mine has fantastic economics with an after tax IRR of 46.3% at $1250 gold.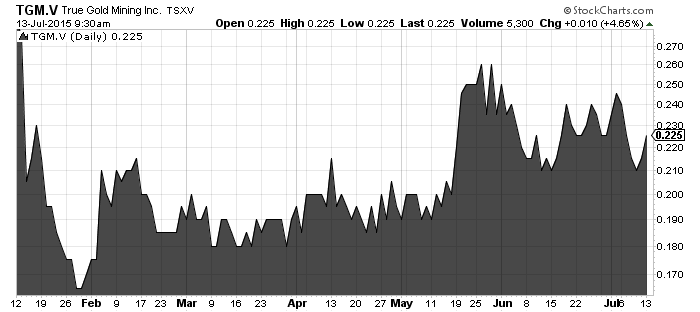 TGM stock price in 2015 has been fairly quiet but has moved up a few cents since construction resumed at Karma. As the mine gets closer and closer to production it is likely to see a re rating in the marketplace.
Investors are probably a little leery on the election taking place in Burkina Faso scheduled for October 11th.
True Gold stock looks cheap to me but I will be on the sidelines until after the election and more confirmation development continues on schedule and budget.
Read: True Gold provides construction update for Karma mine
Related: Tuesday morning news – True Gold Mining and Imperial Metals
Asanko Gold – (AKG:TSX) –  Asanko has now reached 60% completion at its large mine Asanko Gold mine in Ghana. Phase 1 remains on schedule for first gold pour in Q1 2016 and is expected to produce 190,000 ounces per year when fully ramped up.
Asanko seems to be well finance to complete the mine stating a $40 million dollar financing buffer at the moment.
Peter Breese, President and CEO, commented: "Construction of Phase 1 continues to advance according to plan and budget, which is very encouraging. Mining operations have hit their stride with the entire PW mining fleet fully mobilized and current mining levels exceeding the plan. The plant site construction is progressing very well and with the Project now nearing 2/3rds completion, we remain confident that we will be able to deliver this project on time and within the capital budget of US$295 million."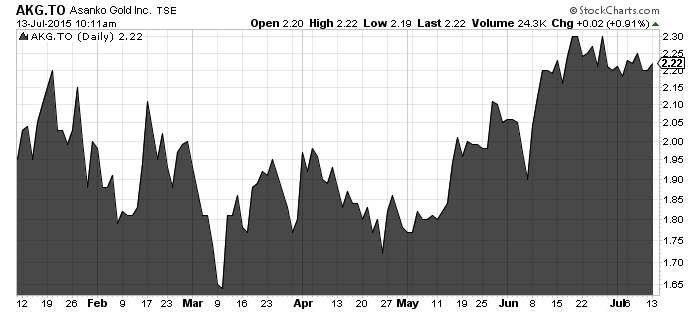 Asanko has had a nice upward move since announcing phase 2 results for the project in May.   Phase 2 has an 27-per-cent after-tax IRR at $1300 gold.
Development projects coming on line in the next year include Guyana Goldfields, Rubicon Minerals, True Gold, RoxGold, and Asanko Gold.
Several large mines are also ramping up including Mt. Milligan (Thompson Creek), Eleonore (Goldcorp), Red Chris (Imperial), and Constancia(Hudbay).
I am starting to question the Goldcorp Peak Gold in 2015 theory with all these new mines coming online.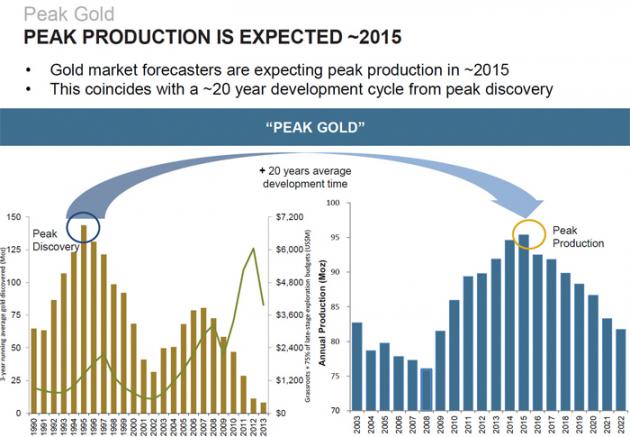 Read: Asanko Gold Mine Construction Update
Related: Back At It Again: An Interview with Peter Breese
This is not investment advice. All facts are to be checked and verified by reader. As always please do your own due diligence.