A look at a couple of the mining headlines that caught my eye this morning with some additional comments on each.
Ivanhoe Mines – (IVN:TSX) – Ivanhoe and Zijin have extended the date of extend the date for completion of Zijin's planned investment in Ivanhoe's Kamoa copper project in the Democratic Republic of Congo. The original deal was targeted to close on or close to July 31st.
On May 26th, Ivanhoe and Zijin reached a deal to become partners on Kamoa. The deal was that Zijin would buy a 49.5-per-cent share interest in Kamoa Holding Ltd., an Ivanhoe subsidiary that presently owns 95 per cent of the Kamoa project, for a consideration of $412-million (U.S.) (approximately $506-million).
IVN was expected to receive $206 million (US) on closing of the deal which has now been extended as all conditions have yet to be met.
The closing date now will be the 15th business day following the satisfaction or waiver of all conditions precedent to the transaction.
Ivanhoe and Zijin are continuing to work in a mutually co-operative and constructive manner to complete the Kamoa transaction as soon as possible. The outside date for completion of the transaction is six months from the signing of the agreement, unless Zijin and Ivanhoe Mines agree to extend to a later date or opt for an earlier date.
Kamoa is one the of  largest highest grade undeveloped copper projects in the world. At a cut-off grade of 3% the project contains 19 billion pounds of 3.85% copper. Ivanhoe has agreed to sell a 15% interest in the project to the DRC on terms that are being negotiated.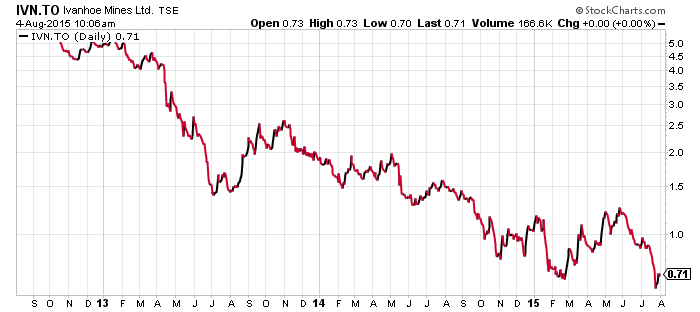 Ivanhoe share prices have been destroyed in the bear market since the IPO in late 2012. Hundreds of millions of dollars have been spent since at Ivanhoe projects but the market doesn't care with lower commodity prices.
Rick Rule mentioned at the Sprott Stansberry conference last week that he remains a large long time shareholder of Ivanhoe.
Read:Ivanhoe Mines and Zijin Mining Group extend completion date for Zijin's planned investment in the Kamoa Copper Project
Related: Sprott conference kicks-off with revealing Robert Friedland live interview
Guyana Goldfields – (GUY:TSX) – Guyana has poured first gold at the Aurora gold mine in Guyana, South America. Production for 2015 is expected to be between 30-50k ounces before ramping up to 120-140k ounces in 2016.
GUY remains fully funded and has ~$20 million in capital expenditures left to spend at the mine.
Scott A. Caldwell, President and CEO, commented: "Our first gold pour is an extraordinary achievement in GGI's transition from an exploration and development company to a high grade, low cost gold producer. We would like to celebrate this significant accomplishment for all that have contributed from the Project's inception and thank our shareholders and stakeholders in supporting the development of the Project, including our Board of Directors, management team, employees and contractors as well as the lenders for the debt financing syndicate comprised of International Finance Corporation, Export Development Canada, ING Capital LLC, Caterpillar Financial Services Corporation, and The Bank of Nova Scotia. In addition, we wish to thank the Government of Guyana and local communities for their continued support through the development of the Project. The focus at the site now is to increase gold production to our target level of 50,000 ounces during the balance of this year."
Guyana is now entering a producer status and is likely to see a re-rating in the market place as cash flow begins. Investors will want to follow the ramp up status and of course the gold price.
GUY should be a strong free cash flow generator event at current metal prices. At an $1000 gold price the PEA showed an after-tax IRR of 20%.
Read: Guyana Goldfields Inc. Pours First Gold at its Aurora Gold Mine
Related: Wednesday Morning News – Guyana Goldfields and Pure Gold Mining
Thanks for reading.
This is not investment advice. All facts are to be checked and verified by reader. As always please do your own due diligence.