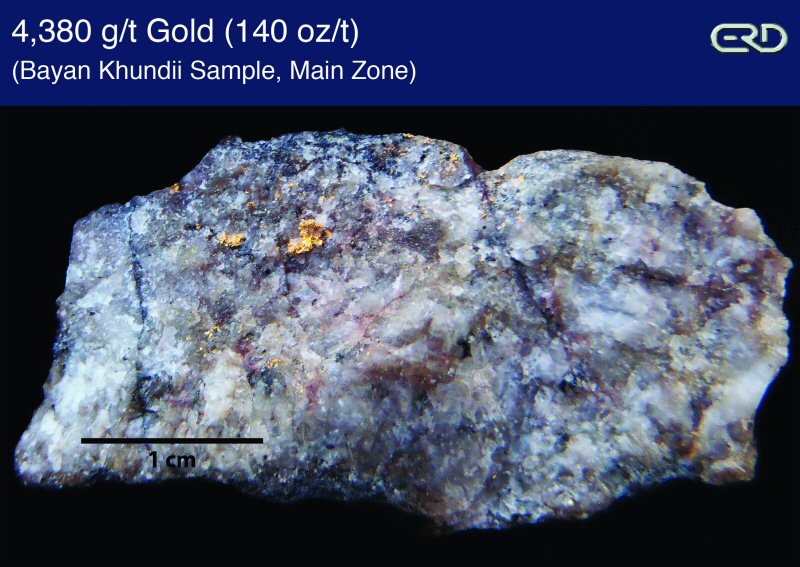 Mongolia gold play Erdene Resource Development Corp. has announced the discovery of bonanza-grade gold in rock chip and grab samples south of its flagship Altan Nar project.
Highlights at the new discovery, Bayan Khundii (Rich Valley), include:
Multiple high-grade rock chip samples (4 to 4,380 g/t gold) collected from multiple mineralized zones over a 1.4 km area;
Visible gold observed in numerous locations with no significant sulfide material present;
Trenching confirmed lower-grade gold mineralization (0.1 g/t to 1.0 g/t Au) in host rocks, over significant widths (up to 30 m), hosting the significantly higher-grade vein material;
Trenching identified four separate zones, 10 to 30 m wide, averaging 2.3 to 2.9 g/t gold over a 300 m strike area;
Trenching returned values up to 55 g/t gold over 1 m.
"We are very excited by our new discovery in this emerging gold district in southwest Mongolia. What sets this discovery apart from our other projects in the area is the bonanza gold grades, the multiple broad mineralized zones, and the free-gold, low sulphide nature of the mineralization, all of which enhance the potential economics of the project," said Peter Akerley, Erdene's President and CEO. "We are now developing plans for accelerated exploration of this exciting new discovery as part of our southwest Mongolia gold development program led by our Altan Nar gold-polymetallic project."
Erdene shares were riding the positive results, last up about 30% (4 cents) to 15.5 cents.
Erdene's flagship project, Altan Nar, is a 5.6-kilometre mineralized trend located about 15 km north of Bayan Khundii in southwestern Mongolia.
In Q1 Erdene published an initial resource estimate on the near-surface portions of two of 18 targets at Altan Nar. That resource consists of 147,000 ounces Indicated at 2.5 g/t AuEq and 102,000 oz Inferred at 2.1 g/t AuEq at a 1 g/t AuEq cut-off.
Erdene president and CEO Peter Akerley will be presenting at 11:30 a.m. Thursday at the Subscriber Investment Summit at the Pan Pacific in downtown Vancouver. Here's the full agenda.
NR: Erdene discovers bonanza grade gold in southwest Mongolia
Talk stocks and investing at chat.ceo.ca, the investment conference in your pocket.
Disclaimer
The work included in this publication is based on SEDAR filings, current events, interviews, and corporate press releases. It may contain errors, and you shouldn't make any investment decision based solely on what you read here. This publication contains forward-looking statements, including but not limited to comments regarding predictions and projections. Forward-looking statements address future events and conditions and therefore involve inherent risks and uncertainties. Actual results may differ materially from those currently anticipated in such statements. The views expressed in this publication and on the CEO.CA website do not necessarily reflect the views of Pacific Website Company Inc., publisher of CEO.CA. Erdene Resource Development is a sponsor of Thursday's CEO.CA Subscriber Investment Summit in Vancouver, and as such, Pacific Website Company Inc. has a financial conflict with Erdene and is therefore biased. The author purchased shares of Erdene in the public market after today's news release. This publication is provided for informational and entertainment purposes only and is not a recommendation to buy or sell any security. Always thoroughly do your own due diligence and talk to a licensed investment adviser prior to making any investment decisions. Junior resource companies such as Erdene Resource Development can lose 100% of their value so read Erdene's profile on www.SEDAR.com for important risk disclosures. It's your money and your responsibility.
Forward-Looking Statements
Certain information regarding Erdene contained herein may constitute forward-looking statements within the meaning of applicable securities laws. Forward-looking statements may include estimates, plans, expectations, opinions, forecasts, projections, guidance or other statements that are not statements of fact. Although Erdene believes that the expectations reflected in such forward-looking statements are reasonable, it can give no assurance that such expectations will prove to have been correct. Erdene cautions that actual performance will be affected by a number of factors, most of which are beyond its control, and that future events and results may vary substantially from what Erdene currently foresees. Factors that could cause actual results to differ materially from those in forward-looking statements include market prices, exploitation and exploration results, continued availability of capital and financing and general economic, market or business conditions. The forward-looking statements are expressly qualified in their entirety by this cautionary statement. The information contained herein is stated as of the current date and is subject to change after that date. The Company does not assume the obligation to revise or update these forward-looking statements, except as may be required under applicable securities laws.
NO REGULATORY AUTHORITY HAS APPROVED OR DISAPPROVED THE CONTENTS OF THIS RELEASE