Erdene Resource Development
Price: 0.15
Market capitalization: $14.5 million
Peter Akerley, the CEO of Erdene Resource Development (ERD-T), first set foot in Mongolia 18 years ago.
At the time, few westerners had.
The geologist, then 33, was working for a group that included a Barrick Gold joint venture and had managed to lock up 4 million hectares of territory across the underexplored country, which had recently emerged from communism.
Barrick was looking for epithermal gold deposits in the northeast but the group had properties throughout Mongolia. Akerley eventually managed 10 projects and shuttled around in 1960s-era Soviet army Jeeps and, occasionally, Antonov troop transports and MI-8 transport helicopters.
"It was a fantastic Country 101 course for myself and (Erdene) chairman, Chris Cowan," he said.
During the Communist era, Mongolia had one of the largest contingents of Soviet troops outside of Russia.
The soldiers left almost overnight following Mongolia's "perestroika," leaving a vacuum of dollars, food, and fuel that left a large hole in the country's economy.
The light at the end of the tunnel was foreign investment in mining.
Over the next 15 years, Mongolia steadily rose to become one of the top destinations for foreign-invested resource dollars.
At the top of the commodity supercycle, it was the fastest-growing economy on the planet. A roster of eclectic foreign investors passed through Ulaanbaatar, the capital city, including Russian oligarchs, Chinese billionaires, Middle Eastern princes and most of the world's major mining companies.
Robert Friedland was another regular, and his Oyu Tolgoi discovery is now one of the world's largest copper-gold mines, operated by Rio Tinto.
Mining remains a critical piece of Mongolia's future development, and the business-friendly government is eager to stimulate economic growth.
STAKING CLAIMS, BUILDING OUNCES
Dartmouth, Nova Scotia-based Erdene Resource Development is staking its claim in that future by advancing its flagship Altan Nar project – a 5.6-km by 1.5-km mineralized trend rich with gold and polymetallic targets – as well as other grassroots discoveries including Bayan Khundii ("Rich Valley").
The promising projects, on the southwestern edge of Mongolia's Gobi Desert, are well on their way to becoming a new gold district within a prolific belt that straddles Mongolia, China, Russia and Kazakhstan.
"We're very excited by our recent high-grade gold results," Akerley said of the growing district. "We're continuing to see evidence that it has much more to offer."
On Monday the company announced a new discovery called Bayan Khundii with exceptionally high-grade gold in veins now demonstrated to be hosted within much wider zones of mineralization. Grab samples in several locations have returned 10 to 4,000 g/t of gold while trenching across these veins has returned between 10 and 30m of 2.3 to 2.9 g/t gold.
"This news has elevated the project to high priority and over the next few weeks we intend to launch a Q4 drilling program at Bayan Khundii to better assess the tonnage and grade potential of this exciting gold discovery," Akerley said.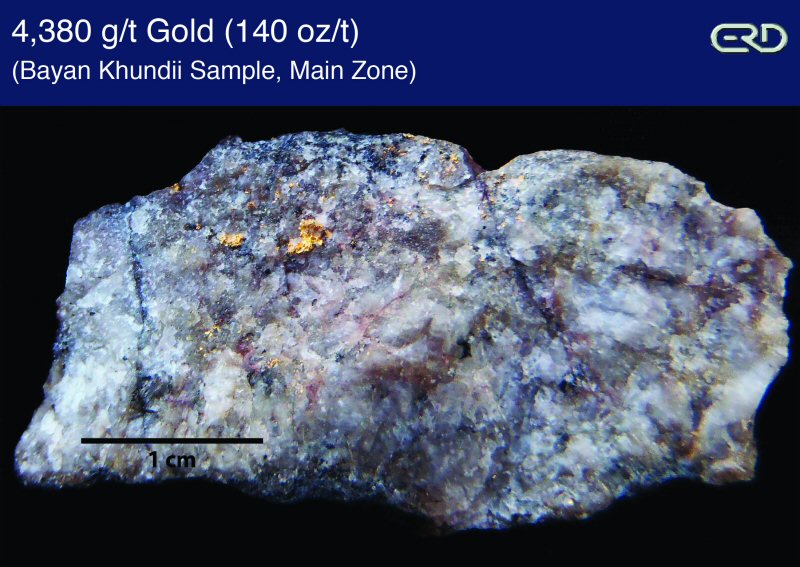 The nature of the gold mineralization – coarse and very little associated sulfide – will likely lend itself to the simplest of gold processing methods, making this a promising discovery for the company. Together with their gold-polymetallic project at Altan Nar, Erdene is now advancing two high-quality gold projects within the Tian Shan gold belt of southern Mongolia.
The company continues to add ounces at Altan Nar ("Golden Sun"), located 15 kilometres northwest of Bayan Khundii. Recent infill drill results from the Union North target, one of 18 in the trend, revealed several high-grade intercepts within 30 metres of surface, including:
− TND-81 – 9 metres of 6.2 g/t gold equivalent;
− TND-81 – Excluding two post-mineral dykes, 28.3m of 2.6 g/t AuEq
− TND-82 – 12 m of 5.3 g/t AuEq (including 5 m of 10.9 g/t AuEq);
− TND-83 – 5.2 m of 7.7 g/t AuEq;
− TND-85; 12.8 m of 3.4 g/t AuEq.
The main mineralized body at Union North was also extended 200 metres east with a step-out trench that showed 28.5 metres of 2.5 g/t AuEq. The deposit remains open at depth and along strike, the company says.
Erdene's maiden resource estimate, announced March 31, covers near-surface portions of the Union North and Discovery targets. The zones contain an estimated 147,000 oz indicated at 2.5 g/t AuEq and 102,000 oz inferred at 2.1 g/t AuEq, at a 1.0 g/t AuEq cut-off. Gold makes up between 75-80% of the resource, Akerley said, and about 90% of the mineral resource is within 150 metres of surface.
More news is expected in the coming weeks as Erdene awaits additional drill results from the Discovery Zone deposit at Altan Nar (Q1 drilling hit 16 m of 8.7 g/t AuEq), and as the company continues to advances Bayan Khundii and its other projects in the underexplored region less than 200 km from China. An updated resource estimate at Altan Nar is expected in 2016.
BEAR MARKETS, BIG OPPORTUNITIES
Akerley had a unique vantage point into the development of Oyu Tolgoi located to the east.
His team shared resources – including office space and helicopters – with Friedland's representatives and the Ivanhoe group. BHP was in Mongolia too and had locked up the Oyu Tolgoi ground, but cut back on its exploration budget in the bear market of the late 1990s.
"I still remember the day that (Ivanhoe executive) Doug Kirwin came by our PDAC booth in 1999, it was much like today's environment where everybody's just so beaten up, things are for sale for a song," Akerley recalled. "He came by and said, 'you should go down and have a look at that core BHP has at their booth, it's going to be a pretty significant porphyry discovery.' "
Ivanhoe purchased the property from BHP for $5 million and that "shot" eventually became the Oyu Tolgoi mine, now churning out up to 700,000 ounces of gold annually as well as large amounts of copper. Rio Tinto's chief development officer told the Sydney Morning Herald in September that Oyu Tolgoi is "… the biggest and best new project we've got, full-stop, across the group." The mine is expected to account for a third of Mongolia's GDP once it reaches full production.
"Those are the kinds of opportunities that show up at this point in the cycle," Akerley said.
He thinks Erdene has the opportunity to build something special in Mongolia, too.
Akerley and Cowan took the company public in 2004 and Erdene zeroed in on Mongolia's southwest – which is less explored than the central and eastern regions – in the late 2000s.
"We were able to go in there and pick up a very large swath of ground," about 500,000 hectares, in the mid to late 2000s, Akerley said.
Mongolia was effectively closed for exploration during the communist years, aside from some Russian exploration in the north, he noted. The years that followed the thaw also saw little exploration work in the southwestern Gobi where Erdene's projects are.
"A key element is we own 100% by virtue of going out there and being the regional discoverers," noted Akerley.
Erdene is the only western company exploring in the district, and one of the few dedicated to regional exploration.
"We knew what age the rocks were that hosted the main epithermal and porphyry deposits, so we focused on them along a 400-kilometre trend and applied a methodical, regional exploration approach that led to the discoveries we have today," he said.
Erdene started with satellite imagery over the Paleozoic arc terranes and followed up with a geochemical stream sediment survey that uncovered anomalies in the Altan Nar and Bayan Khundii areas. Next came "boot and hammer" work, and Erdene geologists suspected they were on to something when they found turquoise jewelry pits and old prospecting pits dating back a couple hundred years. (Oyu Tolgoi is Mongolian for "turquoise hill.")
The breakthrough came in 2011 with results from a very large geochemical soil sample survey.
"That lit up Altan Nar like a light bulb," Akerley said. "We had a six-kilometre trend of intense gold and lead anomalism in the soils."
The Erdene team realized that Altan Nar was part of the same Tian Shan belt that hosts Oyu Tolgoi. The company started drilling and trenching, and it didn't take long – or too deep into the ground – to uncover treasure. The first hole hit 55 metres of over 1 g/t gold and the deposit has grown steadily ever since, with recent drilling returning as much as 7.8 g/t gold equivalent over 19 metres.
"It's a rewarding exercise from a geologic team perspective, and eventually it'll prove to be rewarding financially for our shareholders," said Akerley, who graduated from Saint Mary's University in Halifax in the late 1980s and had stops in British Guyana, the Philippines and Mexico before arriving in Mongolia.
"It doesn't come without its scars in this part of the cycle, but I think we're onto something pretty significant."
RELATIONSHIPS CRITICAL
When exploring for minerals or building mines in foreign countries, it's never been more important to forge good relationships with area residents, stakeholders and governments.
In Erdene's case, that means being sensitive to the Buddhist and shamanist practices that have re-emerged after the Communist period. Company officials respect the local culture and history by choosing what days exploration should begin, assisting in the renovation of local monasteries and having the local Lama come and bless new projects.
It helps that Erdene co-founders Akerley and Cowan have each been in Mongolia for almost two decades.
"You always hear about patience and persistence and building relationships, but I don't think you fully appreciate it until you've been through it as long as we have in Mongolia, and know what it takes to actually develop those relationships," Akerley said. "In the local communities, we've been around long enough that they trust you."
Erdene has good relations with the local governor and has helped fund local hospitals, schools and scholarships.
Sometimes, however, geopolitical risk pops up when you least expect it. Akerley once had run-ins with the army near the Russian and Chinese borders, unfortunately attracting the attention of troops on both sides (nobody got hurt).
On a serious note, Mongolia has taken a few hits in the media because it took two years of tense negotiations between the government and Rio Tinto to get the green light on Oyu Tolgoi's $5.4 billion Phase II underground expansion, anticipated to be the largest financing of its kind in the mining industry.
Khan Resources is also battling the Mongolian government over a scrapped uranium project in the north.
But Akerley says the problems are similar to those in other developing countries and don't correspond with Erdene's reality on the ground. Mongolia's pro-business government has instituted a legal structure that is appealing to foreign investors and has recently reduced royalties on gold.
"I've worked in a number of different countries, and Mongolia gets more knocks than it should," he said. "The country hit such great heights in terms of foreign attention to its mining sector and its rapidly rising GDP that for a period it became the spotlight of the mining investment media. That put its issues much more under a microscope than other countries. However, when you take Oyu Tolgoi as a standalone example, I'm hard-pressed to name another project of this scale that in the same time period has been permitted, built into a multi-billion-dollar mine and now stands as one of the largest copper-gold mines in the world, 3 years after going into production."
A Mongolia mining report published by BMI Research Aug. 18 says the recent Oyu Tolgoi deal between Rio Tinto and the government could be a catalyst for future mining development.
The agreement "suggests that the government is likely to adopt a more benevolent stance towards foreign mining investment over the coming years following a significant drop-off in foreign direct investment (FDI) over 2013 and 2014," the report states.
LOCATION, LOCATION, LOCATION
Wedged between China and Russia, the landlocked nation is best known historically as the birthplace of Mongol emperor Genghis Khan, as well as for its nomadic shepherds and yurts.
But Mongolia is rapidly developed a reputation as a mining powerhouse, and it's not just Oyu Tolgoi.
The Tian Shan belt that houses Altan Nar has quietly become an important gold-producing region and is home to several multi-million-ounce gold deposits.
Centerra Gold's two gold mines in the region produced 620,821 ounces of gold in 2014 at low all-in sustaining costs of US$852/oz. Kumtor has produced more than 9.9 million ounces of gold since 1997 and the company's Boroo mine has churned out more than 1.8 million ounces in the last 10 years.
Other Canadian gold miners in the central Asian region include Kinross with its two Siberian gold mines and Eldorado, which has four operations in China.
Closer to Altan Nar's neighbourhood, two privately owned gold operations have quietly gone into production in recent months, backed by Chinese and U.K. money. One will produce 20,000 ounces annually, the other 80,000.
A major infrastructure build-up is reshaping the region surrounding Altan Nar, bringing major highway, rail and power plant construction. Erdene's projects are less than 200 kilometres from China, the largest gold producer globally and an important demand driver. Proximity to China also means access to cheaper equipment and plentiful labour.
It's dry terrain and with water available in deep aquifers, there are less environmental issues than in many gold belts, Akerley said.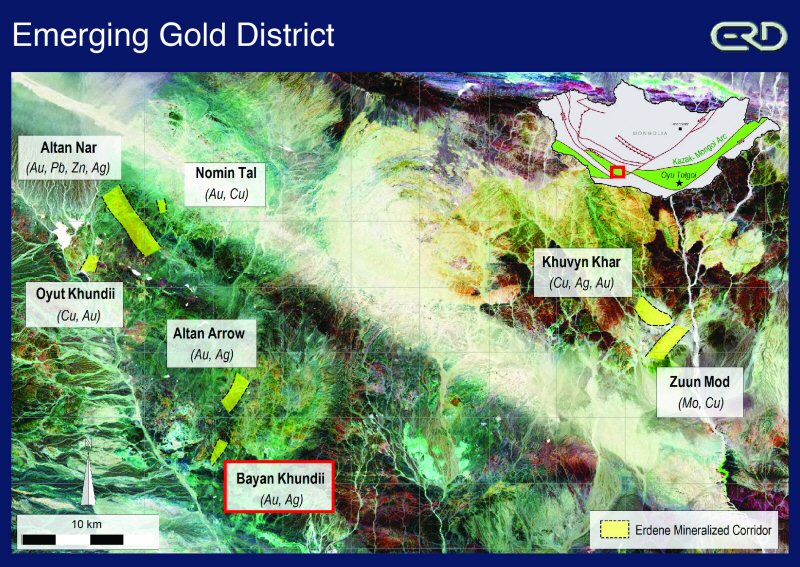 UPCOMING CATALYSTS
The next year is shaping up to be a busy time for Erdene.
More drill results are imminent from both Altan Nar and Bayan Khundii. At the latter discovery, a 500-metre first phase of shallow diamond drilling will test to confirm trench results, with a follow-up drilling campaign of about 3,000 metres in early 2016. Most of the mineralization announced Monday occurs in Bayan Khundii's Main Zone, and the company will test whether it extends to a mineralized Northeast Zone 600 metres away.
Erdene will update its resource estimate with the latest drill results, and also map out a preliminary economic assessment that could include the new Bayan Khundii gold discovery.
Erdene is doing metallurgical and engineering work with a plan – depending on market conditions – to start up a small gold mine and expand the operation using cash flow. A strategic options analysis will consider various development scenarios.
Teck Resources owns about 13% of Erdene's stock and in 2013 signed a regional exploration agreement with Erdene that sees it funding exploration work in an area covering 117,000 square kilometres. Altan Nar, Bayan Khundii and Zuun Mod, a copper-moly project Erdene optioned to a Singapore group earlier this year, are not included in the Teck deal.
Erdene insiders own a further 12% of the stock, and the company has a group of loyal high-net-worth investors from eastern Canada, including Montreal and Halifax, who continue to support the company and add to their positions.
"That's been a nice cornerstone investor group that perhaps other juniors don't have."
Ulaanbaatar is about a 25- to 30-hour trip from Halifax, but Akerley jokes that he's been in Mongolia for so long, it almost feels like home. For the horse, camel, and sheep the CEO owns in three different provinces, it is home.
The Erdene team got into Mongolia early, laying the foundation for a prime land position and modern-day geological successes. Their persistence in carrying out solid regional exploration, building local relationships and patience in riding the cycles through is a key to their success.
By building Erdene's golden inventory, Akerley plans to deliver similar rewards to shareholders willing to "get in early" on a developing Asian gold district.
Monday's news release: Erdene discovers bonanza-grade gold in southwest Mongolia
Disclaimer
The work included in this publication is based on SEDAR filings, current events, interviews, and corporate press releases. It may contain errors, and you shouldn't make any investment decision based solely on what you read here. This publication contains forward-looking statements, including but not limited to comments regarding predictions and projections. Forward-looking statements address future events and conditions and therefore involve inherent risks and uncertainties. Actual results may differ materially from those currently anticipated in such statements. The views expressed in this publication and on the CEO.CA website do not necessarily reflect the views of Pacific Website Company Inc., publisher of CEO.CA. Erdene Resource Development is a sponsor of Thursday's CEO.CA Subscriber Investment Summit in Vancouver, and as such, Pacific Website Company Inc. has a financial conflict with Erdene and is therefore biased. The author owns shares of Erdene, purchased in the public market. This publication is provided for informational and entertainment purposes only and is not a recommendation to buy or sell any security. Always thoroughly do your own due diligence and talk to a licensed investment adviser prior to making any investment decisions. Junior resource companies such as Erdene Resource Development can lose 100% of their value so read Erdene's profile on www.SEDAR.com for important risk disclosures. It's your money and your responsibility.
Forward-Looking Statements
Certain information regarding Erdene contained herein may constitute forward-looking statements within the meaning of applicable securities laws. Forward-looking statements may include estimates, plans, expectations, opinions, forecasts, projections, guidance or other statements that are not statements of fact. Although Erdene believes that the expectations reflected in such forward-looking statements are reasonable, it can give no assurance that such expectations will prove to have been correct. Erdene cautions that actual performance will be affected by a number of factors, most of which are beyond its control, and that future events and results may vary substantially from what Erdene currently foresees. Factors that could cause actual results to differ materially from those in forward-looking statements include market prices, exploitation and exploration results, continued availability of capital and financing and general economic, market or business conditions. The forward-looking statements are expressly qualified in their entirety by this cautionary statement. The information contained herein is stated as of the current date and is subject to change after that date. The Company does not assume the obligation to revise or update these forward-looking statements, except as may be required under applicable securities laws.