James Fraser here … I am back from my 3 weeks of mineral exploration work in Northern British Columbia. It was great to get out in the field and do some Induced Polarization (IP) and soil sampling work.
Tuesday morning news includes more excellent drill holes from Mariana Resources.
Mariana Resources (MARL:AIM) –  Mariana has reported more high-grade copper-gold intercepts at the Hot Maden project in NE Turkey. Assays are out from an additional four holes drilled by JV partner Lydia, with some impressive intercepts.
Highlights:
 Exploration drill hole HTD‐25 located 250m south of the Initial Mineral Resource Area intersected 25.2m @ 7.3 g/t Au + 0.5% Cu from 42.8m, including 9.0m @ 17.8 g/t Au + 0.6% Cu from 45.0m;
 Resource extension drill hole HTD‐24 was drilled above HTD‐10 (100.2m @ 5.6 g/t Au + 1.3% Cu from 81.8m) and intersected high grade gold‐copper mineralization with 36.3m @ 21.7 g/t Au + 5.5% Cu from 22.3m;
 HTD‐24 is now the 4th drill hole to extend Au‐Cu mineralization outside the area of the reported Initial Mineral Resource;
 Other exploration drill holes HTD 23 and 26 intersected significant zinc mineralization which may be proximal to gold‐copper mineralization;
 Land permits over proposed new drill sites have been obtained allowing for further systematic drilling to the south of the Mineral Resource area;
 Lydia has advised that it has spent the USD 2.5M required to earn a 70% interest in Hot Maden, subject to payment of USD 0.35M to Mariana.
Chief Executive Officer Glen Parsons today commented:  "Encouragingly, as each new hole in the Au‐Cu zone delivers further continuity and grade, the size of the Hot Maden Initial Mineral Resource continues to expand. We now have four new mineralized holes outside of the Initial Resource Area comparable to those that fall within the resource, which is very exciting from a resource growth perspective."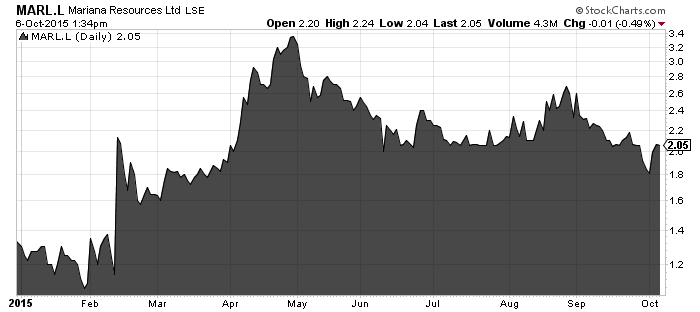 Mariana has been one of the top exploration stocks of 2015.
It is very rare to see intercepts and grades of this magnitude.
The project has been advanced from discovery to a resource estimate of 3.01 million gold equivalent ounces (AuEq) at a grade of 11.2 grams per tonne in just 6 months.
This morning's assays are impressive, especially hole HTD-25, a 250m stepout hole south of the current resource that shows potential for a new zone.
Mariana has said they will be using the US$350,000 payment from partner Lydia on further exploration at Hot Maden. With Lydia's 70% contribution, a total of $1.16 million is expected to be spent on additional exploration.
Drilling is expect to recommence shortly and will focus on testing extensions at the current mineral resource estimate and following up the high-grade discovery at HTD-25. Metallurgical testing is also planned, which will be used for a PEA.
Mariana caught the attention of Sprott earlier this year; Sprott did a private placement and now owns ~6.5% of the stock.
Of note: Turkey has a general election on Nov. 1.
All comments on Mariana Resources from CEO Live chatters can be found in the $MARL room at  http://chat.ceo.ca/marl
Read: Further High Grade Gold Mineralisation Intersected at Hot Maden, Turkey Including a New Discovery 250m South 
Related: Mariana Resources Precious Metals Summit Presentation
Thanks for reading.
This is not investment advice. All facts are to be checked and verified by reader. As always please do your own due diligence.