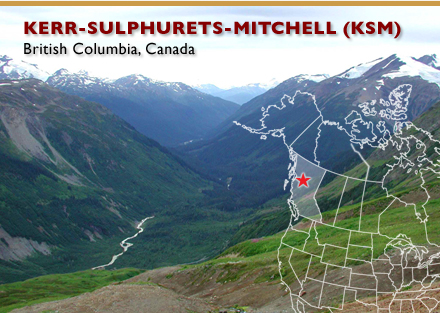 News releases that caught my eye this morning including a silver streaming deal between Franco Nevada and Teck Resources and drill results from Seabridge Gold.
Seabridge Gold - (SEA:TSX) - Good news for Seabridge shareholders this morning as the drill bit continues to intersect mineralization at the monster KSM project in northwestern British Columbia. This is a large system that is already one of the world's largest deposits consisting of proven and probable reserves of 38.2M ounces of gold (.55 grams per tonne) and 10.2 billion pounds of copper (.21%).
Drilling this year has focused on the Deep Kerr zone and will add to KSM's already huge resource.
Two holes were released this morning, both of them down dip from the current resource.
K-15-49A intercepted 340 metres averaging 0.53 g/T gold and 0.60% copper including a 197-metre interval grading 0.69 g/T gold and 0.72% copper.
K-15-50 intercepted 334 metres grading 0.41 g/T gold and 0.30% copper about 350 metres laterally to the south from K-15-49
Seabridge Chairman and CEO Rudi Fronk commented that "we are delighted by the ongoing expansion of Deep Kerr. We are finding thick, continuously mineralized intervals in orientations that are favourable for efficient extraction. The result should be a sizeable increase in resources which we expect will be amenable to block-cave mining. We are also pleased to see higher gold grades with depth. Overall, Deep Kerr is once again demonstrating that it has very few equals for size and grade."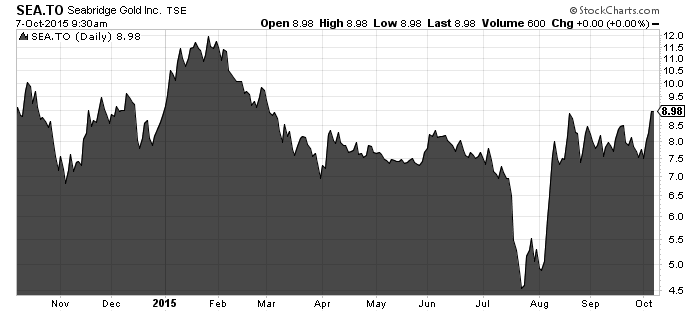 Seabridge shares have held in fairly well over the last year. Astute investors who purchased in August during a recent sell-off have already doubled their money.
Seabridge is one of the most leverage stocks to gold and copper prices, ranking first in reserves per share among the leading gold companies by a wide margin (.89 oz per share).
I talked to CEO Rudi Fronk at the Sprott Stansberry conference in late July in Vancouver and he told me Seabridge is still looking for a partner to bring KSM into production.
The kicker is the $5.3-billion dollar capex, as well as a PFS showing an IRR of only 8.5% at US$1320 gold and $3 copper.
Seabridge is excited about the potential of Deep Kerr as it is nearly 2X the average copper grade of the rest of the KSM deposit.
Mr.  Fronk told me that only a handful of companies in the world would be able to partner on a project of this size.
At current metal prices, I am sure Seabridge would like to find a partner but is in no rush and has a terrific share structure of 50.2 million shares outstanding.
Read: SEABRIDGE GOLD DRILLING CONTINUES TO GROW HIGHER GRADE DEEP KERR DEPOSIT
Related: Seabridge Gold (SEA:TSX) – 2015 exploration plans at the Monster KSM project
Franco-Nevada (FNV:TSX) and Teck Resources (TCK.B:TSX) - A US$610-million dollar silver streaming deal between royalty giant Franco-Nevada and major miner Teck Resources this morning. A win/win deal for both companies as Franco gets a silver stream on a top-quality asset and Teck gets some cash to shore up the balance sheet.
The deal is on the Antamina mine in Peru, where Teck owns a 22.5% stake. BHP Billiton and Glencore each own a 33.75% stake in Antamina and Mitsubishi owns 10%.
Transaction highlights:
A cornerstone investment: Antamina is an established mine that began operations in 2001. The mine is owned and operated by some of the largest and best-regarded mining companies in the industry. The partners at Antamina have invested over $6.5-billion (U.S.) to date in constructing and expanding the mine and its infrastructure.
A low-cost operation: Antamina is the eighth-largest copper mine in the world and is one of the lowest-cost copper operations globally. The low costs are facilitated by the high-grade reserves and resources, as well as the wholly owned mining infrastructure, including a concentrate pipeline and port facilities.
First silver delivery expected in fourth quarter: The effective date for the transaction is July 1, 2015, and Franco-Nevada is expected to receive 900,000 to 1.1 million ounces of silver (12,300 to 15,000 gold-equivalent ounces (GEO)) in the fourth quarter 2015. Annual silver stream contributions are expected to average 2.8 million to 3.2 million ounces going forward (38,200 to 43,600 GEOs), with 2016 and 2017 silver deliveries expected to be above average. Based on current expectations and assuming spot commodity prices, Antamina would increase Franco-Nevada's GEOs and operating cash flow by approximately 13 per cent and 18 per cent, respectively.
Antamina mine plan: The mine contains total measured and indicated resources of 1.1 billion tonnes of ore and inferred resources of 1.3 billion tonnes of ore. Within the resource envelope, total reserves are 647 million tonnes of ore, which are currently constrained by tailings disposal capacity. CMA is currently considering options for storing additional tailings and alternative mine plans that could result in significant mine life extensions. Current M&I resources are sufficient to support over 20 years of open-pit mining. Historically, a high level of inferred resources has been converted to M&I resources and ultimately to reserves. With continued conversion and upgrading of resources, the project could support mining for 30 to 40 years.
Exploration and expansion potential: Beyond the alternative mine plans currently being studied, there is resource expansion potential at depth which may be amenable to bulk underground mining. Additionally, Franco-Nevada remains exposed to any future throughput expansions as well as regional exploration potential (on existing CMA concessions) without further capital or financing commitments.
"Franco-Nevada is pleased to partner with Teck on the Antamina mine to create our first pure silver stream," said David Harquail, president and chief executive officer of Franco-Nevada. "This further strengthens and diversifies our portfolio with a proven, long-life, high-margin asset that will be immediately accretive. This investment provides our shareholders with metal price optionality over multiple cycles, and potential further exploration and expansion upside."
In a research note, Dundee Capital Markets rated the stream as "slightly negative" for Franco-Nevada. "While we view the addition of the Antamina stream as a high-quality addition to FNV's portfolio, generating sufficient returns for FNV's initial investment is contingent upon material reserve converstion and/or an improvement in commodity prices. Our forecast returns, even when including substantial upside, is low." Dundee rates FNV as a buy, medium risk, with a $73 target price.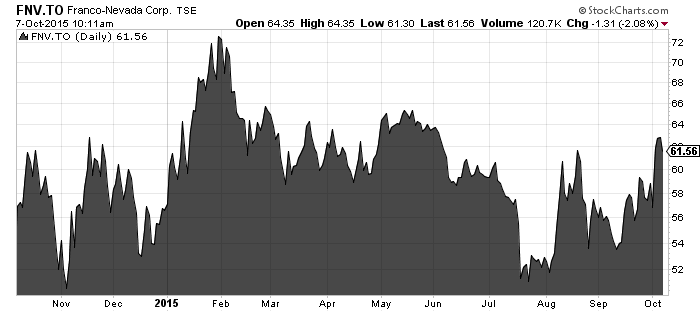 Franco-Nevada stock is a rock-solid long-term investment. I am big fan of the royalty model and personally track several royalty companies.
The business model is very sound and would only suffer under a significant decline in metal prices which force operators to close mines.
Franco tries to reduce this risk by being diversified in different companies/regions and investing in high-quality assets.
This is the first pure silver stream for Franco and I suspect they outbid rival Silver Wheaton, which unlike Franco has promised to stay precious metals focused.
Read: Franco-Nevada to Acquire a Silver Stream on the Antamina mine from Teck for US$610 million
Thanks for reading.
This is not investment advice. All facts are to be checked and verified by reader. As always please do your own due diligence.