A look at this morning's news includes production results from Fortuna Silver, Argonaut Gold, and St. Andrews Goldfields. Production results are important as they can help savvy investors get an idea about upcoming financials. Also in the news is a takeover of Carlisle Goldfields by Alamos Gold.
Fortuna Silver (FVI:TSX) –  Fortuna operates two mines, San Jose in Mexico and Caylloma in Peru. When you look at annual production and cost guidance, Fortuna remains on track. Breaking it down further, San Jose is strongly outperforming while Caylloma is struggling.
When looking at year-over-year production, production of gold, silver and lead has declined substantially while zinc production has jumped.
Q3 production highlights:
— Silver production of 1,734,842 ounces; 4% decrease over Q3 2014
— Gold production of 10,963 ounces; 12% increase over Q3 2014
— Lead production of 6,356,875 pounds; 51% increase over Q3 2014
— Zinc production of 10,121,511 pounds; 42% increase over Q3 2014
— Cash cost(i) for the San Jose Mine is US$61.96/t; on track to meet annual guidance of US$62.7/t
— Cash cost(i) for the Caylloma Mine is US$88.74/t; on track to meet annual guidance of US$90.3/t (i) Preliminary estimates of cash operating cost per tonne, subject to modification on final cost consolidation.
Jorge A. Ganoza, President and CEO, commented, "We continue on target to meet our annual consolidated production guidance. The expansion of our San Jose Mine continues on schedule for commissioning in mid-2016. Once at 3,000 tpd, San Jose is planned to operate at an all-in sustaining cash cost of US$7 – 8, net of by-product gold, and will rank among the 13 largest primary silver mines in the world."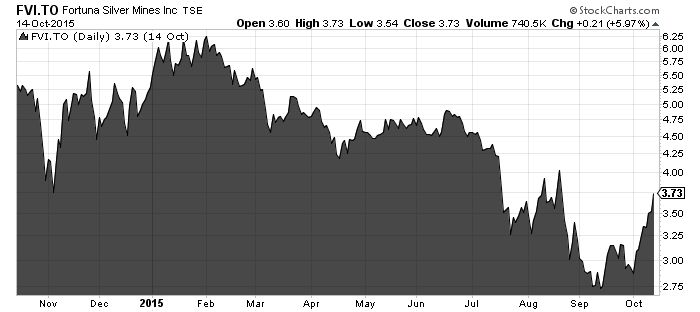 FVI stock is off significantly from the highs ($6) this year as the silver price is down ~6% year to date.
Production is expected to grow in 2016 as the San Jose mine expansion is complete (mid-2016) and will see the mill go from 2,000 tpd to 3,000 tpd.
In the second quarter, Fortuna squeezed out a net income of $200,000. Investors will need to wait for Q3 financials to see how this quarter turned out.
Dundee has a $5.75 price target on FVI shares.
Read:  Fortuna produces 1.73 Moz Ag, 10,963 oz Au in Q3 2015
St. Andrews Goldfields – (SAS:TSX) – St Andrews is a gold producer in Ontario that has been on my radar for a while now. The company is debt-free and has had several quarters in a row of being cash flow positive. The market cap is only $121.5 million, which I believe has significant upside.
Third-quarter production results met company expectations.
"Our third quarter production was in line with expectations and we are reiterating that the 2015 production will reach the higher end of our production guidance of 85,000 – 95,000 ounces for the Holt and Holloway Mines. Once the Taylor Mine is fully permitted, the Company will update its guidance based upon the expected Taylor production for the remainder of the year. The permitting process is progressing as expected and we expect to have Taylor in commercial production in the very near term," said Duncan Middlemiss, President and Chief Executive Officer of SAS.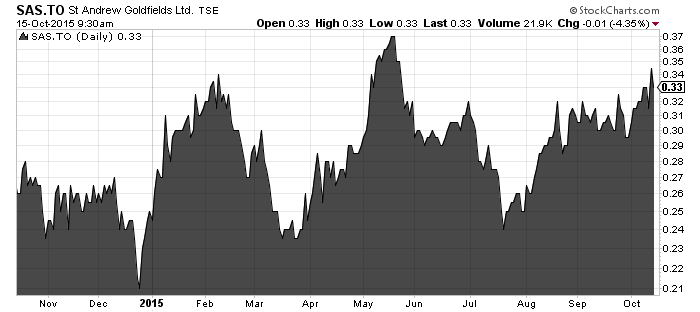 Read: SAS reports Q3 2015 production of 23,317 ounces of gold, and announces release date for Q3 2015 financial results and conference call
Argonaut Gold – (AR:TSX) – Argonaut continues to try and weather the storm of the current gold price. At a quick glance the quarter looks good and production guidance is being met. It looks like a break-even quarter as the cash balance of $44 million is consistent with last quarter.
Q3 2015 highlights
El Castillo
Quarterly production of 17,297 GEOs;
During the quarter, 23,951 contained gold ounces loaded on the leach pads;
77,000 tonnes per day mined and 2.7 million tonnes of mineralized material placed on the heap leach pads during the quarter;
Construction completed on the final heap leach pad 3b construction with commissioning to take place in October of this year.
La Colorada
Quarterly production of 11,073 gold ounces and 27,836 silver ounces, for 11,579 GEOs;
During the quarter, 18,090 contained gold ounces and 369,985 contained silver ounces loaded on the leach pads;
Average crusher throughput for the quarter at approximately 14,500 tonnes per day;
Construction completed on the 9A heap leach pad and phase II of heap leach pad 6, providing an additional leaching capacity of three million tonnes.
Pete Dougherty, Argonaut Gold's president and chief executive officer, said: "Once again we have demonstrated the ability to maintain a strong cash position in spite of a challenging market. We have made several changes within our operations and organization to better position ourselves to grow the cash on the balance sheet at current gold prices. The bulk of our capital spending was front half loaded with the majority of our projects complete as of the third quarter. We anticipate capital spending to be lower in the fourth quarter and into 2016. We are confident in our ability to achieve the production guidance established for the year, while maintaining or growing our current cash balance."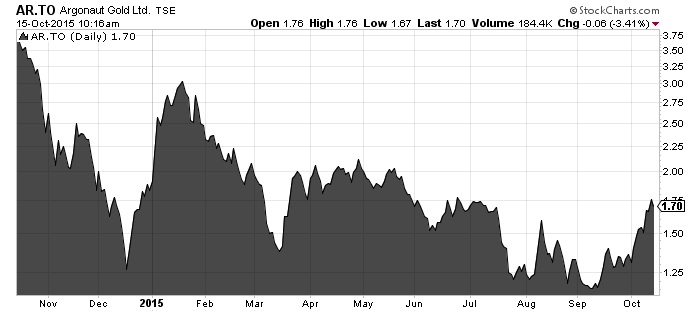 A volatile chart year over year for Argonaut shareholders, with plenty of ups and downs (trading opportunities) for the brave.
Read: Argonaut Gold Announces Third Quarter 2015 Production of 28,876 Gold Equivalent Ounces
Alamos Gold (AGI:TSX) and Carisle Goldfields (CGJ:TSXV) – A big win for shareholders of Carisle (+64%) stock this morning as Alamos Gold has announced a share-based takeover.
Under terms of the agreement, Carlisle shareholders will receive: 0.0942 of an Alamos common share for each Carlisle common share held, plus 0.0942 of a warrant to purchase Alamos common shares at an exercise price of $10 with an expiration date of three years from closing.
Alamos management has been very active in the M&A space in the past couple years purchasing AuRico, Esperanza, Orsa Ventures, and now consolidating Carisle.
"The Lynn Lake project represents an attractive, low-risk growth opportunity as a high-grade, open-pit project located in one of the best mining jurisdictions in the world. Given its potential for strong economics, the structure of the existing earn-in agreement and our commitment to advancing Lynn Lake, we are pleased to be able to consolidate our ownership of the project through our acquisition of Carlisle. This is a win for shareholders on both sides," said John McCluskey, president and chief executive officer of Alamos.
In a separate press release, Alamos also announced a semi-annual dividend of 1 cent per share.
Read: ALAMOS CONSOLIDATES OWNERSHIP OF LYNN LAKE PROJECT WITH ACQUISITION OF CARLISLE GOLDFIELDS
Thanks for reading.
This is not investment advice. All facts are to be checked and verified by reader. As always please do your own due diligence.