Do you feel it in your feet?
That is and was Ed Flood: geologist, family guy, bicyclist, superb skier, reader of finely tuned thrillers, connector, economist, lover, lithium booster, investor.
R. Edward Flood died this week, on Thursday, at the family home in Sun Valley, Idaho. He had been battling ALS, a neuro-motor degenerative disease, since 2011.
Ed died with much life in him, as most with Lou Gehrig's Disease do. The photo here is Ed climbing the Monaco side of Mount Ventoux — what he called his daily therapy these past few years.
I am not going to let this be a farewell to Mr. Flood. Not just yet. I hope, as he did for my research, to keep coming back to him.
It is a notice and a remembrance that a member of our TCR family is gone.
Mr. Flood has appeared in our TCR articles going back to the early 2000s. For a couple dozen or more of the companies I try to track, Ed helped me unearth the essence of what could accelerate their development in metals mining, or what could or would wreck their dreams, their carefully laid-out strategies or their cockeyed plans.
"Is he for real? Can he tell a porphyry from a plank of wood? Is he a crook? Is she getting the respect she deserves? What's he like in the field? How does he treat his workers? What's he smoking?"
Mr. Flood had as many friends as any person I ever have known. He had even more contacts. Ed served as an adviser or board member on more companies than I wish to list here. Some were studs. Others were duds.
His course work in Nevada and later at the University of Montana became a springboard for a lifelong pursuit of economics and geology. Ed Flood had a hand in shaping the early Ivanhoe Mines of Mongolia, and the current one in South Africa and DRC Congo.
I could mention some of the companies Ed had in his pocket, or he in theirs, such as Western Lithium or Concordia or Gabriel Resources. Ones that he ran or served or advised. Ones he invested in, or ones where he performed banking services. Ones he consulted as a geologist or as an informal resources economist.
Some of these, Diamond Fields International of Voisey's Bay comes to mind, were stunning in their exploration successes and stock market profits. Others such as Colombia Goldfields flamed out or, as with Kaizen Discovery and Western Lithium, are attempting to prove themselves now to a new generation of investors.
If I name them all, I will test even Ed's limits as a deal hound; as a connector of themes and individuals.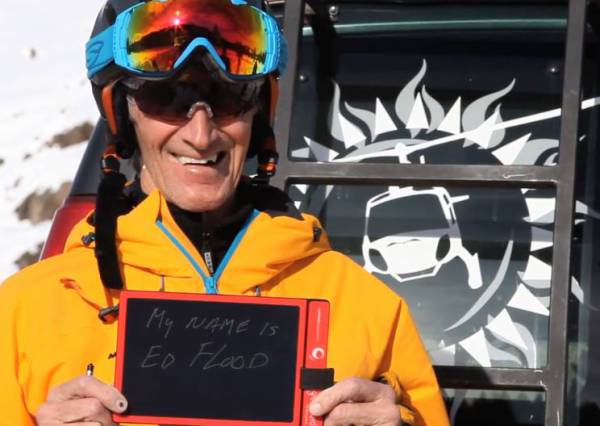 Ed Flood always had time to give me pointers, sometimes pointed ones, whether he was sitting at a Haywood Securities desk in London or visiting a pilot Germany factory for clay making. Cruising on a yacht with his wife, Yuhko. Examining piles of lithium in the high desert of southwestern USA. Or riding that road bike of his.
In San Francisco at one of Sandy Lawrence's original gold shows, the great shows of the late 90s and early 2000s, Ed Flood and I passed each other on the exhibit floor. These were the years when the mining shows in the USA and Canada (and Germany) were almost standing room only.
"Walk with me," Ed said. I still have a notebook from those days with Ed. It reads as a geology map of commentary for many of the exhibiting companies we passed that afternoon and over the years.
Numbers list Ed as 69 years of age. I cannot see how that can be.
"Most great (mineral) discoveries have to climb a wall of worry and disbelief," he told me. More than once. Such was and still is the case with one he came to favor, albeit behind the scenes.
The starting quote of this remembrance is from Mr, Flood and refers to one of many visits I have made to a Ghana gold deposit that became close to my heart, and my wallet. (And still is.) Ed was an investment banker at the time in London, and he was informally advising Xtra-Gold.
This was about six or seven years ago. After we went through some of the geology of Xtra-Gold's Kibi Gold Belt project, that was what he wanted to know. "In your feet, man?"
Well, yes, I did feel it through the rich red clay dirt of Ghana's Kibi. I do every time I go to Xtra-Gold's developing deposit, which is often. I know I will feel Ed's spirit whenever I am there. Whenever I am walking a trench in Nevada, hiking across a Mongolia plain, or climbing a ridge in Chile.
Ed Flood will be missed.
– Thom Calandra
THE CALANDRA REPORT: Subscribe
Thom Calandra & TCR are researchers and investors. They are not registered investment advisers. The research and material they offer to subscribers are meant as editorial opinion.