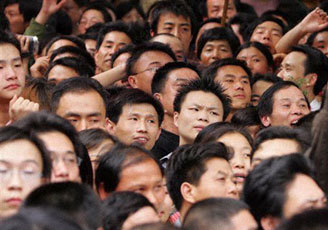 Good morning, investors.
Time to go long baby formula and diapers? Chinese couples will now be allowed to have two children after the country's Communist leadership lifted a one-child policy instituted in 1980 to address fears of a population boom.
The population boom happened anyway but now economic concerns have taken centre stage`. China is facing the demographic "time bomb" of a rapidly aging population and a shrinking labour pool.
The move could also boost commodity demand long-term in China, whose rapid population growth fuelled the commodity supercycle. It should also help fill the empty buildings and "ghost cities" that have sprung up in China in recent years.
Or as @PamplonaTrader put it in CEO Chat earlier, it's a "GDP sexplosion."
China abandons one-child policy after 35 years
Goldcorp (G-T)
Goldcorp delivered strong free cash flow but a net loss on record third-quarter production of 922,200 ounces of gold for the third quarter.
The stock dropped 3% in early trading on the TSX, to $18.70.
Free cash flow was US$243 million ($168M after dividends), compared to negative free cash flow of $355 million a year earlier. However the net loss widened to $192 million, or 23 cents a share, compared to a net loss of $44 million (5 cents) for Q4 2014.
Gold production was up 42% from a year ago as good results from Peñasquito, Cerro Negro and Musselwhite offset lower-than-expected production from Éléonore in Quebec. All-in sustaining costs were quoted as $848 an ounce.
"Our third quarter results highlight the essence of Goldcorp's investment proposition: growing gold production, declining all-in sustaining costs and decreasing capital spending resulting in strong, sustained free cash flow, despite lower metals prices," said Goldcorp President and CEO Chuck Jeannes. "We remain on track to meet the upper end of our production guidance of between 3.3 and 3.6 million ounces at all-in sustaining costs of between $850 and $900 per ounce."
On Wednesday, Barrick Gold also delivered positive free cash flow, US$256 million, in the third quarter after several quarters of negative cash flow.
NexGen Energy (NXE-V)
NexGen reported the final five holes from its 33,010-metre summer drill program at Arrow in the western Athabasca Basin, and all of them returned off-scale radioactivity.
Hole AR-15-62 intersected 143 metres of total composite mineralization in the A2 shear, including 30.35 metres of off-scale radioactivity. The intercept was marked by dense accumulations of massive to semimassive pitchblende, which is associated with high-grade mineralization. It was an important result that "confirms the significant continuity of world-class uranium mineralization in the higher grade sub-zone of the A2 shear," according to the company.
AR-15-61c2 is the best hole to date in the A3 shear zone – it intersected 93.75 metres of total composite mineralization including 21.2 metres of off-scale radioactivity.
Shares were up 2.7% to 76 cents in early trading.
The latest results will be included in NexGen's maiden resource estimate, which has been pushed back to the first half of 2016. Assays are pending for 26 holes.
The company has cash on hand of about $20 million and is preparing for its winter drill program, which will kick off in January.
In case you missed it yesterday, go check out Tommy Humphrey's feature on a Toronto hedge fund manager who has accumulated an almost-10% stake in NexGen: He shorted Bre-X. Now fund manager is going long NexGen
NR: NexGen Drills 30.35m of Off-Scale in AR-15-62 in the Higher-Grade A2 Sub-Zone and in AR-15-61c2 Drills 21.2m Off-Scale in the A3 Shear
Join the conversation at CEO Chat, the investment conference in your pocket, for some sharp insight and
Disclosure: Author owns shares of NexGen Energy but not Goldcorp, and has no children in China. This is not investment advice; do your own due diligence and own your trades.