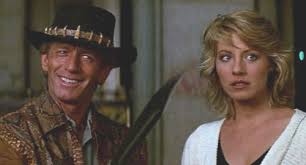 I'm dating myself here, but when I saw the AuRico Metals news release about drill intercepts at its Kemess East property this morning, I was reminded of Crocodile Dundee's line when a young punk tried to rob him: "That's not a knife. THIS is a knife."
The company, a royalty spinoff from the Alamos Gold-Aurico Gold merger, reported long intercepts of gold and copper that will be incorporated into a resource estimate expected in the first quarter of 2016. The project includes the past-producing Kemess South open-pit copper and gold mine in northern B.C. as well as a mill.
The stock, AMI on the TSX, was up 4% to 72 cents in early trading.
Drilling highlights included:
KH-15-23 intersected 458 metres of 0.640 g/t Au and 0.437% Cu
o Including 360.6 metres of 0.749 g/t Au and 0.478% Cu
o Including 167 metres of 1.022 g/t Au and 0.574% Cu
KH-15-27 intersected 590 metres of 0.516 g/t Au and 0.366% Cu
o Including 475.8 metres of 0.615 g/t Au and 0.431% Cu
o Including 325 metres of 0.743 g/t Au and 0.492% Cu
KH-15-30 intersected 771.7 metres of 0.465 g/t Au and 0.365% Cu
o Including 615.2 metres of 0.569 g/t Au and 0.429% Cu
o Including 224.4 metres of 0.773 g/t Au and 0.508% Cu
The Kemess project obviously has great infrastructure, but is located in an environmentally sensitive area so permitting could be tricky.
What's interesting about AuRico Metals is that Kemess East is not even the company's "flagship asset." That would be AuRico's enviable royalty portfolio, which generates about $9 million in annual cash flow.
Royalties include a 1.5% NSR on the Young-Davidson Gold Mine, a 0.25% NSR on the Williams mine at Hemlo, and a 0.5% NSR on the Eagle River mine – all located in Ontario. AuRico Metals also has a 2% NSR on Newmarket Gold's Fosterville Mine in Victoria, Australia.
AuRico's royalty portfolio has also captured the attention of Sandstorm Gold, which has been buying up the stock in the public market. Sandstorm filed a 10% ownership report in July and has since increased its stake to 15%.
Alamos Gold holds an 11% stake.
NR: AuRico Metals intersects 771.7m grading 0.465 g/t Au and 0.365% Cu and announces results from 2015 drill program at Kemess