Barrick Gold – (ABX:TSX) – Barrick continues to deliver on its promise to reduce company debt by $3 billion in 2015. This morning Barrick announced they have sold non-core assets in Nevada for US$720 million in cash. On completion of the deal Barrick will have met its goal, with $3.2 million of asset sales, joint ventures and partnerships in 2015.
With the sales Barrick has reduced debt by 23% this year.
"The sale of these assets is consistent with our strategy to create long-term value for our shareholders by strengthening the balance sheet and further focusing our portfolio on core mines that will drive free cash flow growth," said Barrick President Kelvin Dushnisky. "As we move into 2016 and beyond, we will continue to take steps to strengthen our balance sheet, but we will balance debt repayments with investments to drive future growth in free cash flow and EBITDA."
The main buyer is Kinross Gold (K:TSX), which will spend $610 million to acquire Barrick's 50% interest in the Round Mountain mine (they already own 50%) and 100% of the Bald Mountain mine.
Bald Mountain produced 161,000 ounces of gold in 2014 at all-in sustaining costs of $1,070 per ounce while Round Mountain production in 2014 was 164,000 ounces (Barrick's share) at all-in sustaining costs of $1,170 per ounce.
"This strategic transaction represents a rare opportunity to add quality, free-cash-flowing assets that build on our platform in Nevada, one of the world's most attractive mining jurisdictions. These assets will increase our production, and are expected to lower costs and add significant and well-defined mineral resource potential," said J. Paul Rollinson, Kinross' President and Chief Executive Officer. "We see a clear path to upside at both assets, with known mineralization extensions throughout the Bald Mountain land package and ongoing operational and continuous improvement initiatives at Round Mountain."
Private equity firm Waterton Global Resource Management LP will pick up the 70% interest in the Spring Valley project as well as 100% of the Ruby Hill mine for $110 million in cash.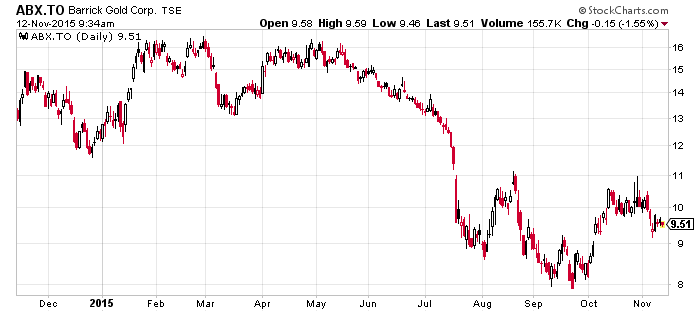 Barrick shares continue to struggle with the drop in the gold price. By shedding debt, Barrick is hoping to refocus as a leaner, meaner machine.
Read: Barrick Announces Sale of Non-Core Assets for $720 Million, November 12, 2015
Semafo – (SMF:TSX) –  A strong third quarter out of Semafo, which reported net earnings of $14.5 million. Gold production came in at 67,200 ounces at a head grade of 3.67 g/t. The high head grade leads to all-in sustaining costs of just $616 per ounce.
The Mana mine is the third largest in Burkina Faso and has produced over 1.2 million ounces since 2008.
As a result of strong performance, $SMF is on track to hit the mid-range of production guidance of between 245,000 and 275,000 ounces of gold and is bringing down AISC range to between $630-$650 per ounce.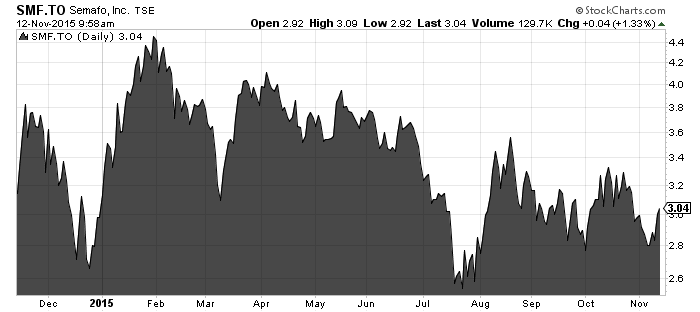 Semafo has cash and cash equivalents of $137.8 million as of Sept. 30. A subsequent receipt of gold trade receivables of $17.5 million occurred in early October.
A catalyst to watch for the stock will be the Natougou Feasibility Study which is targeted for release in the second quarter of 2016. Natougou was acquired earlier in 2015 when Semafo purchased Orbis.
I would expect very good economics coming out of Natougou as it is a high-grade deposit containing 1.1 million ounces (indicated) at 5.87 g/t gold and 440,000 ounces (inferred) at 3.49 g/t gold.
Another thing for Semafo shareholders to keep an eye on is the election in Burkina Faso which will be held on Nov. 29.  The election was already postponed from Oct. 13.
All four of Semafo's properties are located in Burkina.
Read: SEMAFO: Cash Flow From Operations of $34.8 million in Third Quarter 2015
Join the conversation about your favourite stocks and tap into some sharp insight at CEO Chat daily.
This is not investment advice and all investors should do their own due diligence. Own your trades.