Cyber Monday is over for the year, but bargain prices linger across the TSX Venture Exchange. Prices are low, but where is the best value?
One tool that can help investors make money by differentiating between price and value is to watch the insiders.
The theory is that people who run a company know more about that company than anybody else. Insiders sell shares for many different reasons – diversification, Christmas presents, buying a house or funding a vacation, etc.
With very few exceptions, their sole objective in buying their own stock is to make money. One of the main exceptions, of course, is optics – something that can be attested to by promoters who have gone broke propping up their own deals as markets grind lower.
However, financial reward remains a powerful incentive system that aligns insiders with skin in the game with their shareholders.
A couple of big caveats: this strategy has obviously not been very successful on the TSX Venture Exchange in recent years. There are plenty of examples of executives "buying the dip" as months turned into years and the dip became a ski slope.
Nevertheless, monitoring insider activity is an effective tool, and it's why we've beefed up the insider offering here at CEO.CA.
Check recent insider filings using the new insider tab on the right-hand panel. Click on the tab to see all recent insider filings for Canadian public companies, published on a daily basis.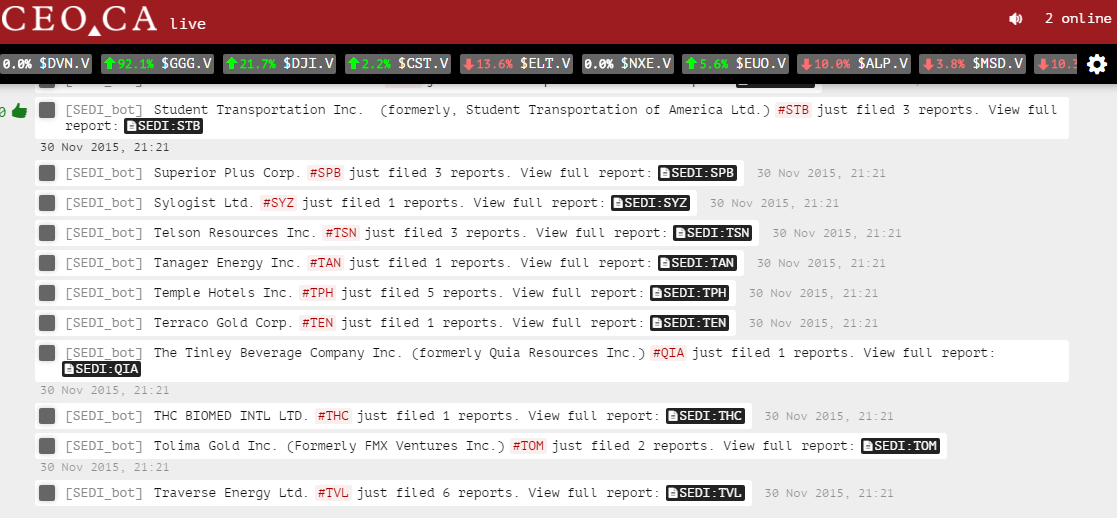 You can also sign up for email alerts or push notifications that give you instant access to new filings for stocks that you own or follow.
Tap on the bell icon in the header to customize email or text message subscription preferences.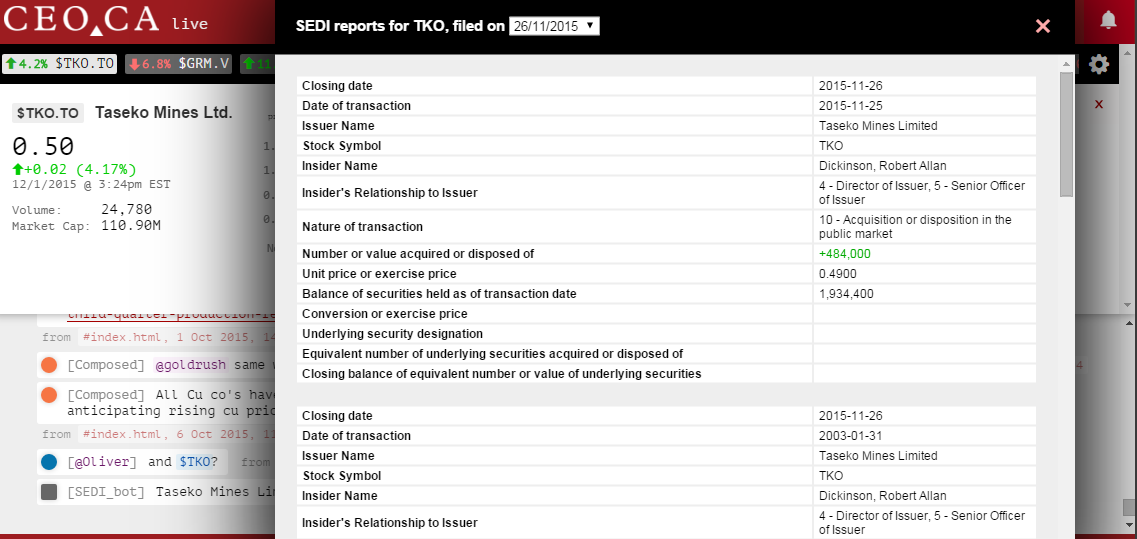 For example, the Taseko tab shows that Taseko director Bob Dickinson recently bought a large chunk of stock, likely from president and CEO Russ Hallbauer, who sold a similar amount on the same day at the same price. More on that below.
Looking back, insider buying turned out to be a positive indicator at two of the three companies I focused on in a CEO.CA article published on Sept. 22.

Lucara Diamond: As Lucara's share price dropped along with rough diamond prices, CEO William Lamb made two 10,000-share purchases, at $1.49 and $1.45. The buys were made near 52-week lows for Lucara.
Lucara has proven its ability to pull large, gem-quality diamonds from Karowe, its 100% owned mine in Botswana. But not even Lamb could have known what was coming down the pipe, so to speak.
When Lucara's stunning 1,111-carat diamond lifted the company's market capitalization by almost a third, Lamb's net worth received a nice increase too. Lucara shares last traded at $2.28, near 52-week highs.
Sabina Gold & Silver: Sabina kicked off the year by bringing in Bruce McLeod as the new CEO, and proceeded to publish two feasibility studies on their Back River high-grade gold project in Nunavut. McLeod has been a consistent buyer of shares in the public market, including at the 37-cent level before the Sept. 22 piece was published.
It's worked out rather well for both the CEO and Sabina shareholders: the stock last traded at 56 cents and has a YTD return of 58% (and McLeod has been adding to his stake more recently above 50 cents).
Lion One Metals: Company chairman Wally Berukoff had been buying shares of this Fiji gold developer at 29 cents. The stock subsequently ran up as high as 45 cents but has dropped back to the mid-.30s.
RECENT INSIDER BUYS
As for more recent insider activity, there have been a few purchases that caught my eye.
Paul Matysek was in the spotlight Monday with Nevada lithium play Lithium X (LIX-V), which began trading on the TSX Venture Exchange. He's executive chairman of the startup, which has acquired an option on claims in Clayton Valley North.
But the veteran company builder has also been buying some shares of a gold play he runs, as well.
Matysek has been purchasing shares of Goldrock Mines (GRM-V) recently, including 16,500 shares on Nov. 23 at average prices of 24.8 cents a share. He is Goldrock's president and CEO.
Goldrock is building a heap-leach gold mine at its 100% owned Lindero gold porphyry project in Argentina's northwestern Salta province. Basic engineering work is almost complete, according to a Sept. 21 news release, and construction materials are on-site.
The company plans to produce an average 129,000 ounces for the first 3 years and average 109,000 over the first 9 years.
Matysek has an impressive record of shareholder value creation in the uranium, potash and lithium sectors. He was president and CEO of Lithium One when it merged with Galaxy Resources of Australia in a $112-million plan of arrangement in 2012.
Prior to that he was president and CEO of Potash One, which was taken over by K+S Ag for $434 million in early 2011, and founder and CEO of Energy Metals Corp., which was taken over for about $1.8 billion in 2007.
Another mining industry legend active in the public market recently is Bob Dickinson, chairman and cofounder of Hunter Dickinson. For the uninitiated, Hunter Dickinson is a global mineral developer founded in 1985 that has properties on several continents and a track record of 8 producing mines.
Dickinson is active in several junior mining companies including Northern Dynasty Minerals (NDM-V), where he is executive chairman. Northern Dynasty is developing the controversial Pebble Creek mine project in Alaska, one of the world's largest mineral deposits and one that is fiercely opposed by environmental groups.
But what Dickinson has been buying recently is Taseko Mines (TKO-T), which operates the 75% owned Gibraltar copper-molybdenum mine in B.C. Taseko shares have been sliding along with the copper price and are trading near 52-week lows.
On Nov. 25, Dickinson purchased 521,500 Taseko shares at 49 cents, taking his stake in the company to (Russ Hallbauer sold 523,000 shares at the same price that day.)
In addition to operating Gibraltar, Taseko has several other advanced-stage projects, most notably its New Prosperity mine project, a rich copper-gold deposit in the B.C. Interior. The project to the provincial green light, but has been rejected twice by federal government authorities.
Taseko is also developing the Aley niubium project in B.C. and the Florence copper project southeast of Nevada – the latter acquired through the purchase of Curis Resources a year ago.
Join the conversation at CEO Chat, the investment conference in your pocket that is becoming a powerful tool for crowd-sourced stock analysis.
Disclosure: Author owns shares of Lucara Diamond and Sabina Gold & Silver. Sabina is also a CEO.CA sponsor. This article is presented for informational purchases and should not be considered investment advice. All investors need to do their own due diligence and independent research.