A quick look at news from Klondex Mines and Fission Uranium with some additional comments on each.
Klondex Mines– (KDX:TSX) – Klondex is out with an updated total mineral reserves calculation for the Fire Creek project and Midas Mine in Nevada. Total mineral reserves increased by ~19% in 2015.
Highlights:
Total mineral reserves of 444,488 gold equivalent ounces ("GEOs"), an increase of ~19%, net of depletion;
Total Fire Creek mineral reserves of 321,324 GEOs, an increase of ~33%, net of depletion, at a grade of 38 g/t AuEq, an increase of ~3%;
Total Midas mineral reserves decreased slightly by 7% due to lower grades, partially offset by higher tons.
Proven and Probable reserves at the Fire Creek project now stand at 314,600 ounces of gold and 233,400 ounces of silver.
Proven and Probable reserves at Midas are 72.000 ounces of gold and 3.3 million ounces of silver.
Of note is that the mineral reserves were calculated at US$1,000 gold and $15.83 silver. I can count on one hand mining companies that have used prices this low.
Production guidance for 2015 is between 130-150k ounces. At current proven+probable reserves this gives roughly another 3 years of mine life. Klondex had a great year increasing reserves by 19%, net of depletion, but investors will be looking for continued success with the drill bit moving forward.
Brian Morris, Vice President of Exploration, stated, "We continue to demonstrate our ability to unlock additional value imbedded in our assets. With only six months of drill results at Fire Creek and nine months of drill results at Midas, we have increased the Company's mineral reserves by 19%. Fire Creek continues to outperform our expectations as we not only increased total proven and probable GEOs, but the grade improved as well. And having tested only 7% of our land position, I expect that Fire Creek will continue to grow."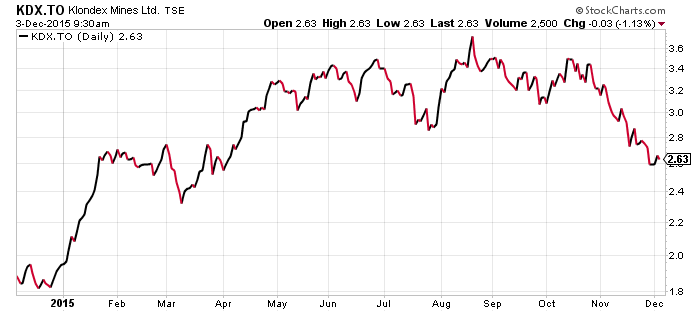 Klondex is one of a few junior gold producers capable of generating free cash flow at current gold prices. The share price has had a nice move in 2015 as management continues to deliver excellent results.
At the end of Q3 cash balance was very strong at ~$60 million.
Read: Klondex Increases Total Mineral Reserves by ~19% in 2015 
Fission Uranium – (FCU:TSX) – The ongoing saga at Fission Uranium continues and it is not helping the share price, at 54 cents recently near fresh 52-week lows. Yesterday afternoon Jim Gifford of dissident group FCU Oversight announced he has withdrawn his slate of nominees ahead of Fission's Dec. 15 annual general meeting.
Mr. Gifford was a retail investor who had nominated 5 new board members – including Ben Ainsworth – to replace the current board. It's good to see a small retail investor fight for what he wants, but in the end all that came of it was a little noise and some extra expenses for Fission.
The Athabasca Basin uranium developer is coming off a failed merger with Denison and the Dec. 15 meeting could be entertaining.
"We are not surprised given the fact the vast majority do not own shares and the fact leading proxy advisory firm, Institutional Shareholder Services ("ISS"), has recommended against them and for the current board," said William Marsh, Lead Director, of the dissident group. "This withdrawal now is the final indication they lack the support of other shareholders who have strongly endorsed continuing with the current board."
Fission, which recently released assays from the new R600W zone that included 25.5m at 11.02% and 14m at 1.39%, is currently exhibiting at the Mines and Money conference in London.
As of Sept. 30, FCU reported $12 million in the till.
CEO Dev Randhawa last purchased 175,000 shares in the open market in September in the mid .60s, so he is feeling a little bit of the pain along with other shareholders.
Read: Fission Uranium Corp. Addresses Withdrawal of Dissident Nominees
Join the conversation at CEO Chat, the investment conference in your pocket, which is becoming a powerful tool for crowd-sourced stock analysis.