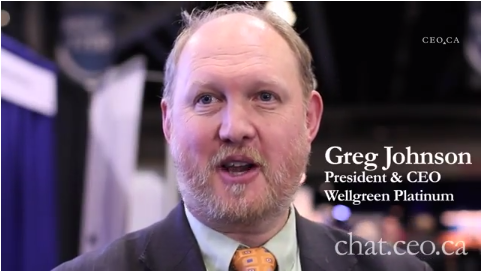 Wellgreen Platinum announced the departure of CEO Greg Johnson this morning, with no details in the short news release on why he left.
Wellgreen is advancing a PGM-nickel project in Yukon off the Alaska Highway.
The move comes less than a month after the company closed an $11.4-million financing with investors including Resource Capital Funds and Alverstoke Group LLC.
Stated Myron Manternach, board chairman: "The board would like to express its appreciation for Greg's services to the company and wishes him the very best in all of his future endeavours."
John Sagman, current Wellgreen's chief operating officer, has been appointed interim president.
CEO.ca reached out to Mr. Johnson via email and received the following comments:
"I am leaving Wellgreen in solid shape, great project, strong technical team, good treasury and supportive shareholders. I feel very good about the significant progress there over the past three years despite the bear market and will remain a major shareholder."
Mr. Johnson had held the president and CEO posts for just over three years. He had previously held positions as President and CEO of South American Silver and was a co-founder/executive with NovaGold.
Mr. Johnson resigned from South American Silver (now TriMetals Mining) in the summer of 2012, as the company's silver-tungsten deposit in Bolivia was in the process of being expropriated by the Bolivian government. That action sent South American's stock from above $3 to pennies, and an international arbitration on the expropriation is winding its way through the process.
Wellgreen bills its project as one of the world's largest undeveloped PGM deposits outside South Africa, where about 2/3 of the world's platinum and palladium are produced.
Before Wellgreen and Prophecy Platinum (the prior developer), the deposit was advanced by Robert Friedland before his Voisey's Bay and Oyu Tolgoi successes. Metallurgy has been one of the concerns raised by critics.
Wellgreen released a PEA earlier this year, but the metal prices used in the base case scenario were much higher than current spot metal prices (US$1,450/oz Pt, US$800/oz Pd, US$1,250/oz Au, US$8.00/lb Ni, US$3.00/lb Cu).
Wellgreen PEA Highlights:
Average Annual Production of 208,880 Ounces Platinum, Palladium and Gold (3E), plus
73 Million Pounds of Nickel and 55 Million Pounds of Copper over the First 16 Years of Mining
Low All-in Sustaining Cost3 of US$457 per Ounce of 3E on a Co-Product Basis with Base Metals
Estimated Base Case Pre-Tax NPV7.5% of CAD$2.1 Billion and IRR of 32.2%
and After-Tax NPV7.5% of CAD$1.2 Billion and IRR of 24.6%
In his time at Wellgreen over the last couple years. Mr. Johnson and the team accomplished the following in a challenging mining environment.
Doubled the size of the resource.
Raised significant capital.
Significant work on metallurgy.
WG stock was trading down 3.5 cents, or 15%, this morning at 19 cents, giving the company a market cap of about $24 million. The chart is ugly and part of that can be attributed to the way PGM prices have been pounded in 2015.
After the financing closed a second phase drill program was initiated. Plans for 2016 include a comprehensive metallurgical testing program as part of pre-feasibility level studies for the project.
SEDI shows Mr. Johnson owning 1,255,000 shares of the company as of this morning.
NR: Wellgreen Platinum announces management changes
Related:  Site Visit – A first-hand look at Wellgreen's rare platinum asset in the Yukon – YMIG Part 4
Join the conversation at CEO Chat, the investment conference in your pocket, which is becoming a powerful tool for crowd-sourced stock analysis.