Turquoise Hill Resources – (TRQ:TSX) – A big deal for the mining industry, Turquoise Hill and its majority shareholder Rio Tinto this morning.  Turquoise Hill and Rio Tinto have signed a US$4.4-billion project finance facility for the Oyu Tolgoi underground mine expansion in Mongolia.
The project finance facility will be backed by over 20 different lenders around the world including Export Development Canada and CIBC.
It's surprising and impressive that a deal this large has been completed given the commodity bloodbath and the current market environment.  This is a large boost of confidence for the Oyu Tolgoi copper-gold mine, as with 20 different lenders a significant amount of due diligence would have been done.
COMPONENTS OF PROJECT FINANCE FACILITY

Facility       Amount        Term        Annual interest rate               

A loan         $0.8-billion  15 years    LIBOR plus 3.78% precompletion; LIBOR
                                         plus 4.78% postcompletion            
                                                                            
Export credit  $0.9-billion  14 years    LIBOR plus 3.65% precompletion; LIBOR
agencies loan  $0.4-billion  13 years    plus 4.65% postcompletion            
                                         U.S. ex-im at fixed rate of          
                                         commercial interest reference rate 
                                         based on U.S. Treasury rates;        
                                         determined at time of first        
                                         disbursement                       
                                                                            
MIGA insured   $0.7-billion  12 years    LIBOR plus 2.65% precompletion;     
loan                                     LIBOR plus 3.65% postcompletion      
                                                                            
B loan         $1.6-billion  12 years    LIBOR plus 3.4% precompletion; LIBOR 
                                         plus 4.4% postcompletion; includes 
                                         $50-million 15-year loan at A loan rate
Jeff Tygesen, Turquoise Hill's chief executive officer, said: "The signing of project finance is an unprecedented milestone for Turquoise Hill and Oyu Tolgoi, as well as a historic vote of confidence in both the project and Mongolia. We look forward to working with the Mongolian government and Rio Tinto to complete the remaining steps leading to the restart of underground development."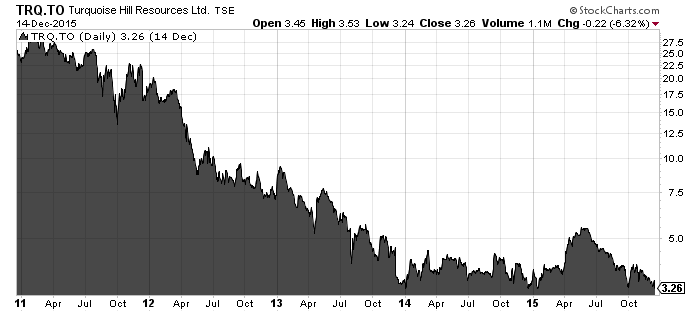 An ugly looking chart for $TRQ, one that resembles many in the mining sector. The stock is getting a bit of a lift this morning, however, with shares up more than 6% to $3.47.
The partners are continuing to complete a 2015 feasibility study at Oyu Tolgoi which will include an updated capital estimate as while as securing all permits needed.
The $4.4 billion will not be able to be drawn down until the project has a formal notice to proceed. TRQ will then use the proceeds to build the underground mine.
Oyu Tolgoi is already in production and has had three profitable quarters so far this year.
As of Sept. 30, Turqoise Hill's cash and cash equivalents were $1.3 billion.
Read: Oyu Tolgoi signs $4.4 billion project finance marking historic milestone toward recommencement of underground development
Pretium Resources (PVG:TSX) –  Pretium has completed the 2015 regional drill program on the property surrounding its high-grade Brucejack gold project in northwestern B.C.'s Golden Triangle. Results have intersected long intervals of low-grade mineralization.
Hole SU-673 was the one that caught my eye, being 2 km south of the high-grade Valley of the Kings.
"Hole SU-673, collared approximately two kilometers south of the Valley of the Kings, contained 561.5 meters averaging 0.53 grams of gold per tonne. The gold grades within this broad zone of mineralization were improving at depth with several higher-grade intersections near the bottom of the hole."
This kind of mineralization (low grade over long intercepts) is in line with neighbour Seabridge Gold (SEA:TSX).
The Brucejack project is over 103,000 hectares, which leaves plenty of room for exploration.
The Golden Triangle is a hotbed of activity with several exploration companies active, including Ron Netolitzky's Skeena Resources (SKE:TSXV). Prospect generator Millrock Resources (MRO:TSXV) acquired some land in the area yesterday. More on that here.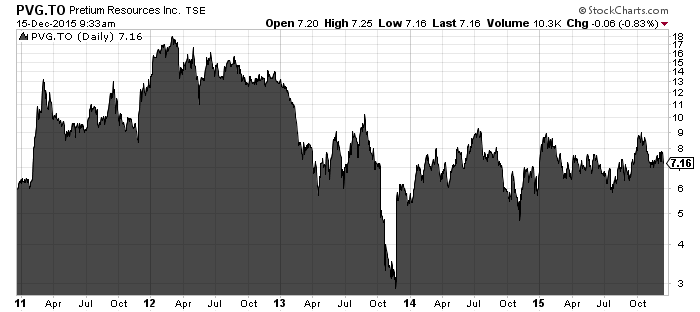 A wild 5-year chart for Pretium shareholders over the last 5 years.
The Bob Quartermain-helmed developer has held up better than most in the mining space and is into the construction stage at Brucejack. Commercial production is expected in 2017.
Brucejack is projected to have a 17-year mine life and total gold production of 7.27 million ounces.
As of Sept. 30, working capital was $431.5 million.
Canaccord Genuity Corp has a buy rating on $PVG stock with a price target of $9.50.
Read: Pretium Resources Inc.: Brucejack 2015 Regional Drill Program Complete
Join the conversation at CEO Chat, the investment conference in your pocket, which is becoming a powerful tool for crowd-sourced stock analysis.