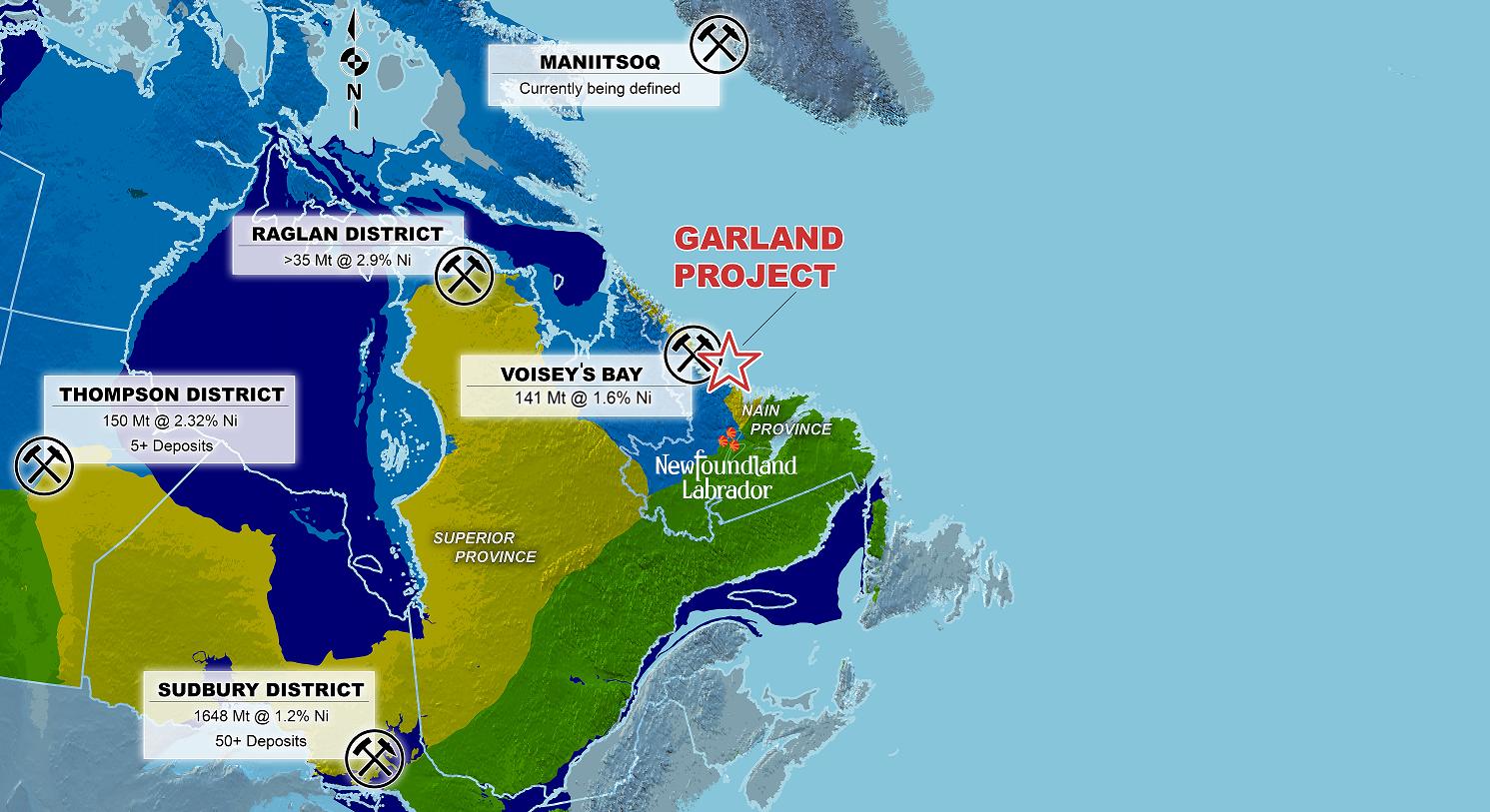 Good morning. The Fed is expected to raise the interest rate at 11 am PST, and so far the gold market is up $14.50 last at US$1,075, as we wait.
Drill results from Equitas Resources and Arena Minerals were among the mining news releases that caught my attention this morning.
Equitas Resources (EQT:TSXV) – Junior explorer Equitas Resources is out with drill results from the Phase 1 drill program at the Garland property in Labrador, Canada. The results did not intersect significant mineralization but were deemed to be a "technical success."
Equitas has been one of the most followed stocks over the last few months on the TSX Venture as investors anticipated results from the Voisey's Bay area play.
Unfortunately a technical success does not cut it in these markets and shares are off 3 cents to 7.5 cents (-28.57%) this morning as of writing. Even good drill results have been sold off in this market, as the suffering TSX Venture continues to set all-time lows.
Geophysical consultant Alan King commented: "A Crone PEM survey of BH GP15-004 at the end of the field season produced a complex anomalous response that could indicate a good-quality conductor in or near the hole. Nothing intersected in the hole is indicative of a strong conductive source, although a structurally disturbed zone is located at about the same depth. The contractor indicated that there may have been some problems with the BHEM data after the hole was logged in two passes to overcome poor downhole conditions. Best-fit quantitative modelling suggested the possibility of two off-hole, northwest-striking, steeply northeast-dipping plates with a combined target dimension of 250 m along strike and 300 m down dip. Depth to the top of the modelled bodies is estimated at 230 m, and conductance at about 1000S. However, this model was a poor fit in some components of the data, suggesting that there may some problem with the data. It is possible that this apparent anomaly could also be entirely due to problems with the data collected or some combination of data problems and real conductors. A detailed PEM resurvey of the hole will be conducted to validate the response in advance of drill testing when the field program resumes in Q2 2016."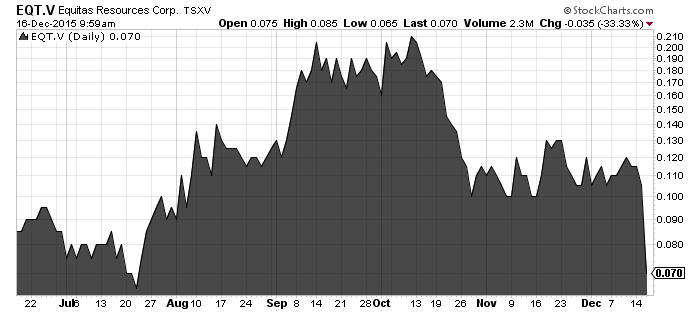 $EQT stock is widely discussed in CEO Chat and all comments can be found at https://chat.ceo.ca/eqt
Hat's off to the team at Equitas for the work they have done so far. In a short period of time Equitas assembled a credible team, raised money, and completed a drill program.
That's more work than 99% of companies on the TSX Venture have done this year.
The "truth machine" did not turn up significant mineralization in Phase 1 but Equitas still has targets and is fully funded for the next phase of work.
Many chat regulars have suggested that a big discovery will turn around the Venture, but the odds of finding an economic deposit are said to be 1 in 3,000.
Equitas was generating a lot of buzz at CEO Chat, here are a couple of my favourite comments.
Benjamin Cox:  "I do want to point out that (Voisey's Bay) drilled a lot of duds before they found the sweet spot. The question is will the market today let them do the same."
Robmcleod: "Gonna be an interesting day for $EQT. A geological success. The presence of ultramafic gabbro-norite rocks and disseminated nickel and copper-bearing sulphides (albeit weak) are somewhat encouraging. The downhole geophysics suggests a nearby conductor (not clear how strong an anomaly); if the ultramafics are layered, sulphides may cumulate (settle since they are heavier) in troughs within the intrusive body. The target isn't necessarily dead, and is worth another hole to test; sounds like they have funds available to do this."
Read: Equitas Resources Corp. Intercepts Disseminated Sulphides over 69 Meters at the Garland Property
Arena Minerals (AN:TSXV) – Prospect generator Arena Minerals has provided an update on its JOGMEC joint venture on the Pampa Union property in Chile.
Arena-JOGMEC has completed 14,900 metres of drilling to date, covering a minimum 3-kilometre spaced grid on the Pampa Union property, while drilling on the Guacate Sur and Carmen Alto properties was executed on a 1.5km grid. Results from the remaining 48 drill holes are expected to be received, interpreted and released over the first quarter of 2016.
William Randall, president and chief executive officer of Arena, commented: "With only the first half of phase 1 results received, we have been successful in discovering a porphyry system under only 30 metres of ground cover. Drill hole PU-RC-39 has intersected the outer pyrite halo typical of many known porphyries in the area. As a result of the success of PU-RC-39, we have accelerated the permitting of an additional 241 holes, allowing us to complete follow-up drilling on this discovery as soon as possible. We are now focusing our attention in this area to complete further work and interpretation to allow us to vector in to the potentially mineralized inner portions of the porphyry system."
Read: Jogmec-Arena Joint Venture Discovers A Porphyry System – Further 241 Drill Holes To Be Permitted
Insider buying
One of my favourite things to track in CEO Chat is insider buying. All insider buying can be found in the Insiders room at https://chat.ceo.ca/insiders. Insider buys for the day are typically posted after 9 pm PST.