Via Energy and Gold.com:
This chart from RBC Capital Markets Research shows that non-precious metal mining shares are almost as cheap as they were at the depths of the 2008 Global Financial Crisis market crash: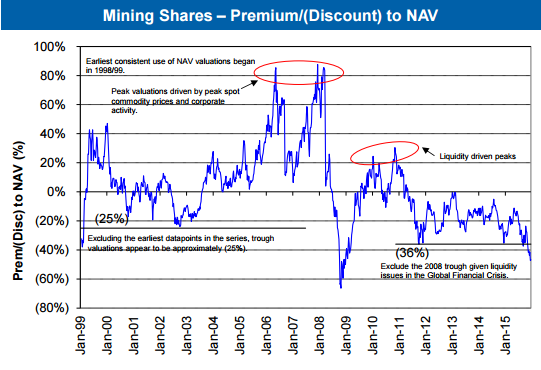 According to RBC non-precious metal mining shares are currently trading at a ~47% discount to net asset value (NAV). At the depths of the 2008 market crash mining shares briefly fell to a ~65% discount before sharply rebounding to fair value within 6 months.
The current bear market decline has been less of a crash and more of a slow bleed with a steady trend of investors becoming disillusioned with the mining space and pulling their capital out of the sector. Will 2016 be the year that shrewd investors begin to put money to work in this much maligned market sector and the valuation gap begins to narrow?