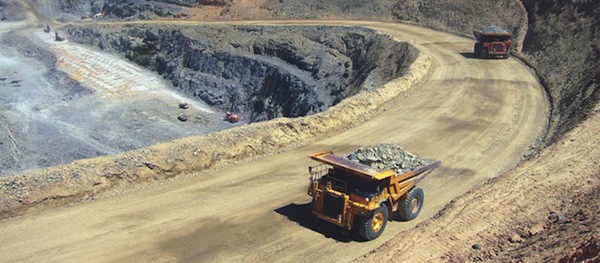 This morning saw a couple of news releases from mining companies about 2015 year-end production results. I will take a brief look at each company with a focus on if they achieved guidance or not.
The supply/demand dynamics for many metals are in the oversupply category to start 2016, especially with China slowing down. It will be an interesting year in 2016 to see if any of this supply comes offline or if producers keep the motto "grow production even if we don't make a profit."
Fortuna Silver – (FVI:TSX) –  Exceeded guidance
Fortuna produced 6.6 million ounces of silver and 39,700 ounce of gold in 2015.
Production came in above guidance at the San Jose mine in Mexico and below guidance at the Caylloma mine in Peru.
Jorge A. Ganoza, president and chief executive officer, commented: "We once again exceeded annual production guidance and continue to provide year-over-year growth into 2016. I want to highlight that our silver and gold production growth comes with industry-leading low costs. This, added to the strength of our balance sheet, positions the company to continue thriving through the phases of the metals cycle."
2016 production outlook is strangely stated in tonnes and I don't have the time to convert to ounces this morning but looks like another increase.
If I was looking for a silver producer $FVI would be on the top of my radar screen for more due diligence.
Read: Fortuna Silver produces 6.6Moz Ag, 39,700 oz Au in 2015
Copper Mountain Mining – (CUM:TSX) – Missed guidance
Copper Mountain produced 77.6 million pounds of copper, 29,000 ounces of gold and 276,000 ounces of silver in 2015 at its mine in southwestern British Columbia.
Jim O'Rourke, president and chief executive officer of Copper Mountain, said: "The mine team have again achieved an outstanding safety performance in 2015 as well as achieving increases in mill throughput above the design capacity while continuing to reduce operating costs. Further increases in mill throughput and continued cost reductions are our key targets for 2016."
You know it was a tough year when the CEO leads off his statement talking about safety.
Copper production is expected to be 80 million pounds (+/- 5%) in 2016, which is flat with 2015.
I would not be looking at Copper Mountain as a copper producer in today's environment as they have a high debtload.
Read: Copper Mountain produces 77.6 million lb Cu in 2015
Yamana Gold – (YRI:TSX) – Met guidance in gold, exceeded in silver and copper
Many people think of Yamana as a gold producer – hence the name – but they actually produce a fair amount of silver and copper.
Production for 2015 is estimated at 1.275M ounces of gold, 9M ounces of silver, and 131M pounds of copper.
Guidance in 2016 has gold production flat and lower silver and copper production.
For 2016, the company expects to deliver gold production of between 1.23 million and 1.31 million ounces of gold. Silver production is projected at between 6.9 million and 7.2 million ounces of silver, and copper production is projected at between 122 million and 125 million pounds.
Read: Yamana estimates 2015 Au production of 1.27 million oz
Discuss at the CEO.CA Terminal.
This is not investment advice. Author owns no positions in any of the companies mentioned. Please do your own due diligence and consult an licensed financial advisor before making any investment decisions.