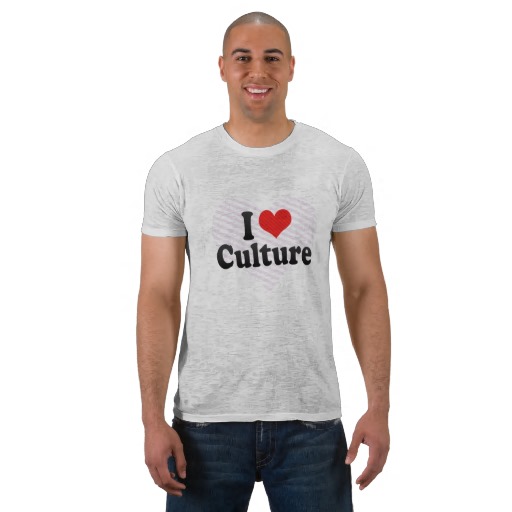 I really hate the word culture sometimes. It means a lot of different things to different people and seems to be applied to many things that to me don't qualify but to others are valid. One person's culture is anothers knitting club.
How you define culture is up to you and like we talked about in art, you are an expert. That said, the level of your expertise is defined in your experience in the field; what you have seen, created and been a direct not passive part of. I believe that this participation is the active contributor in your experience and a depth of knowledge is your guide in what you consider "good".
Thankfully, we don't have to go and find these experiences all on our own. We have curators, event organizers and venues that offer us options in how we want to create our experience. We trust in them to tell us what is of value; to act as guides through the amateurs and direct us to brilliant or the brave.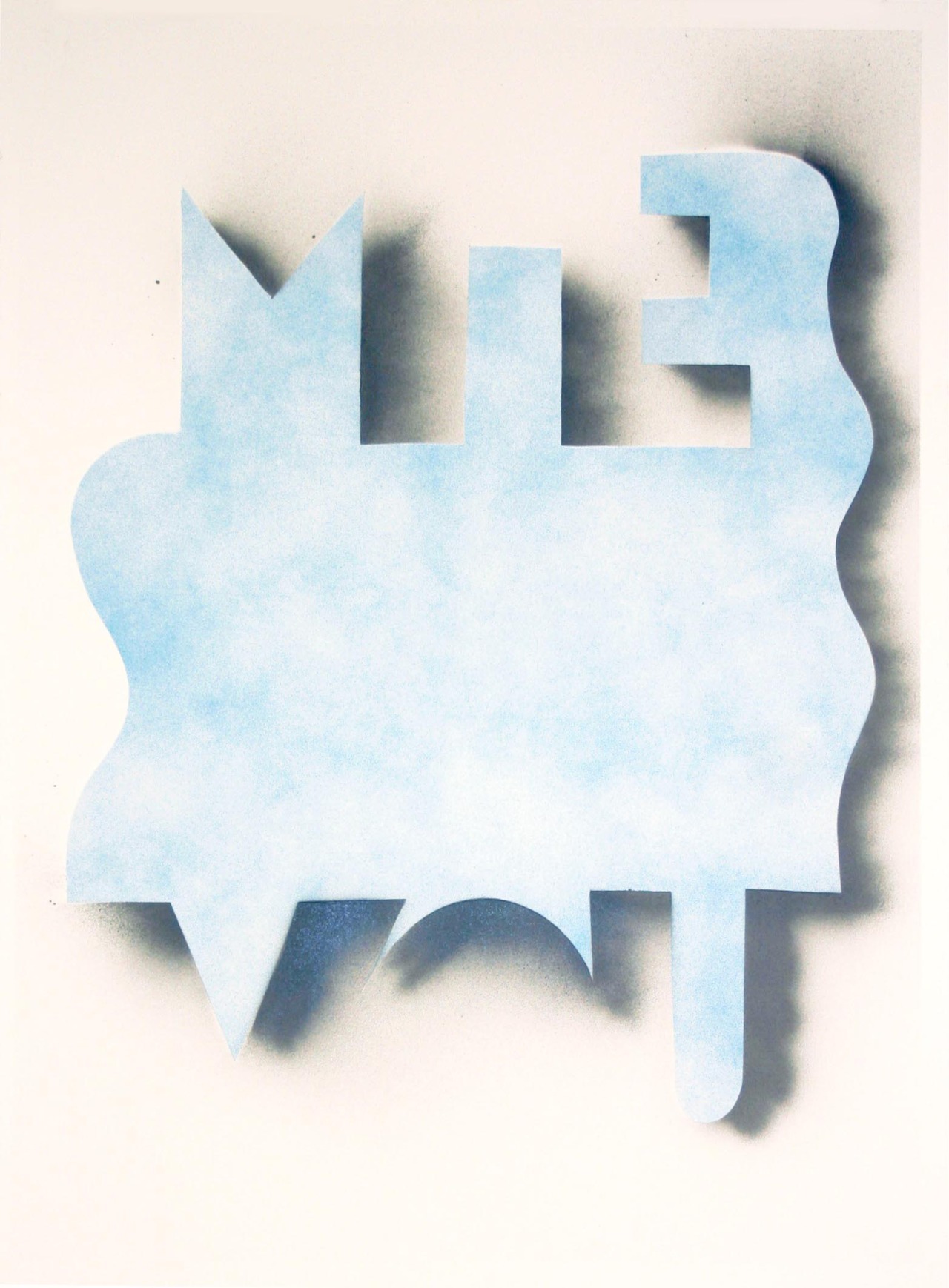 Graham Landin, Me and You, 2012
The difference between taste and conformity is a willingness to accept something you don't understand as having possibility. Putting yourself in new experiences outside of your realm of understanding becomes a prerequisite for a fuller understanding of yourself and the world you are in. This in turn opens you up to new ways of thinking about your own field and your return on the investment of leaving the house becomes greater than the energy to get off the couch.
The truly powerful curators and cultural operators do more than simply show a public what they expect to see. Instead they give the public faith that they are ready and capable of understanding new things, of being challenged. They trust that the public – you – are prepared to get down and dirty in the realm of uncomprehending. It's their ability to surprise us and our trust in them to give us something that will please us (or better, disturb us) that makes us come back.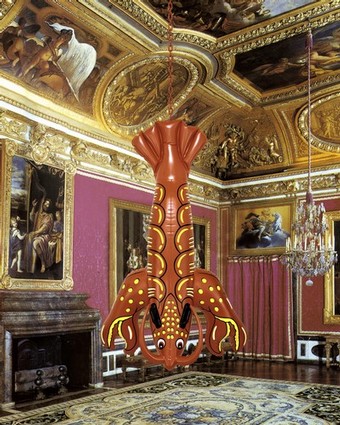 Jeff Koons at Le Château de Versailles, France, 2008
Combining this "new" or "strange" with the established or familiar gives us a sense of contrast; we can see the potential of the new when looked at with an example of the classic in accompaniment. Jeff Koons in Versailles (above) was a kick in the ass of white cube gallery shows and became very talked about as insulting or renewing of the institution of Versailles depending on the side you took.
The beauty of the new and the old staring back at each other with violent eyes provides tension for us. It's the proud establishment of the cultural royalty versus the unruly peasants of contemporary art.
Take the example the idea of the Vancouver Art Gallery splitting up into various smaller but specialized venues in order to spread out the money to give donation contributors a name on a building. For this reason alone it's the exact wrong thing to do.

The Vancouver Art Gallery
By splitting up a venue set to engage into tidy, clear cut examples of the each category of making, you remove that vicious gaze. The competitive edge between the these varied traditions – each trying to prove itself as the most valid, the truest tradition or the newest incarnation – all this goes to the wayside when they are divorced.
In Vancouver's culture, the combining of varied elements in a business is risky. Our culture businesses specialize; they stick to their genre's and do more or less what is expected of themselves. Playhouses perform plays, dance venues show dance, music venues specialize into further specialized musical categories; all of them to keep the people coming back so they can make rent. It's predictable, and good business is supposed to be predictable.
The Waldorf Hotel came to be through two distinct talents, Tom Anselmi and Ernesto Gomez. Over a weekend, the two (and their equally talent spouses Laur-Elaine Cote of Barbarella Salon and Claudia Fernandez of Joyce Collingwood) sorted out a plan for a permanent location that each of them could combine what they do in a new way. Imagine a mind map that included magicians, a rotation of international chefs and local rock bands, secret dancer rooms, holograms and affordable food.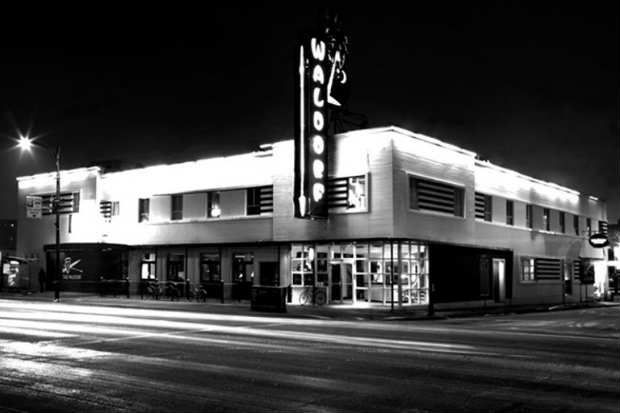 The Waldorf Hotel, Vancouver, BC
A space that included a target audience of the elderly and the hipster coexisting in harmony. Where you can have a wedding or brunch. Check an art show or a peek a boo lingerie show. See a hip hop legend next door to a goth night, meet the crowd who went to the both shows at the bar that separated them under the same roof. Maybe make out. Or get a hotel room upstairs.
Of course it worked.
Taking the specialization out of venue concept and looking at events as a curated experience is maybe not new and but rare in success. Making this all work requires a specific drive and a grander vision than most are capable of one night, let alone weekly. One that requires a confidence earned by experience and a history in doing.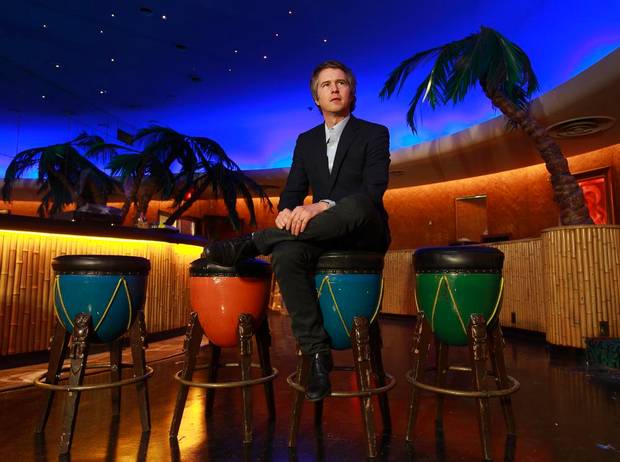 Tom Anselmi in the Waldorf's Tiki Room
Tom Anselmi came from a long history of performing. His young career turned from a young punker that caused a riot at Expo 86 in his first band Slow, into Copyright the alt rock band signed by Geffen and BMG. He toured and explored.
Getting older and refining his taste through performing and travel, his music turned to moody, more classically based synth compositions and multi media performances. Funding his own one night events in Vancouver and Los Angeles, his shows had multiple elements that included live art performances, private dances, and a Lynchian sound that was designed to create mood and feeling, self described as "postmodern psychosexual cabaret". These shows became the build up to what became the Waldorf's constantly rotating line up of everything from J-pop celebrities to Latin male strippers and live indoor figure skating without ice.
Ernesto Gomez came to Vancouver in 2006 as a Michelin trained chef and Cornell graduate with numerous restaurants under his belt. His Vancouver creation, Nuba, gave the city something new they could afford and a comfortable vibe that accompanied every plate. His work with architect and designer Scott Cohen added a certain sexiness to his restaurants combined with his tremendous ability to pick the right chef's and design accessible but interesting menu's. He managed to keep each of his restaurants in the Nuba line individual in style and feeling to the area's they were in. The quality remains consistent and the staff engaging.
Ernesto Gomez
Ernesto's natural skill is in taking individuals as confidants to the experience; you always feel a vital part of the night. His history in fine dining may have shown him the value of this touch, but while may not be unique to have an owner come to your table to check on you at $100 a plate restaurants, it's genuine when you experience it with an $8 appy.
Gomez's warmth and inclusive manner offset Anselmi's sometimes bristly exterior. As Tom would go from club to restaurant to Tiki lounge and tweak the experience to his own high standard of person taste, Ernesto took the time needed to make everyone comfortable and get customers opinions and simply engage. They balanced each other well.
Old friends and new talent like Danny Fazio, Michael Mann, and Kasha Marcianiak and many, many others brought what they had to round out the details and keep things unexpected.
In the process, they gained the trust of everyone from Douglas Copeland to Skrillex that they had the right intentions: to make new experiences, take risks and have the balls to trust others to do what they wanted without only looking at the bottom line.
After the first year of gaining that trust and proving themselves to the public, the business was earning. As a city we began to trust their experience as curators to impress and educate, to nourish and entertain. To show us things we may not have intended to but that we trusted could be of value for us to consider.
The surprise end to this great experiment is well documented here or here. The conclusion for me is that the public is ready for this kind of experience and that specialization in the "culture" industry is a dying concept.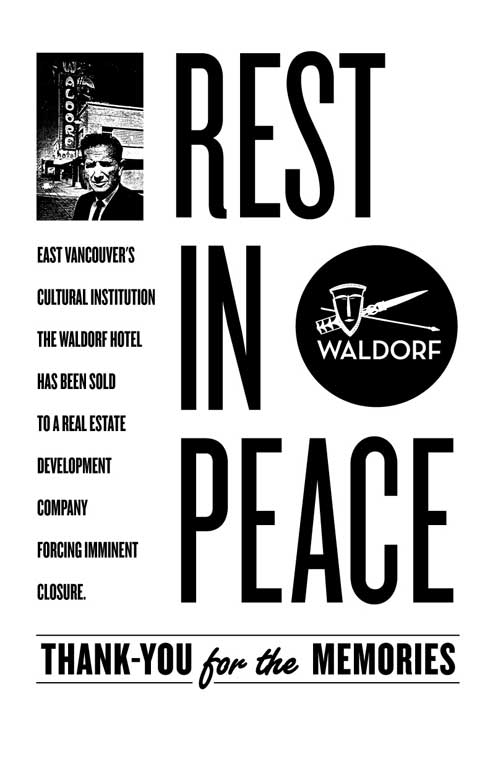 The Waldorf's ability to emphasize the similarities between uncommon things and create moments without losing sight of quality was fine curation. That the staff and leadership of the Waldorf participated in this risk without the government's financial support museums rest upon should be applauded and remembered.
We look forward to the next incarnation.
The Waldorf Hotel will close it's doors on January 20th, come out for the final bash. More information on The Waldorf Hotel here.
Joseph Staples – www.officesuppliesincorporated.com