Peregrine Diamonds stock was introduced to a cliff earlier today when the company disclosed that DeBeers has elected not to exercise its option for 50.1% of Peregrine's Chidliak diamond project on Baffin Island. Shares dropped from yesterday's close of 65 cents down to the low-30s, before bouncing to 41.5 cents at the time of writing.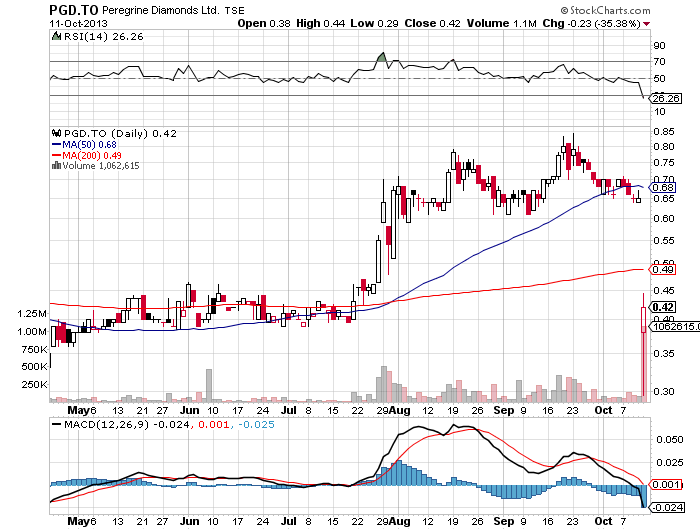 I don't believe it was a dead cat bounce; I also resisted the temptation to add to my stake as I monitor developments over the coming months.
Very briefly, a few observations:
– under the terms of the option agreement, DeBeers was obligated to spend $58.5 million on Chidliak, no small amount even for the company that still sits astride (a rapidly shifting) global diamond market. And obviously the people now running DeBeers – owner Anglo-American – felt the price was too high.
– The option deal was for half the project and half the diamond marketing rights. Peregrine now must come up with funding (or find another partner) but gets 100% of the project and marketing rights. So key to any investment decision is whether you think Peregrine's major shareholders – Eric and Robert Friedland, as well as Ned Goodman's Dundee (which has been shedding a few shares even before today's drop) are capable of going it alone. I think they are.
– Another key, obviously, is the results of the bulk sample, which may be released sooner now that DeBeers is out of the picture. Earlier, smaller samples from Chidliak's CH-6 kimberlite contained rich, world-class grades. I suspect part of DeBeers' dissatisfaction with Peregrine was being backed into a corner whereby the bulk sample wouldn't be processed without a commitment by DeBeers one way or another.
With BHP's earlier exit from its alliance with Peregrine, today's news makes DeBeers the second major to walk away from Peregrine and its flagship project. DeBeers, however, isn't the only game in town anymore when it comes to the market they created and dominated for most of the 20th century. Interesting times.
Related reading | Chasing the carat: The Friedlands go diamond-hunting, World of Mining