Gold stocks have kicked off the week with a powerful breakout:
Click to enlarge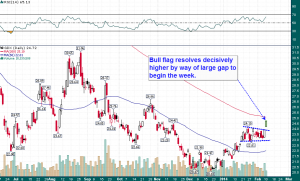 Chart patterns which resolve by way of opening gaps often lead to the most powerful follow through moves. The bull flag breakout in GDX points to another 3-5% of gains over the near term ($25.50 – $26.00 area).
Meanwhile, a large trader came in and purchased 10,000 GLD March 127 strike calls to open this morning (more than 4x the open interest for this strike & expiry):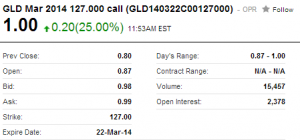 At .96/share this was nearly a $1,000,000 transaction at a strike price which is 3.25% higher than where the market is currently trading ($127 on GLD equates to ~$1315 in spot gold). Things are definitely heating up in the gold space, however, $1280 is still the nut to crack in the short term.