2014 can be emphatically dubbed the year of energy, not since 2007 have we witnessed such extreme outperformance by energy stocks:
Click to enlarge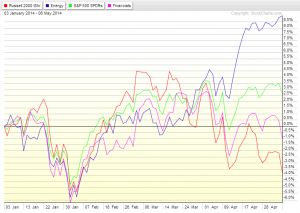 The outperformance really picked up at the beginning of April and grew even wider today with the XLE +.15% vs. -1.42% for the XLF and -1.63% for IWM. The current situation is eerily similar to 2007-2008 when the S&P peaked in October 2007 while energy stocks continued powering higher for another 6 months before rolling over during the summer of '08.
Make no mistake, narrow market leadership from energy and consumer staples is definitely a bearish phenomenon. The question is simple: How long can energy hold up the market? We will find out soon enough and in all likelihood the answer will be in terms of days, not weeks or months…..