One of the best performing junior mining stocks of 2014 has been NioCorp Developments Ltd., a Vancouver, Canada based company which owns the Elk Creek niobium deposit in Nebraska (niobium is a steel strengthening and lightening alloy).
Shares in NioCorp are trading at $0.63 Monday after reaching $0.78 a few days ago. They could be had for $0.15 at the beginning of 2014, and we were fortunate enough to subscribe for shares at that price in a December 2013 financing.
The 4X value increase for NioCorp Developments Ltd. is even more impressive in that the company has 121 million shares outstanding. NioCorp has increased its market cap from roughly $18 million to $76 million dollars in just five months.
An obvious reason for the value increase has been the effectiveness of the company's new CEO at communicating NioCorp's story to investors.
Mark Smith, a lawyer and engineer who was previously CEO of Chevron Mining and Molycorp, became an advisor to NioCorp in March, 2013. He assumed the CEO position in September 2013, which caught our attention because Mr. Smith had seemingly ideal credentials for the little known and tiny market cap NioCorp.
A series of articles that we wrote about Mr. Smith's appointment to the CEO position during fall 2013 caught the company's attention, and we were able to record a video interview with Mr. Smith in late December 2013 which we published here on January 9, 2014.
Since taking over the CEO position, Mr. Smith has raised $5.5 million dollars (nearly $2 million of which came from Mr. Smith's own pocketbook) to advance the Elk Creek project.
NioCorp, together with SRK Consulting of Lakewood, Colorado, completed a review of the company's Elk Creek asset in Spring of 2014, and recently announced a planned three phase 12000 meter drill program to upgrade Elk Creek's resource.
Leading drilling operators have submitted bids for the initial 4200 meter phase of drilling, and drilling permits remain in tact from previous years.
After the market closed on Friday the company also announced some personnel changes. NioCorp has recruited a former colleague of Mr. Smith's at Molycorp, Mr. Mark Honan, to become the company's Vice President of Business Development, with oversight of all development activities at the Elk Creek project.
Mr. Honan was most recently VP of health, environment, safety and sustainability at Molycorp, where he helped to build and operate that company's Mountain Pass rare earths mine in California.
"We believe Scott is the ideal candidate to enable the rapid ramp-up of development work being implemented at the Elk Creek niobium project, as we carry out the necessary studies required to accelerate the company through the project development stage," said Mark Smith, CEO.
Additionally, NioCorp announced that longtime director and niobium industry expert, Claude Dufresne, who is responsible for the marketing of niobium production at Iamgold's Niobec mine in Quebec, has resigned from NioCorp's board of directors, citing a potential conflict of interest. The company is currently considering replacement nominees to its board.
Mr. Smith's name alone has not been the only driving force behind the company's share price increase. The Denver, Colorado based executive has been very proactive in giving media interviews and hosting investor meetings.
"It's a very important time in the company's history," Mr. Smith said in a recent interview. "We're putting together the type of information intended to increase the value of the company and to take us further down the path to development."
Investors are so far agreeing with Mr. Smith, and NioCorp's recent run reminds us of just how important human resources are in the natural resources business.
We look forward to seeing more charts like NioCorp's: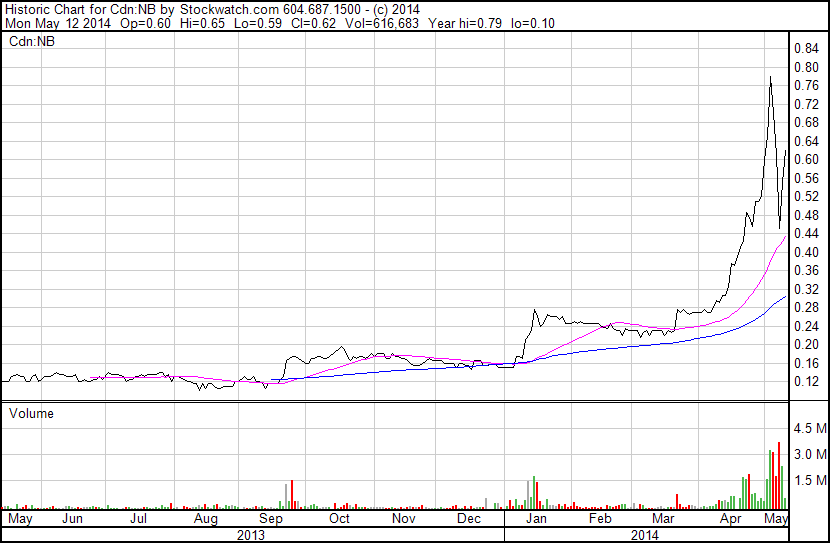 Forward-Looking Statements: This article includes certain "forward-looking information" within the meaning of Canadian securities legislation. Forward-looking statements include predictions, projections and forecasts and are often, but not always, identified by the use of words such as "seek", "anticipate", "believe", "plan", "estimate", "forecast", "expect", "potential", "project", "target", "schedule", budget" and "intend" and statements that an event or result "may", "will", "should", "could" or "might" occur or be achieved and other similar expressions and includes the negatives thereof. All statements other than statements of historical fact included in this release, including, without limitation, statements regarding the potential of the Company's properties are forward-looking statements that involve various risks and uncertainties. There can be no assurance that such statements will prove to be accurate and actual results and future events could differ materially from those anticipated in such statements. Forward-looking statements are based on a number of material factors and assumptions. Important factors that could cause actual results to differ materially from Company's expectations include actual exploration results, changes in project parameters as plans continue to be refined, future metal prices, availability of capital and financing on acceptable terms, general economic, market or business conditions, uninsured risks, regulatory changes, delays or inability to receive required approvals, and other exploration or other risks detailed herein and from time to time in the filings made by the Company with securities regulators. Although the Company has attempted to identify important factors that could cause actual actions, events or results to differ from those described in forward-looking statements, there may be other factors that cause such actions, events or results to differ materially from those anticipated. There can be no assurance that forward-looking statements will prove to be accurate and accordingly readers are cautioned not to place undue reliance on forward-looking statements which speak only as of the date of this article. The Company disclaims any intention or obligation, except to the extent required by law, to update or revise any forward-looking statements, whether as a result of new information, future events or otherwise.
Disclaimer: This article is not intended to meet your specific individual investment needs and it is not tailored to your personal financial situation. Nothing contained herein constitutes, is intended, or deemed to be — either implied or otherwise — investment advice. NioCorp Developments Ltd. is a client of Pacific Website Company Inc., owner of the CEO.CA blog, and therefore our coverage of the company should not be considered fully independent or unbiased. We also have a financial interest in NioCorp which we may trade at any time without notice to readers. While the information herein is believed to be accurate and reliable it is not guaranteed or implied to be so. The information herein may not be complete or correct; it is provided in good faith but without any legal responsibility or obligation to provide future updates. Neither Tommy Humphreys, nor anyone else, accepts any responsibility, or assumes any liability, whatsoever, for any direct, indirect or consequential loss arising from the use of the information in this article.