World leading global natural resource developers, the Lundin Group, led by Swedish billionaire tycoon, Lukas Lundin, have only one mineral exploration vehicle left.
It's called NGEx Resources Inc. (TSXV:NGQ), after the family motto: No Guts, No Glory and the company's main focus, Exploration.
NGEx owns three large copper gold deposits along the Chile/Argentinian border, the Josemaria, Los Helados, and Filo del Sol projects.
Los Helados (Chile) and Filo del Sol (Argentina/Chile) are 60% owned in a JV with Pan Pacific Copper Co. Pan Pacific Copper Co is the world's largest buyer of copper concentrates and operates the comparatively lower grade and smaller Caserones mine just 20km away.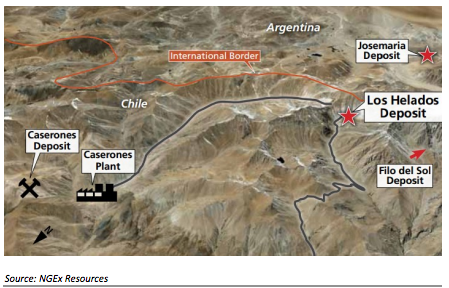 Josemaria is 60% owned in a JV with Japan Oil, Gas, and Metals National Corporation (JOGMEC), which owns 40%.
The company's other assets include Wojtek Wodzicki, President and CEO, one of the most respected mineral ex executives in the industry, and an extensive portfolio of early stage exploration projects in Chile, Argentina and Canada, not to mention the Lundin's backing.
Today NGEx announced a private placement of approximately $30 million Canadian dollars for ongoing exploration and general corporate purposes (Thursday June 6, 2014 6AM PST Update – NGEx Closes Book and Increases Private Placement to $35 million).
With the Lundin family's stellar track record, they should be able to raise the money easily.
Pareto Securities AB has been appointed as Sole Bookrunner and Lead Manager on the $35 million financing.
Not by coincidence, Lundin Group chief Lukas Lundin's son, Adam Lundin, works with Pareto as an institutional salesman in New York City.
Lukas Lundin himself purchased 150,000 shares of NGEx in the open market the week, at prices ranging from $1.92-$1.95, insider filings show.
NGEx intends to dual list the company on the Nasdaq OMX in Stockholm, Sweden, where the Lundin's are from and enjoy a loyal and longstanding following of investors.
Here's a link to the financing news release: NGEX Intends to Undertake CAD $30 Million Private Placement
Related: Lukas on Lundin, The Lundin Group
Price June 4, 2014: $2.00
Shares Outstanding: 168,940,059
Shares Fully Diluted: 174,427,809 shares
Market Cap: $318 million
Contact: Sophia Shane 604.689.7842
http://www.ngexresources.com/