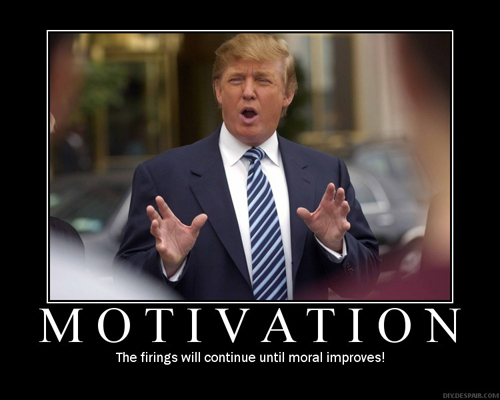 It's a typical morning, no different than any other. You wake up, drive to the office and look to slowly ease yourself into your day with a cup of coffee. You begin to work your way through the zillions of emails that have amassed overnight when you are summoned into the corner office. You walk towards the office with a sense of ease as you plan to update your superiors on your new account/progress of a project etc, when a weird sense takes over your body the second you get in there. The mood of the room is noticeably dark, and you soon realise it is so for good reason; you are no longer employed in what was the Company you thought you would finish out your career with.
Grief, anger, denial and soon acceptance flood your body over the coming hours, days and weeks and you are soon left to pick-up the pieces and start anew. There are no shortage of examples that illustrate what a blessing in disguise being let go/fired can be, some of the greatest and most triumphant success stories have been spawned by such circumstances, though in the moment there is no silver lining to be found.
Now what?
Firstly, this scenario, though completely shocking and upsetting to you is a rite of passage for most people at one point in their career or another. In the grand scheme of things this is as surprising as it is common.
You are now left to begin your search for a new job but where do you even begin? By using these examples of cover letters to hype yourself up to your next potential employer?
The best advice one can give is to start prepare for your job search when you have no intention of leaving; when you are employed and you think things are at their very best. Begin positioning yourself before you are in need, and you will find the opportunities are that much more abundant to you when the unexpected happens. These key things should be your first focus when considering alternate employment, whether you find yourself out of work or are just looking at positioning yourself so that opportunities find you.
1) Build an online profile. LinkedIn is one of the most powerful networking tools ever created; both to stay in touch with colleagues you have met along the way and also be found be potential employers in need of someone with your particular skill-set. Create a profile, and fill it out with as much relevant professional information as you can. Education, work history, even a professional summary outlining what makes you different than others with a similar career background. Join groups relevant to your industry and reach out connect with as many colleagues and peers as you can that you have met along the way. The more you put into this, the more you will get out of it. Just by being on there and having a well rounded profile will immediately put you on the radar for recruiters, employers and connections who can then refer you to openings you would have otherwise not been aware of.
2) Always keep your CV up to date: You want to be able to hit the ground running from the very day the unexpected happens.
3) Your quickest, best suited, and most straightforward opportunities will come through your own connections. Don't be shy; let your inner circle know that you are now actively looking for opportunities. Past colleagues, acquaintances and mentors you have come across along the way need to have this on their radar as they are the ones that likely know of positions within the industry.
4)Reach out to head-hunters that operate within your industry. Send them your CV and tell them the types of positions you would be interested in being considered for. They may have positions that are well suited to you immediately, or they may not.. At least you are now on their radar. Note: head-hunters, recruiters, executive search consultants(insert whatever other title they have here) aren't the difference between you finding a job or not. In the grand scheme of things they only work on a small percentage of any open jobs in the marketplace. They are nothing but a potential added source of opportunities at best; they should not be relied upon entirely to be responsible for finding you options.
5)Every single day you should be online, looking at the various job boards that are related to your industry. There are major job boards like Monster.com that focus on all industries and verticals and there are niche job boards that focus on one sector in specific. Search through both types; the niche job boards are generally the best if you have had a very focused career to date; the generalist job boards if you can work in any industry(i.e. sales or accounting etc).
6) Just because you are unemployed does not mean you don't have a job. If you are unemployed, your full-time job from this point on is coordinating your job search. Treat this as a job in itself, hold yourself accountable and don't just wait and expect for stuff to happen.
By Andrew Pollard, President, Mining Recruitment Group
www.miningrecruitmentgroup.com