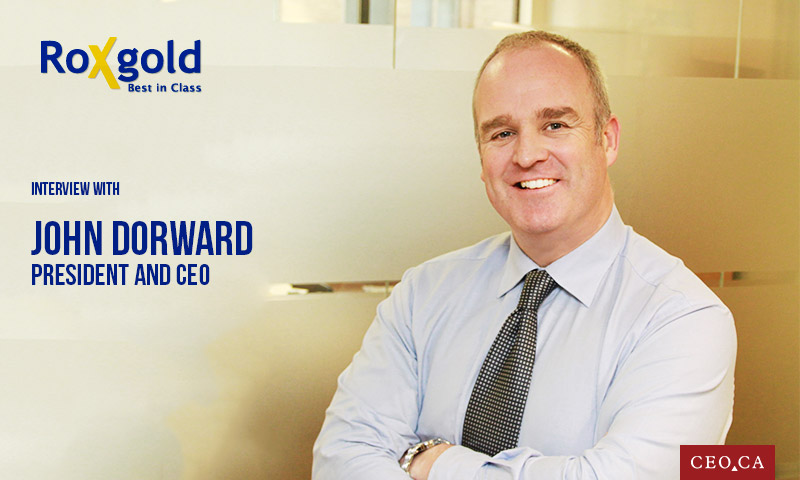 Few gold developers in the world today have an opportunity like Roxgold Inc (ROG:TSXV). The company is developing the high-grade Yaramoko gold project in Burkina Faso that has an after-tax IRR of nearly 50% (in a sector where you are lucky to achieve double-digit returns).
The economics are unique for three reasons. First, the grade, which sits at an average of 15.80g/t gold, puts the project among the highest-grade undeveloped gold projects in the world. Second, the operating margins, which at $1,300/oz gold, are around $710 per ounce (based on all-in sustaining cost of $590/oz). Finally, the low capital intensity (initial capex is estimated at $106.5 million).
Recently, I had the opportunity to speak with President and CEO, John Dorward, on how his company has been able to navigate the challenging gold markets and see its share price increase over 100% in the past year.
Mr. Dorward, an Australian finance specialist, is no stranger to success, having made profitable moves in the nickel space in the early 2000s. He sold his Australian-based nickel assets to LionOre Mining (subsequently sold to Norilsk Nickel for over $6 billion in 2007), then spun out the gold assets and ran the company formed from those assets, Leviathan Resources. He then sold that gold producer in 2006.
From 2006 to 2009, Mr. Dorward was the CFO of Mineral Deposits where he was integral in the financing, construction and operation of the Sabodala gold project in Senegal, West Africa (now owned by Toronto-listed Teranga Gold (TGZ:TSX)).
Afterward, Mr. Dorward joined Dr. Mark O'Dea and Oliver Lennox-King, Roxgold's current chairman, at Fronteer Gold.
Mr. Dorward served as VP Business Development for Fronteer and helped the company divest its large Michelin uranium deposit, as well as acquire AuEX Ventures. He also helped package the company for its sale to Newmont in 2011 for $2.3 billion.
After putting a few shekels in his pockets from the sale of Fronteer, Mr. Dorward returned to Australia to look for the next winner. It was during this time that Mr. Lennox-King began a proxy fight to control Roxgold and its high-grade West African gold assets.
Burkina Faso:
After his experience in Senegal, Mr. Dorward cultivated a passion for West Africa and its highly prospective, yet underexplored corners.
By assisting his former Chairman (Oliver Lennox-King) in winning his proxy contest for Roxgold, Mr. Dorward entered Burkina Faso.
"You're not moving the proverbial barrel up the hill looking for gold mines in Burkina Faso," Mr. Dorward told me, referencing the fact that Burkina Faso has a history of gold mining that comes with a transparent mining code.
According to Mr. Dorward, "The government there (Burkina Faso) gets it."
Burkina Faso has built eight gold mines in ten years and is Africa's fourth-largest gold producer. West Africa has a history of underground mining, including one underground base metals mine in Burkina Faso operated by Glencore (Perkoa zinc mine).
Despite having a history of gold mining, the country (and region as a whole) is its infancy in terms of modern day exploration.
"It is geologically a highly prospective country, and also benefits from permitting and jurisdictional support for mining," says Dorward. "We have found it to be a good place to do business."
The Project:
Mr. Dorward joined his former colleague and helped him take control of the company in order to move the small but high-grade Yaramoko deposit forward.
"Although Yaramoko was small (<500,000 ounces) we knew it would work as a stand-alone project due to the grade. We also strongly believed it would grow much bigger," Mr. Dorward told me by phone from his Toronto office.
According to a Feasibility Study published in April of this year (done solely on the 55 Zone), the project will produce gold via a 750 tonnes per day (tpd) mill that will process gold at average head grade of 11.59g/t gold and produce 99,500 ounces annually.
The ore is clean and simple to process with recovery rates estimated at 96.9% using a traditional gravity/CIL process.
Given the project's relatively small footprint (750tpd), capex is also modest. On a capex per annual life-of-mine production metric, the $106.5 million in initial capital required equates to $145 per ounce (putting it in line with comparably sized heap leach projects which are typically considered much more cost effective than their underground counterparts).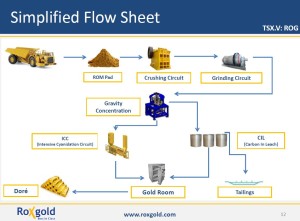 This low capital intensity is combined with lowest quartile all-in sustaining costs per ounce of $590.
"We like to say the project punches above its weight-class because it is capable of generating significant free cash flows due to the operating margins," he says.
The mine plan currently dives to a depth of 430 metres, although the deposit remains open at depths well below 900 metres; the upside.
"In our current mine plan, we only mine halfway down the known deposit. We will drill underground to increase our confidence, but we believe the deposit is capable of a longer mine life than is currently estimated in the Feasibility Study," Mr. Dorward says.
The mine plan was designed to allow for an expanded production capacity. This includes the development of twin declines which will open up 4 to 6 mineable faces (only 2 to 3 faces are needed to achieve nameplate capacity of 750tpd) as well as a mill that can be easily expanded.
"We have designed the SAG mill with an oversized motor so that we could not only extend the mine-life but also expand annual production without having to invest significant amounts of capital," he says.
Important to note, is that in the short time since Mr. Dorward took over as President and CEO, the exploration team has been able to grow the resource from 500,000 ounces to nearly 1.1 million ounces.
The ground surrounding the deposit is rife with exploration targets which the company is currently drilling, including the Bagassi South zone.
Prudent Capital:
The project has been able to attract capital even in the thick of the worst year for gold price returns.
The company was able to navigate this period and continue to de-risk the project by limiting dilution while still keeping the treasury at a healthy level.
"We had to get creative last year," Mr. Dorward explains. "Part of that was our acquisition of XDM Royalty which was essentially a cash rich shell we were able to fold into our balance sheet."
Prudent capital deployment has helped attract serious international money; the project's economics didn't hurt the cause either.
In March 2014, Appian Natural Resources Fund, invested $12.5 million into the company.
Mr. Dorward describes Appian as "the ideal investor" due to the fact they are patient, value-add, long-term investors.
"Michael (referring to Appian's founder, Michael Scherb), has been able to assemble an exceptional technical team and they conducted a very thorough due diligence process," Mr. Dorward says. "Appian has been very helpful in making introductions as well as on the technical front."
We interviewed the London-based private equity firm founder earlier this year (read: Appian's Michael Scherb: Accommodative Capital and the New Private Equity Investor in Mining).
Roxgold recently announced the engagement of Credit Suisse and Société Générale to source a lending syndicate for a $75 million project finance package. Mr. Dorward expects this to be complete before year-end.
The company is sitting on over $30 million in cash, and this debt package addresses all of the debt required as part of the financing puzzle.
Stock on the Rise:
Although Roxgold's shares are up 85% year-to-date, its President and CEO envisions much more upside.
"We will continue to knock over development milestones," Mr. Dorward tells me. "We have two big ones (catalysts) coming up in the next few months; one is finalizing the $75 million debt package and the second is receiving the Exploitation (mining) permit."
A fully funded and fully permitted project of this pedigree, with less than 18 months to production, should trade at a premium to its peers.
One of its peers, Rubicon Minerals (current market cap of $570 million), which is developing the Phoenix gold project in the Red Lake gold camp in Ontario, has a larger footprint and as a result, the economics aren't as strong as Yaramoko despite having nearly double the annualized production.
Rubicon's recent preliminary economic assessment (PEA) indicates a mine capable of 165,300 ounces per year for 13 years.
At $1,100/oz gold, the after-tax NPV, using a 5% discount rate, of the Phoenix deposit is $113 million and IRR is 9.7%. When compared to Yaramoko's after-tax NPV (5%) at the same gold price of $168 million and IRR of over 35%, it is easy to see how important grade and margin are.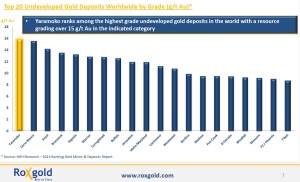 At current gold prices ($1,300 per ounce) the NPV of the Yaramoko deposit swells to $250 million and at that point has an IRR of 48.4%.
Mr. Dorward is also excited about the exploration potential of the Bagassi South zone which is a high-grade shoot that has been defined with a strike length of nearly 300 metres and a depth of 200 vertical metres.
In May, the company released more impressive drill results from this zone that included 3.1 metres of 226.76g/t gold including 1.6 metres of 442g/t gold.
With Roxgold currently trading slightly below fair value based on its Feasibility Study (after making necessary corporate and balance sheet adjustments), in buying the company's shares an investor gets the upside of the bottom half of the deposit as well as any further exploration success at Bagassi South or other areas, for free (plus the potential of a takeover).
Mr. Dorward reiterated the fact that Yaramoko remains on track for an early 2015 construction start and an end of 2015 first gold pour.
"Most successful gold mining companies today started with a heritage, cornerstone asset that provides a base of cash flow to grow the company," Mr. Dorward told me. "We feel that Yaramoko has the potential to be that for Roxgold."
For more information, please visit the company's website at http://www.roxgold.com