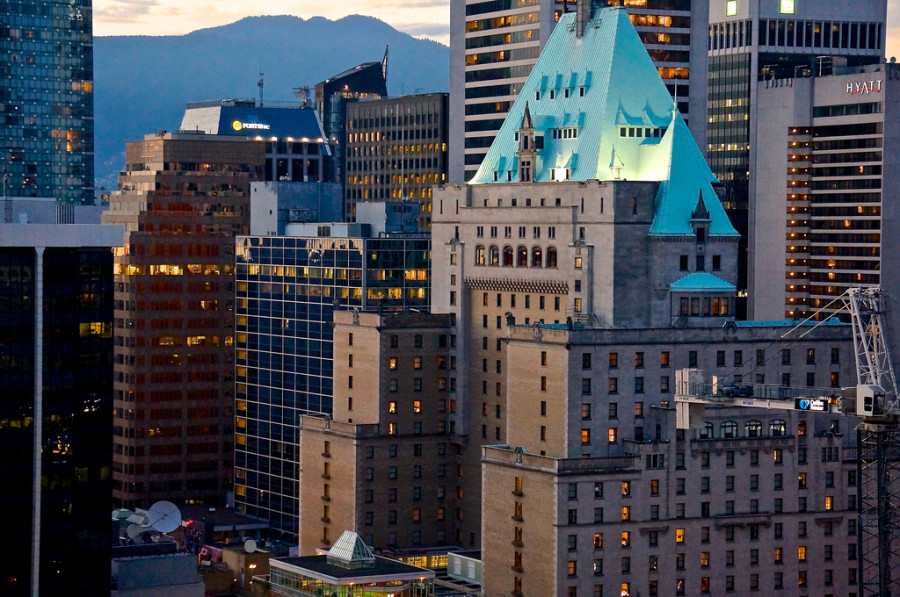 With our apologies for the light postings this week, we are at the Sprott Natural Resources Symposium at the Hotel Vancouver, where a terrific event is underway (Schedule, Registration).
The quality of companies exhibiting is higher than any other retail junior mining conference we have attended, and the same can be said for attendees.
The event, which is Sprott's first conference, has largely come together thanks to the effort of Rick Rule, the firm's Chairman, who has rolled out his impressive Rolodex to vet and source attendees and companies for the four day event.
Mr. Rule has been a natural resources investor for nearly 40 years, and now runs the world's largest junior resource investment firm.
At a Riverside Resources luncheon at Furry Creek Golf Club on Tuesday, Rule told me this is the last mining cycle he intends to participate in as the man in charge of a securities firm. He's getting positioned in projects and companies that are out of favor, and intends to sell them when they are of interest to broader investors, one last time. One commodity that Rule is considering closely currently is coal, which is deeply out of favor.
At the luncheon, Rule praised Lukas Lundin's Lundin Group and Robert Friedland's Ivanhoe Mines for their impressive track records and market timing.
Both the Lundin Group and Ivanhoe Mines are exhibiting at the Sprott Conference.
Friedland spoke yesterday for one hour in a speech titled, Mega Wealth Through Mega Discoveries. Friedland spent the first thirty minutes setting the stage for the commodities his company is developing. Population and pollution growth are rampant in major cities. More platinum than is currently produced globally will be needed to produce the electric and fuel cell cars that Friedland believes are on the immediate horizon. Also, current platinum production, over 75% of which comes from the Bushveld complex in South Africa, "Is too old, too hot and too deep," as a segway to his impressive Platreef project, which will utilize mechanized labour. Friedland believes a copper shortage is on the horizon, as the metal makes up 75% of the weight of lithium-ion batteries. Regarding Ivanhoe's portfolio, he suggested there was a lot of news to come on the Kamoa project, which he called the world's largest undeveloped high grade copper mine. In conclusion, Friedland told the audience not to buy his shares currently, which I suspected was a simple reverse psychology play by the world's most successful mining marketer.
"This is what the bottom feels like it's actually a somewhat mystical feeling" – Robert Friedland on junior miners @sprottglobal @tommyhump

— Travis McPherson (@travmcph) July 24, 2014
Kaizen Discovery, a Japan-backed exploration company that is roughly 42% owned by Friedland, was generating a fair share of buzz on the show floor.
GoviEx Exporation, Govind Friedland's Niger uranium developer, Kaizen and Ivanhoe each share an exhibition wall at the impressive conference.
I had a chance to meet up with Azarga Resources CEO Alexander Molyneux yesterday as well, another of the conference's exhibitors. Molyneux is a 39 year old ex Citibank head of mining and metals investment banking in Asia who worked for Friedland for several years in Mongolia, and now is attempting to build his own resources empire, starting with Azarga Uranium, a roll up of a few projects in that out of favor commodity. Molyneux lived up to expectations of being mining's most ambitious young executive. Make no mistake about it, his goal is to be as successful as Friedland. "It's a 25-30 year proposition," Alexander said.
We have deeply appreciated the warm reception regarding our announcement Tuesday, Big News in the Mining Newsletter World.
I'm headed back to the conference this morning, and hope to see some of you there.
Image: blazzzinred [vancityhotshots]
Disclosure: I own shares in Ivanhoe Mines. This is not a recommendation to buy or sell any security. Always do your own due diligence. Thank you.