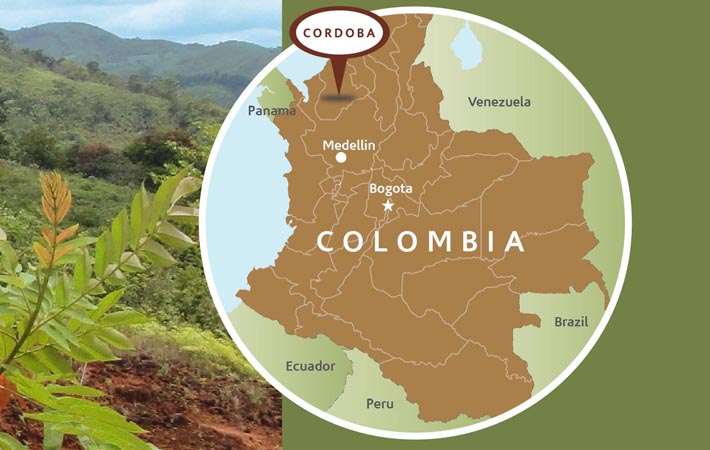 According to exploration geologist Brent Cook, Cordoba Minerals is exploring the best possible place in Colombia to build a mine, if they find one.
Last year, Cordoba concluded a nearly three year effort to consolidate a 30,000 hectare project in Colombia's northern Mid-Cauca Gold Belt, called the San Matias project. Small scale artisanal mining is ongoing at San Matias, and the property is believed to contain a cluster of high grade copper and gold porphyry style deposits.
The company, led by CEO Mario Stifano, VP of Exploration Dr. Chris Grainger, and advised by accomplished explorationist Dr. Vic Wall, has been methodically exploring the land package since.
A short drill program late last year confirmed the area's potential, with an impressive 101 meters at 1% copper and 0.65 g/t gold hit at the Montiel target.
With numerous targets on the San Matias property, the company has been using RAB (rotary air blast) drilling to drill shallow, sub 40 meter holes to confirm the presence of mineralization, to potentially hone in future diamond drill targets. This is in addition to trenching, soil and stream geochemical sampling.
Yesterday, RAB drill results came through with some impressive intercepts at the Costa Azul target, and additionally strengthened the Montiel West and Pirita targets.
At Costa Azul, several of the RAB intercepts hit greater than .5 g/t gold and .5% copper from surface.
The RAB intercepts at Montiel West and Pirita were also impressive.
The highest priority targets at Montiel East and Costa Azul are currently being diamond drill tested as part of a 2000 meter program, which will see holes drilled 150-200 meters deep, according to CEO Mario Stifano, who we spoke with by phone briefly Wednesday.
The Montiel West and Pirita targets will be diamond drill tested on completion of the current drill program.
Stifano told us to expect drill results in the coming months.
"While Colombia remains a country with a troubled political history, we believe that Cordoba's land position to the north is more favourable for potential mine development given its close proximity to BHP Biliton's Cerro Matoso mine, and distance from concentrated militant (FARC) areas towards the south of the country," commented Mick Carew, an analyst from Haywood Securities, in a recent update.
Here are the company's two most recent news releases:
Aug 5, 2014 – Cordoba Minerals Discovers Copper-Gold Porphyry Mineralization at Costa Azul and Better Defines the Montiel West and Pirita Prospects
Jul 15, 2014 – Cordoba Minerals Announces the Commencement of Diamond Drilling at the San Matias Copper-Gold Project
Cordoba is a sponsor of our web site and we own shares so we are biased. Always do your own due diligence.