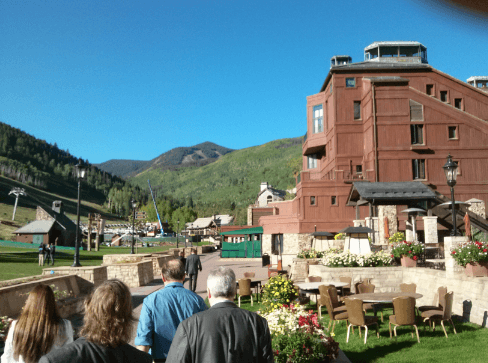 ​
BEAVER CREEK, Colorado — The stream from Colorado​'s metals summit is flowing​.​ Oh, and the snow just starting to sprinkle the peaks here at 8,000 feet to 11,000 feet.​
There are many asset managers in the crowd, some with hedge funds and others like Robert Cohen of Dynamic Funds in charge of hundreds of millions.​ ​All of it in resources and resource equities.​
​They believe. ​​OR AS ONE youngish hedge fund manager from NYC told me, "Do we have a choice?" That was Darin Milmeister from Extract Capital ($11 million and a booster of Integra in the Abitibi belt outside Val D'Or, Quebec.)​
This morning, before taking off for Nevada, I took in Eurasian Minerals; 15 minutes. David Cole is CEO of the royalty wanna-be with international properties. I own it. I am glad I do. The portfolio of wholly owned properties, partials, JVs and other investments tracks the globe: Russia, Australia, Turkey, Sweden, Serbia, Nevada, Arizona (with Desert Star Resources) — 90 projects in all.
EMXX's shares have been shellacked, regardless. Mr. Cole — or Dr. Cole — said the company's 1 percent gross smelter return from Newmont-operated Leeville in Nevada is likely to increase with a new shaft going into the gold mine.​
​Here is that stream, and it includes others, all stored for later viewing. On a scale of 1 to 10, Precious Metals Summit's web-casts get close to a 10. Next week, Denver Gold Show will do the same.​
http://www.gowebcasting.com/conferences/2014/09/10/precious-metals-summit/day/3
Attendance here at Precious Metals Summit​ i​s surpassing previous records highs.
​​
​Service at Parc Hyatt Beaver Creek is superb. The weather — take a look at attached photo; it beats Denver any day.
​"We do not intend to grow the attendance list any more," says Jessica Levental, who with her team broke away from Denver Gold Group and launched the summit in the mountains near Vail. This year: 500 attendance vs. 400 in 2013. This year: 102 companies vs. 80-something in 2013. Ms. Levental, trained as a lawyer, and her team will expand the list of companies next year. Summit does other cities as well — in Switzerland for one.
​
Most of the asset managers here are still alive; no zombies yet. Ian Slater of Red Eagle Mining tells​
Inline image 1 me he is seeing select interest on the part of aggressive investors and institutions.​ That still includes Liberty, a mining investment unit of the Boston insurance giant.​
I also got that comment from Mr. Anderson at NuLegacy, which is one of the TCR 6.
Many of these folks will be heading to Denver Gold Show starting Monday.
​Larger show — more institutional.​
Notes: John Hathaway's Tocqueville Fund is said to be raising stakes in several of its holdings.​ … Dr. Cole at Eurasian said one shareholder from the SF Bay Area is at 9.9 percent, up from about 6 percent. Like I said, EMXX has been hammered. Best line came from Dr. Cole — "You buy low and sell high and I am told now the most important part is to buy low."​
​
Quickly as well: Colt Resources dispatched the rest of its Middle East unit to its QUebec CEO in return for less than a million dollars CAD. Our worst performing of the TCR 6. GTP in Canada.
​He tells me today from Portugal that he knows the clock is ticking. "I intend to deliver an event that is compelling," he says.
​He has to. The stock is crushed. Two bankable feasibilities are in the works — with NOT enough money for either gold or tungsten project studies​ ​​i​n Portugal.
​I hold all my shares only as I cannot endure whiplash. But Mr. Perrault, having spent tens of millions of dollars, will have NOTHING to show for it if he does not round up partners, asset-backed lending and perhaps a WHITE KNIGHT in the next 6 weeks. ​After that, tax selling takes over.​
​Mr. Perrault suggested the Middle Eastern unit, now entirely outside of Colt, might still play a role. I have no idea how.
With tax selling upon us ​in late October ​– GTP shares could go to 5 cents CAD.​
Our TCR 6 has made up for Colt's broken equity — down
​​a​t present ​to 12 cents CAD approx. — with Atico Mining, with ​Mark O'Dea's ​Pilot Gold, currently with actionable Gold Standard Ventures.
​GSV today issued a truckload of options at 77 cents. This could be yet another sign GSV is going to the highest bidder. Please note the reference earlier this week.
I talked to Moira Smith, Pilot's chief geologist. On Thursday the company has 20 one-on-one meetings with asset managers. Two geologists here told me they like the Turkey TV Tower property even more than Pilot's Nevada Kinsley property.
​I also ​met with James Anderson of NuLegacy Gold here, another of our TCR 6. I continue to hold all of the TCR 6. Angkor Gold will see some good buying in coming weeks. ​You have the tickers.​
More later and at thomcalandra.com early next week.
Finally, I heard from Sysorex CEO, Nadir Ali.
​SYRX in USA. ​
All fundamentals and sales growth targets in place. I purchased more Thursday. The selling might be coming from those who saw the release of the contractually obligated lock-up schedule and panicked. Nothing to it. If this sounds too optimistic, I apologize.
Well, finally, finally, those looking for action in coming days and weeks: Calibre Mining, Namibia Rare Earths, Endeavour Silver, True North Gems.​ And especially: Gold Standard Ventures in a possible scoop.​
​I will be seeing West Kirkland Mining in Nevada, Tonopah, Nevada, this weekend. Coming: Toronto in two weeks. See: CANVEST14 at Cambridgehouse.com. I am paneling, moderating and hosting events. ​The invite is attached. ​
​Great Panther Silver's Robert Archer is here in Beaver Creek​. He is still searching for an acquisition — anywhere in the Americas. I have something in Panama that just came my way … I am doing some research — 1.2 million ounces gold equivalent I believe.​ Plenty of equipment and fully permitted.​
Ya never know!​ I have the package and will be forwarding it to four possibly interested parties on behalf of a Panama connection I have had for many years.​
THE CALANDRA REPORT: Subscribe
Now $129 yearly! My ass is on the line, too.
See: A thomcalandra.com home for our expanding TCR family.
THE CALANDRA REPORT
$129 yearly: Does Not Recur
THE CALANDRA REPORT
$129: Will Recur Yearly