Hey, Toronto, and anyone who will be in the GTA next week.
For 20 years, Cambridge House International has hosted Canada's finest investment conferences.
Next week, CEOs, financiers and investors will gather for two days of networking and idea sharing.
Details:
Canadian Investor Conference Toronto 2014
Thursday – Friday, September 25-26, 2014
Sheraton Centre Hotel Toronto
123 Queen Street W (Map)
9am – 5pm both days
No cover charge
We've met numerous business partners and friends at Cambridge House conferences. Their events are the place to forge financial friendships in Canada, especially in the natural resources and early-stage segment of the markets.
Some of you know that I used to work as a web consultant for Cambridge House (2010-2012). I'm also the first to admit I overstayed my welcome in the first few months after CEO.ca started up.
Cambridge's operators –the Martin family — have invited me to participate in this year's event, and I'm excited to be making the trip to Toronto from Vancouver for this year's conference.
Here are eight — rhymes with fate — reasons you should join me:
8. Meet the next generation of natural resources wealth creators. An example would be Jordan Trimble, 26, and CEO of Skyharbour Resources (SYH.v), a 6 cent Saskatchewan uranium explorer with as good a shot as any. Jordy's young, making his own luck and is always approachable at Cambridge House events. You'd be wise to get to know him.
7. Learn how technology and prospecting go hand in hand from billionaire mine-builder Robert Friedland's hand picked-protege, Matthew Hornor, CEO of Kaizen Discovery. Kaizen is a dynamic company with exploration technology and financing ability straight from Japan. Mr. Hornor is on Thom Calandra's Pacific Rim Panel at 1pm Thursday. Save me a seat for that one.
6. Rub shoulders with billion dollar asset managers, and leading financial journalists at the same time. I'm particularly looking forward to Andrew Bell from BNN Television's 9am panel on Friday. Bell's invited some big name investors, not to mention the heads of several stock exchanges, for a conversation on capital flow in Canada's venture markets.
5. Find out what makes Canada's leading merchant banker tick, and what he's investing in today. PowerOne Capital Markets founder Pat DiCapo, 39, has raised over $2 billion for growth companies over the last decade and will be interviewed by yours truly live at #Canvest14. We hope as many of you as possible can join us for the Thursday at 3pm session.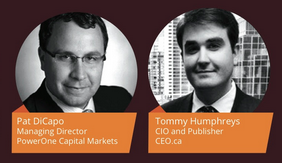 4. Get a free breakfast and learn about mining and energy investment opportunities in Cambodia on Friday morning, at the Angkor Gold-sponsored breakfast. Newsletter writer Thom Calandra's convinced the kingdom is the next natural resources frontier, and is one of the hungriest hundred thirty-two-pound men you'll ever meet. Thom may finally get his fill at the free 8am breakfast.
3. Find the next life-changing mining stock — like Aber Resources, a Diavik diamond mine explorer whose shares rose 40-fold; or Diamond Fields International, the nickel finder whose stock rose 10,000% in the 1990s. Canadians are toiling away at the next great mineral discovery somewhere in the world today … and chances are good its key operators and shareholders will be passing through next week's event hall.
2. Break hearts with Jay and Jeremy Martin, the bodacious 20-something brothers who plan and organize Cambridge House events. The Martins know how to have a good time, and make everyone feel welcome. They learned this from their father, Joe Martin, Cambridge House's larger than life founder.
Watch this trailer Joe and I made together a couple years ago:
1. The No. 1 reason to attend Canvest14? Nearly every major stock market is up around the world today except Canada's early-stage mining sector, which has been decimated over the past three years. New blood and money that comes into the space now is at a tremendous advantage. Now is the time to buy things cheap and build your Rolodex because global capital will flow back into Canada again, and when it does, #Canvest14 attendees are going to get hit by a freight train of cash.
Register for #Canvest14 now at CambridgeHouse.com and follow @Cambridge on Twitter.
Looking forward to seeing old friends in the Big Smoke next week,
Tommy Humphreys
Founder, CEO.ca
PS – Join me in New Orleans Oct 22-25, 2014 (Details)