Alamos Gold (AGI.T) just posted a small third quarter loss of $2.23 million as production was impacted by heavy rainfall. It was the company's first quarterly loss of the year but investors can expect a stronger fourth quarter. I listened to the Q3 earnings call this morning to get the latest on the Alamos story.
Alamos has one of the best balance sheets in the mining industry with ~$380 million in cash and no debt. A semi-annual dividend of 10 cents US per share is paid to investors which translates to a current yield of 2.5%.
The Mulatos Mine in Sonora State, Mexico is on track to produce ~150,000 ounces this year, even with only 28,000 ounces produced in the Q3. The good news is that the ore grade was 1.07 g/t  for the quarter (27% above annual forecast) and will result in a substantial production increase in Q4. High grade ore is also being processed from San Carlos which should lower costs as well.
"Operationally we had a solid quarter with 51,900 contained ounces stacked on the leach pad, the highest in more than a year with grades well above our annual budget. Gold production of 28,000 ounces reflected sharply lower recoveries in the quarter as we experienced a severe rainy season, culminating with record rainfall in September. This resulted in dilution of the heap leach solutions and delayed the recovery of a significant portion of these ounces; however, we expect to see the benefit of these stacked ounces in the fourth quarter. I am pleased to report that the modifications to the mill have been completed and we began processing high grade ore from San Carlos during the first week of October. We will be ramping up high grade mill production through the fourth quarter and combined with the deferred production from the leach pad, we remain on track to achieve the low end of our full year production guidance of 150,000 ounces," said John A. McCluskey , President and Chief Executive Officer.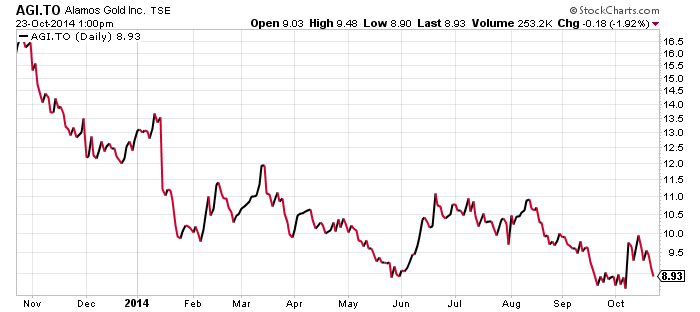 The stock price is down considerably in the last year, partly the result of the Mulatos Mine going through a transition year of mining lower grade ore which is hurting earnings.  There are also permitting issues in Turkey.
However, after listening to the conference call I believe Alamos is back on track and investors should start to see the share price appreciate.
Symbol: AGI.T
Share price: $8.93
Shares outstanding: 127.36 M
Market cap: $1.1 B
Read: Alamos Reports Third Quarter 2014 Results
I have no position in any of the stocks mentioned. This is not investment advice. As always please do your own due diligence.