Gold stocks were hammered today with many senior producers falling by more than 5%. Barrick Gold (ABX), the world's largest gold miner, was particularly hard hit; its shares reached levels not seen since 2003 when gold was $330/ounce and copper was below $1/pound:
Click to enlarge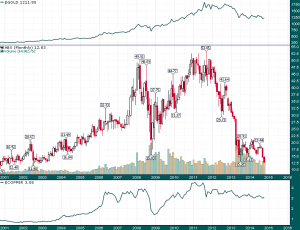 This chart is truly remarkable. It tells a story of shareholder wealth destruction on a massive scale; through a sizable hedge book ABX managed to cut its profits short until 2010 even as the price of gold was rising.  In addition, poorly timed acquisitions, cost overruns, poor planning of mine operations, and egregious executive compensation kept the company from rewarding shareholders for record gold prices between 2011 and 2013.
This mismanagement of the company and a history of constant cost overruns and delays is weighing hard on investors' psyches as metals prices continue to be pressured. Even though all indications point to the fact that this lengthy period of operational mismanagement and excessive executive compensation has finally come to an end in the gold mining space, investors are done buying on promises.  They are waiting for proof of performance.
This afternoon Barrick reported 3rd quarter earnings results and the company will host a conference call tomorrow morning. While earnings fell sharply from the same quarter one year ago, the market took well to the lower all-in-cost guidance of $880 to $920 per ounce down from $900 to $940 previously. The company also increased its copper production guidance to 440-460 million pounds and narrowed its copper cash costs guidance to $1.90-$2.00 per pound.
Given that the senior producers appear to have finally managed to put a lid on costs and nearly all of them are trading at or below book values, today's sell-off appears to be overdone. Should gold manage to stabilize and eventually turn higher again we will look back on today's share prices in the major gold producers and laugh.
However, should gold crater through the $1,180 support level we could easily see another 10-15% decline from the already absurdly low share prices.