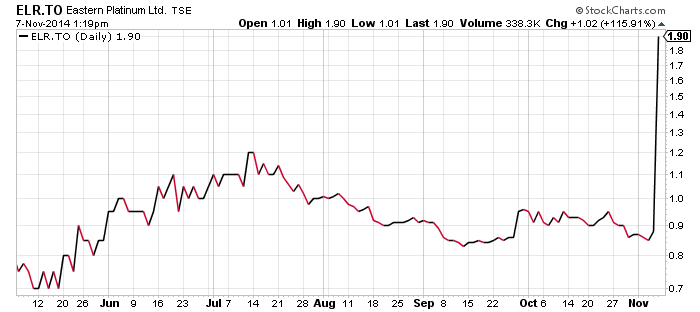 Eastern Platinum (ELR.to) is selling its PGM assets in South Africa to Hebei Zhongbo Platinum Co. Ltd. for US $225 million in cash.

Here is a link to the news release.
The market was not expecting substantial value for the assets, as the company was worth roughly $89 million this morning, with $81 million in cash (approx. $8 million enterprise value).
The windfall means the company, which was trading at $0.95 this morning with 92.8 million shares, could have as much as $3.25 cash per share.
Please note there is uncertainty regarding how much of the $225 million will be net to Eastern Platinum, with Black Economic Empowerment and other partners likely a part of the picture.
According to the news release, "The consideration received by Eastplats will be net of the amounts payable to certain minority interests, which amounts remain to be settled."
Hebei Zhongbo will acquire the company's primary assets which are:
an 87.5% direct and indirect interest in Barplats Investments Limited ("Barplats"), whose main assets are the Crocodile River Mine ("CRM") located on the Western Limb of the BC and the Kennedy's Vale Project located on the Eastern Limb of the BC;
an 87% direct and indirect interest in Mareesburg Platinum Project (the "Mareesburg Project"), located on the Eastern Limb of the BC; and
a 93.4% direct and indirect interest in Spitzkop PGM Project ("Spitzkop"), also located on the Eastern Limb of the BC.
The deal is expected to close in the next 3-6 months and does have a $11.25 million break fee.
"The entire resource sector is under considerable pressure and PGMs have been disproportionately impacted as a result of a number of factors unique to the sector. The capital required to advance the Eastplats assets into production is not available in the public markets at this time and we are very encouraged by the ability of Hebei Zhongbo to deploy its resources in this regard. This foreign capital and the creation of much-needed jobs will contribute to the ongoing socio-economic development in areas surrounding the mine and projects," said Ian Rozier, president and chief executive officer of Eastplats. "Closing the transaction will leave Eastplats extremely well capitalized to take advantage of the considerable opportunities in this weak market."
We called the company for colour on the news release, and the receptionist told us to call back next week.
This is the second company led by Mr. Rozier to have a windfall this year. His Newport Exploration (NWX.v) climbed 500% after an oil and gas royalty from Australia started filling the company's coffers unexpectedly. Rozier has since drawn criticism over his disclosure of those royalty payments.
This post will be updated as we learn more, it may contain errors and it is not intended to be investment advice. Author is extremely biased and bought shares at the resumption of trading.
Read: Eastern Platinum to sell S.A. PGM business to Hebei or 5 Flush Junior Min