The massive decline in the price of crude oil turns out to be a significant net positive for multinational miners. Not only are the lower oil costs are a huge positive on the costs side, but the resulting currency moves (big drops in AUD/USD and CAD/USD) also turn out to benefit miners whose revenue comes in US dollars and primary expenses are paid in Australian/Canadian dollars or other currency that has depreciated against the US dollar (there are many).
As can be seen by the following slide from Newmont (NEM) and investor presentation from Rio Tinto (RIO) these companies are saving a tremendous amount on the cost side which flows right into higher free cash flow (FCF):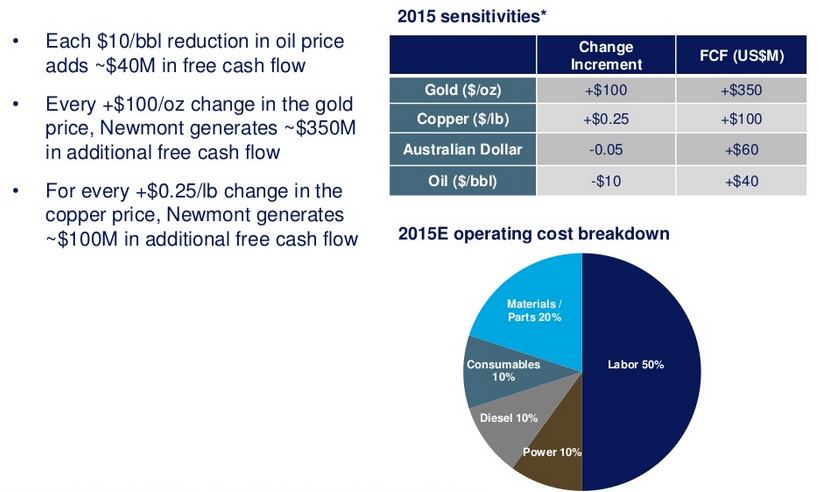 Newmont will have roughly an additional $140 million in FCF during 2015 if oil stays around $60/barrel (everything else remaining the same). Newmont also benefits from a weaker Australian dollar (A$) as it is a US based company with Australian mining operations (roughly a $100 million per year currency benefit from the drop in the A$). 
From a recent Rio Tinto (RIO) investor presentation: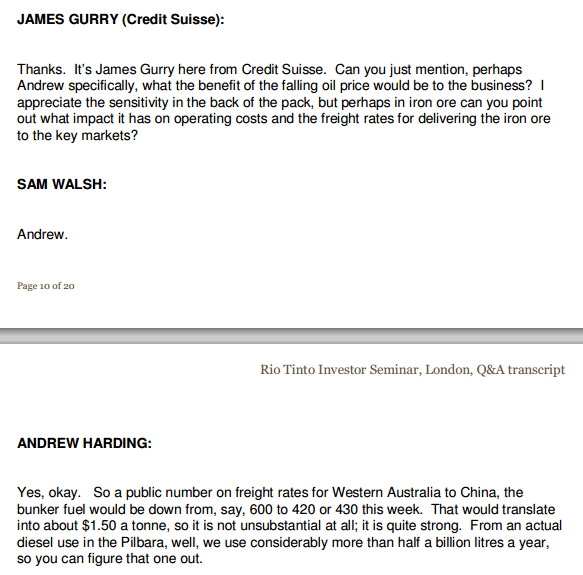 Considering that RIO is forecasting 330 million tonnes of iron ore production during 2015 this translates to roughly $500 million in cost savings 
RIO is also gaining a large currency benefit from the weaker Australian and Canadian dollars: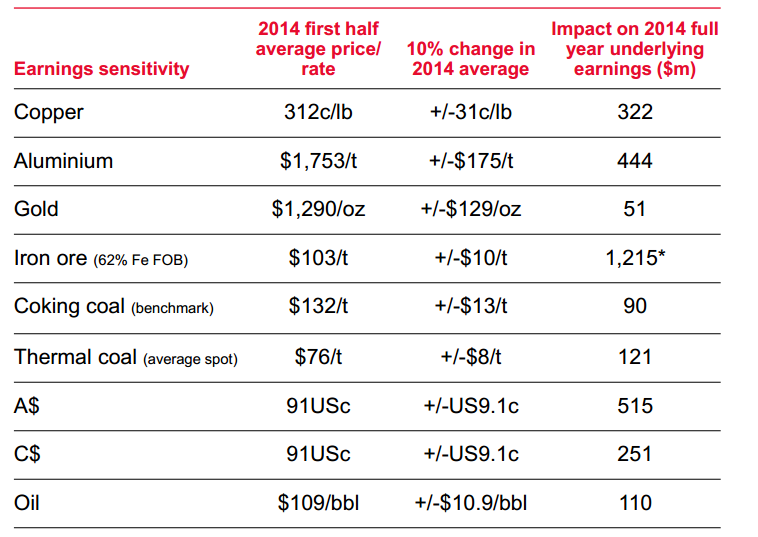 At current currency exchanges rates (AUD/USD .83 and CAD/USD .87) RIO stands to accrue an additional ~$560 million annual earnings benefit. 
In summary, the pressure on the commodities space is definitely a headwind facing global miners. However, the greatly reduced energy costs and currency benefits serve to cushion the blow for miners with operations in countries with weakening currencies (Australia, Canada, Mexico, etc.). Now all the copper/gold miners are asking for Christmas is a resumption of the metals bull market, is that too much to ask for?……