Via Energy and Gold.com:
There is an interesting piece on palladium up on Bloomberg this morning entitled "Palladium is a Metal Rarer Than Gold. Now It's Even More Rare, Thanks to Cheap Oil". The article makes some logical points regarding global auto demand and the global palladium supply/demand dynamic. The article even includes quotes such as the following:
"U.S. auto demand is incredibly strong and might even surpass previous peaks that we saw before the financial crisis." ~ Scott Winship, Fund Manager at Investec Asset Managements
"There's a very bullish story there that's going to play out in the long term…..There is a good argument that palladium should outperform other precious metals." ~ Jeremy Baker, Senior Commodity Strategist at Harcourt Investment Consulting AG
All of this sounds very exciting and makes it appear to be a no brainer that palladium must be a great investment. However, there is a big problem when we pull up the weekly chart of palladium: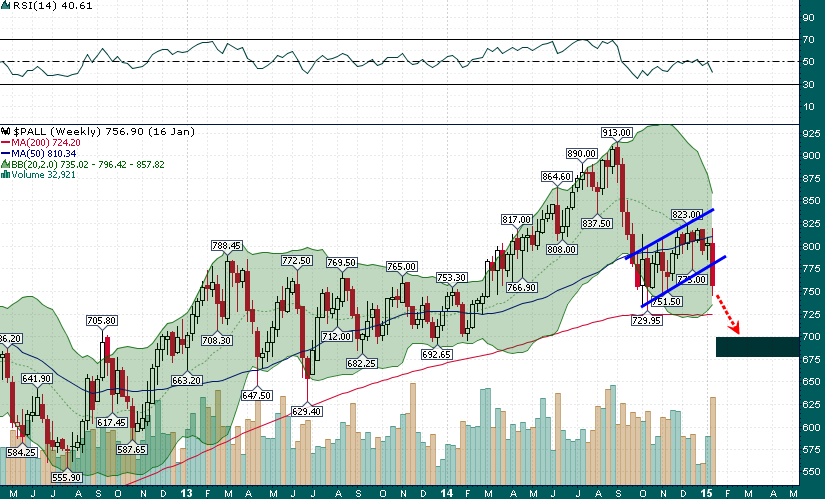 After a multi-year rally which saw palladium prices reach nearly $1,000/oz the market has corrected in recent months and price is once again breaking lower from a bearish flag pattern. The downside price target from this pattern is $685/oz which happens to coincide with previous support from 2013 (look to the left in the chart…).
The fact that sell-side analysts from Deutsche Bank and Morgan Stanley are so bullish on the white metal (Morgan Stanley forecasts over $1,000/oz for palladium in 2016) should only add further caution to investors' view of palladium.
Who will be right? The "fundamental" analysts or the technicals. Of course both could be right on different time frames, however, in the near term it looks like palladium is heading below $700/oz before it will find sufficient support.