Via Energy and Gold.com:
I came across two powerful China charts from J.P.Morgan this weekend: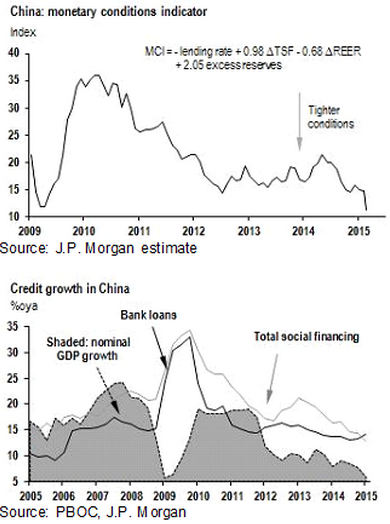 During the last decade the correlation between Chinese monetary conditions/nominal GDP growth and commodities is almost uncanny; the CRB bottomed at the exact month that China monetary conditions bottomed in early 2009 and began rolling over again in 2011 just as Chinese nominal GDP growth took a large downturn:
As can be discerned from the above charts, China monetary conditions are at levels not seen since early 2009 and it's not an accident that the CRB is also only about 10% from its 2009 low.
On Sunday, China's central bank cut the reserve requirement ratio (RRR) for all banks by 100 basis points to 18.5 percent in a bid to loosen up monetary conditions and spur banks to lend. The question now becomes, is it too late?
"The question is whether the PBOC is a little slow on easing. They're fighting the last battle, like generals do," ~ Tim Condon, ING's chief Asia economist.
Meanwhile, Macquarie Group Chief China economist Larry Hu believes this is the beginning of a major monetary policy easing cycle out of the PBOC: "China should cut the RRR 20 times in the next five years as the pattern of capital flows has changed significantly," – if this is the case then investors can expect a significant rebound in the beaten down commodities space, although the salad days of 2008 are long over…