Ken Armstrong, CEO of North Arrow discussing the importance of yellow diamonds.
North Arrow Minerals (NAR:TSXV) has been of one the bright spots in 2015 on the TSX Venture. Investors are eagerly awaiting final bulk sample results from the Qilalugaq diamond project in Nunavut. The full results of the bulk sample are expected in the next few weeks.
North Arrow shares have been on fire up in 2015, from 55 cents to the $1.30 level as early indications from the sample have investors speculating on higher share prices to come.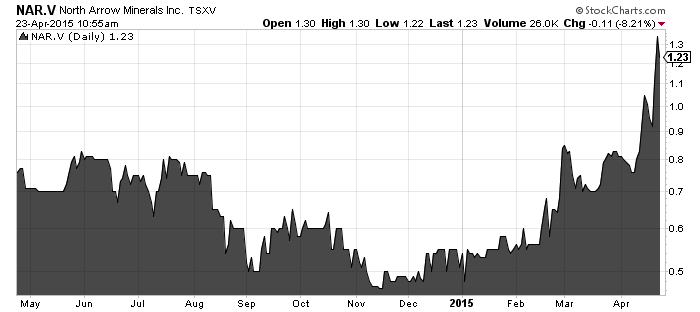 Dundee Capital Markets is out with a research report this morning on North Arrow Minerals with a BUY, Speculative Risk rating. Dundee has constructed a conceptual model for what a diamond mine at the Quilalugic project could be worth and the upside potential. Here's what Dundee diamond expert Mr. Matt O'Keefe wrote:
To determine what constitutes a good result from Q1-4 the bulk sample and the upside potential, we have constructed a conceptual based on a truck and shovel open pit mining 40 cpht ore feeding a 7,000 tpd mill. We model capital costs at C$750MM and operating costs at C$50/tonne based on comparable operations. Applying a base case diamond value of US$300/carat we calculate a project NPV7.5% of C$1.28MM (100% basis, from construction). Adjusting for expected ownership interest (60%-80%), development risk and timing (NPV12% to today) and within our expected diamond valuation range of US$230-US$380US$/carat, we calculate a potential contribution to North Arrow's NAV in the $1.90 to $10.50 per share range.
Note the model is highly speculative at this early stage of the project and should be viewed as such.
The next big catalysts for North Arrow are the completion of the bulk sample test and diamond value, both expected in the next few months. Dundee claims that NAR has demonstrated two of three criteria needed for a diamond mine in the eastern Arctic. North Arrow has the tonnage and a good location. The third and most important aspect diamond value will be answered from the bulk sample.
Yellow diamonds are expected to drive the value of the sample which will be a binary event for NAR shareholders. For more on yellow diamonds see video above. If the valuation is positive North Arrow will proceed with a PEA.
North Arrow is earning into an 80% interest in the  Qilalugaq from Stornoway (SWY:TSX). Stornoway does retains one time back-in right to 40% by paying 3X exploration costs.
I spoke with Stornoway management PDAC and they were impressed and happy with the work being completed by North Arrow. Management told me they thought the project had good potential but they were 100% focused on building the Renard mine. They felt the team at North Arrow was among the best in the business to move the project forward while retaining an interest for Stornoway shareholders.
Discuss in CEO Live.
Please note there are a number of risks that North Arrow will be facing and this article is not investment advice. All facts to be verified by reader. All readers should consult North Arrow's profile on www.SEDAR.com and independently do their own due diligence as well as consult a licensed investment adviser prior to making any investment decision.