A quieter day expected on the news front today as the US market is closed for the memorial day holiday. I did find a couple interesting news stories with my comments below.
Barrick Gold – (ABX:TSX) – Barrick will be selling the Cowall Mine in Australia to Evolution Mining for $550 million US.  Barrick will use proceeds from the sale to pay down debt. The transaction is expected to close in the third quarter of this year.
Cowal is a open pit mine which produced 268,000 ounces of gold in 2014 at all-in sustaining costs of $787 per ounce. It looks like Cowal has roughly a 6 year mine life left with proven and probable reserves of 1.55 million ounces. Barrick had stated 2015 production to be similar to 2014 with 250,000-280,000 ounces at an all-sustaining costs of $740-$755 per ounce.
"The sale of Cowal is consistent with the strategy we have outlined to create long-term value for our owners, making a significant contribution to our debt reduction target while further focusing the geographic footprint of our portfolio," said co-president Kelvin Dushnisky. "We are pleased to have achieved a successful outcome following a competitive auction process in the first of several asset sales now under way. We would like to extend our gratitude to our Cowal employees, who have made a significant contribution to Barrick since the mine began production in 2006, and we wish them future success as part of the Evolution team."
Barrick is following its plan to reduce debt by at least $3-billion by the end of 2015, with asset sales and other initiatives as mentioned in Q1 results.
Doing some rough math has me thinking this is a good deal for Barrick. If you use $1200 gold and say a $400 profit margin per ounce and multiply by the 1.55 million(P+P) reserves you get approx $620,000,000 million in profit. A really quick rough exercise but Evolution does have upside in higher gold prices and finding more ounces.
A good deal for both companies as Barrick needs to pay down debt and Evolution gets a solid producing mine with low costs.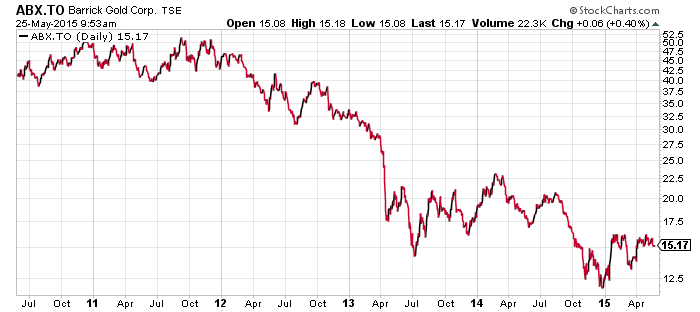 A brutal 5 year chart for Barrick investors as the gold price collapsed and investors worried about the balance sheet. The turnaround is in progress and Barrick is generating free cash flow at current gold prices.
The worlds largest gold miner will continue to divest non core assets as they look to turn into a leaner operating machine focusing on disciplined profitable production.
Read: Barrick Announces Agreement to Divest Cowal Mine, May 24, 2015
Pan Orient Energy – (POE:TSXV) – Pan Orient Energy has released Q1 financials that show the company has almost as much cash as the current market cap.  Shares are trading at $1.57 early this morning giving POE a market cap of $88.6 million with working capital of $85.4 million and an additional $9.4 million comining in June.
Commenting today on Pan Orient's first-quarter 2015 results, president and chief executive officer Jeff Chisholm stated, "These financial results and the announcement of the government of Indonesia's approval of the East Jabung PSC farm-out clearly demonstrate the progress achieved over the past year in the corporate initiative to reduce our future capital exposure and strengthen our balance sheet."
It will be interesting to see what POE management does with the cash. Recently they have been active in the open market repurchasing shares at these levels.

During the first quarter of 2015, Pan Orient repurchased, and subsequently cancelled, 142,900 common shares ranging from $1.42 to $1.43 per share under its normal course issuer bid. Subsequent to March 31, 2015, the company repurchased for cancellation an additional 579,100 common shares ranging from $1.42 to $1.64 per share.
Pan Orient does have some bitumen production from a steam-assisted-gravity-drainage demonstration plant with Andora Energy. Net production is 117 bopd to Pan Orient. Also small production comes for a 50% interest in Thailand which averaged 313 bopd in the quarter.
POE plans on drilling a couple high prolific wells in Indonesia in the next year. Plans are to drill the Batu Gajah PSC well in the second half of 2016. Forestry approval was just recieved and road construction is expected to start in June. The well will offset an existing discovery made by another operator in the adjacent Lemang PSC.
Another high impact exploration well is expected to be drilled in early to mid 2016 with JV partner Talisman in the East Jabung PSC.
I always like to follow cash rich companies especially in the current market environment. I will be following POE as they drill some of these high impact potential wells in the next several months.
Read: Pan Orient Energy Corp.: 2015 First Quarter Financial & Operating Results
Related: Well run oil and gas junior partners with Talisman on high impact Indonesian well
Please join us in CEO live.
This is not investment advice. All facts are to be checked and verified by reader. As always please do your own due diligence.