A look at some of the top mining stories out this morning and some additional comments on each.
Ivanhoe Mines – (IVN:TSX) – Ivanhoe hosted a conference call this morning discussing the transaction announced with Zijin Mining. Ivanhoe and Zjin struck an agreement on Tuesday (May 28th) where Zijin would acquire a 49.5% stake in Ivanhoe's Kamoa project for $412 million (USD).
Zijin will also hold an option to acquire an additional 1% if they arrange 65% of project financing for Phase 1 development.
Kamoa is the worlds largest high grade undeveloped copper project.
I was on the call this morning to get the latest details and will share my notes in this post.
Both parties Ivanhoe and Zijin are very happy about the partnership to developed Kamoa which will be a world class copper mine.
Zijin already owns 9.9% of Ivanhoe shares purchased in January for $105 million.
The goal is to benefit all stakeholders including locals at the Kamoa project.
David Broughton, Executive VP Exploration Ivanhoe – Kamoa was 10 years of exploration work previously thought to be barren. Has generated lots of interest in the area. The DRC is a mining hub. Over 1500 diamond drills have been drilled with over 1000 drilled into the resource itself. The Kamoa project has size, is high grade, and has thickness. Average grade of more than 2.5% copper and the average square kilometre contains ~800 million pounds of copper. Ivanhoe has a land position of 400 sq km and only 140 sq km has been tested so far plenty of exciting targets left to explore. The team won the Thayer Lindsley International Discovery Award at the recent PDAC for their work finding Kamoa.
A comprehensive technical review by Zijin was completed over the last year on Kamoa and they are eager to move the project forward as quickly as possible.
Financing the construction costs of Kamoa is not expected to be an issue -"Tier 1 ore bodies always get financed."
On the possibility of separating assets – "anything and everything is possible… spin offs, merging, selling assets". Ivanhoe is looking at all options. They did mention and enormously large number of companies were interested in Kamoa.
Ivanhoe and Zijin plan to sell 15% of the project to the government of the Democratic Republic of the Congo (DRC) with terms to be negotiated. If this occurs Ivanhoe and Zijin will each own 40% and the DRC government will own 20% (5% stake already).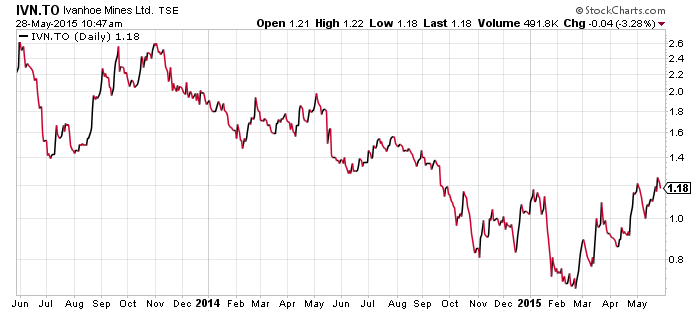 A tough 2 year chart for IVN like many resource stocks.  IVN appears to have put in a bottom in February and has been in a nice up trend since.
With IVN investors get exposure to a legendary mining entrepreneur at the helm and 3 of the world's best undeveloped mining projects. Successful resource investors such as Rick Rule are big fans of Ivanhoe and it should be a out performer in the next commodities bull market.
The conference call will be archived for later playback until June 11, 2015, and may be accessed by dialling 1-905-694-9451 or 1-800-408-3053 and entering the pass code 6257808.
Read:Ivanhoe Mines and China's Zijin Mining Group sign landmark agreement to co-develop the world-scale Kamoa copper discovery in the Democratic Republic of Congo
Related:Exploration Titans Cook, Broughton Talk Kaizen's Discovery Trail (TSXV:KZD)
Teck Resources – (TCK.B:TSX) – Surprising news out of Teck Resources this morning that they will be temporarily shutting down 6 of its coal operations in the third quarter. The decision was made to balance the on going weakness in the coal market.
Each of the operations will be shut down for 3 weeks this summer. The shut downs will result in an estimated 22% decline in production in the quarter.
"Rather than push incremental tonnes into an oversupplied market, we are taking a disciplined approach to managing our mine production in line with market conditions," said Don Lindsay, president and chief executive officer. "We will continue to focus on reducing costs and improving efficiency to ensure our mines are cash positive throughout the cycle and well positioned when markets improve."
Teck a commodity giant continues to fight lower commodity prices. Usually when you see a major player in the coal market throw in the towel a little bit you get a sense that the bottom could be soon.
Read:Teck Responds to Steelmaking Coal Market Conditions
Please join us in CEO live.
This is not investment advice. All facts are to be checked and verified by reader. As always please do your own due diligence.